Bulletins
Russia, Iran, Kazakhstan, Turkmenistan and Azerbaijan agree Caspian status
13th August 2018 – Iran and four ex-Soviet nations have agreed in principle how to divide up the potentially huge oil and gas resources of the Caspian Sea, paving way for more energy exploration and pipeline projects, although the delimitation of the seabed will require additional agreements.
For almost three decades, the five littoral states – Russia, Iran, Kazakhstan, Turkmenistan and Azerbaijan – have argued over how to divide the world's biggest enclosed body of water.  While some countries have pressed ahead with large offshore projects, such as the Kashagan oil field off Kazakhstan's coast, disagreement over the sea's legal status has prevented some other ideas from being implemented.
"We have established 15-mile-wide territorial waters whose borders become state borders," Kazakhstan President Nursultan Nazarbayev told a briefing after signing the Caspian convention in Aktau, Kazakhstan yesterday.  "Adjacent to the territorial waters are 10 miles of fishing water where each state has exclusive fishing rights," he said.  Nazarbayev also said the convention explicitly barred any armed presence on the Caspian Sea other than that of the littoral states.
Kazakhstan, Turkmenistan strengthen economic ties
13th August 2018 – An agreement between the Kazakh Chamber of Commerce and Union of Industrialists and Entrepreneurs to open a Kazakh trade house in Turkmenistan was reached during a trade and economic mission to Ashgabat last week
The mission, set up with the assistance of the Kazakh Embassy in Turkmenistan, was attended by 16 machinery, construction, pharmaceutical and food companies.  Representatives of several ministries, including the National Aerospace Agency, Turkmenneft, Turkmenyuldary and other local businesses met with their Kazakh counterparts.  Both parties also agreed to assist in obtaining visas for entrepreneurs travelling on business.
Kazakh President Nursultan Nazarbayev later met with Turkmen President Gurbanguly Berdymuhamedov on 12th August during the Caspian Summit in Aktau to discuss trade and economic cooperation, visa regime and security.
Uzbekistan and EBRD plan joint projects worth $1bn
7th August 2018 – Uzbekistan and the European Bank for Reconstruction and Development (EBRD) are planning to implement joint projects worth over US$1 billion. According to the Central Asia News Service, this was announced at the meeting of the President of Uzbekistan with the head of the EBRD.
Promising projects of the rural infrastructure and housing construction development and modernization of energy facilities and utilities as well as the support of the small and medium-sized enterprises are under consideration. In the upcoming months, projects worth up to US$600 million will be approved.
Central Asia states confirm commitment to regional cooperation
23rd July 2018 – The foreign ministers of Central Asia countries said they had agreed to increase cooperation against international terrorism and religious extremism after a meeting in the Kyrgyz resort city of Cholpon-Ata held on July 20 – 22nd.
The foreign ministers represented Kazakhstan, Kyrgyzstan, Tajikistan, and Uzbekistan. Turkmenistan was represented by a deputy foreign minister.   The ministers sought to help set the agenda for the meeting of Central Asian heads of state scheduled to take place in the Uzbek capital of Tashkent in March 2019.
"The sides pointed out that cooperation against international terrorism and extremism, drug trafficking, transnational organized crime, and other regional threats and challenges, including within the framework of international and regional organizations, should be enhanced," a joint statement issued after the meeting said.
Uzbekistan introduces new online e-visa
23rd July 2018 – Uzbekistan has introduced a new e-visa option for 51 countries, as part of a continued effort to attract international tourism.  The country has also announced a transit visa-free procedure for 101 countries whose residents are travelling through Uzbekistan to a third country.
Foreign citizens under 16 years of age are exempt from visa regulations when entering Uzbekistan.  The e-visa is valid for a period of stay in Uzbekistan of up to 30 days. It is valid for a single entry and for 90 days from the date of issue.
EU and Central Asian delegations hold political, security talks in Ashgabat
17th July 2018 – Delegations from Central Asian foreign ministries and the European External Action Service (EEAS) held the fifth annual High Level Dialogue (HLD) on Political and Security matters in Ashgabat, Turkmenistan, on July 9th.
Central Asian authorities and the EU are working to present the updated EU Strategy on Central Asia aimed at upgrading relations between the two regions next year. The sides are also exchanging best practices in security to adopt common measures in combating terrorism, radicalisation and drug trafficking, along with improving border security.
The session participants discussed cooperation areas, from revising the EU's Central Asia Strategy to the ongoing drafting of a new EU Strategy on Euro-Asian connectivity tasked to establish a sustainable connectivity for "equitable and balanced growth." Protection of the environment, the use of water resources and social and economic rehabilitation of Afghanistan were on the agenda as well.  EEAS Deputy Secretary General Jean-Cristophe Belliard and EU Special Representative for Central Asia Peter Burian led the EEAS delegation.
Uzbekistan to extend cooperation agreement with EU
17th July 2018 – The European Union and Uzbekistan have begun negotiations on a new agreement on the expanded partnership that will cover such areas as political dialogue and reforms, the rule of law, justice, freedom and security, human rights, migration, trade, and economic and sustainable development in Uzbekistan.
The new agreement, approved yesterday by the Council of the European Union, will replace the current agreement of 1999.  It will promote the development of a favorable business and investment environment and ensure cooperation on foreign policy issues and global challenges, such as climate change, corruption and the fight against terrorism.
"In recent years, Uzbekistan has demonstrated significant progress in implementing reforms aimed at cooperation with Central Asian countries and international partners, strengthening security and stability in the region, and improving human rights work. Within the framework of the expanded partnership agreement, the European Union is ready to support this positive momentum and bring bilateral relations to a new level in the interests of both the EU and Uzbekistan", the statement said.
Multiple events mark Astana's 20th anniversary celebration
12th July 2018 – Kazakhstan's capital celebrated the 20th Astana Day with several days of festivals, concerts and sporting events across the city. A flag-raising ceremony on July 4 marked the official start of the Astana Day celebrations, followed by more than 60 artists performing during the Echo Asia International Festival of circus art every day between July 4 – 8 at local venues.
Festive concerts took place on July 5 – 6 in city parks and squares. The Spirit of Astana International Festival started on July 6 near the Baiterek monument, where 18 bands and more than 120 musicians from 20 countries performed for three days.  The Astana Day celebrations ended with a gala concert at the square near the Kazakh Eli monument featuring Kazakh and foreign musicians. The event lasted for five hours culminating in a grand fireworks display.
UN Counter-terrorism Committee praises Kazakhstan's contributions
12th July 2018 – Weixiong Chen, Deputy Director of the United Nations Counter-Terrorism Committee, has praised Kazakhstan's contributions to world peace and counterterrorism, in its role as a non-permanent member of the UN Security Council.
On occasion of the 20th anniversary of Kazakhstan's capital of Astana, Mr. Chen stated: "Kazakhstan is now a member of the Security Council and also leading a number of important committees' work. Kazakhstan is also playing a very important role not only for Central Asia, but also for the entire international community in terms of maintaining the international peace and security, development, human rights and also water. So, I hope, that with this 20 years celebration, there will be more successes, success stories for Astana and also for Kazakhstan."
Kazakhstan launches China-backed financial hub
9th July 2018 – Seeking to attract more foreign investment from its prime position in China's huge Belt and Road trade project, Kazakhstan launched a new financial hub last week which has already secured the backing of its giant neighbor.
The Astana International Financial Centre (AIFC), a self-styled "mid-shore" special economic zone, hopes to attract players ranging from Chinese state funds to Swiss private banks by offering tax breaks, easy entry and a Common Law court.
The move is part of Kazakhstan's ambition to become a Luxembourg-style intermediary between larger nations and a gateway for foreign investment across Central Asia.  Modeled on the Dubai International Financial Centre, AIFC is seeking to host family offices, private banks, brokers, asset managers, Islamic finance institutions and fintech companies.
President Nazarbayev congratulates Kazakhstan on 20th anniversary of Astana
4th July 2018 – Kazakh President Nursultan Nazarbayev has taken part in a national flag flying ceremony and military ceremony to mark the 20th anniversary of Astana, the country's capital city.
"Let me extend my sincere congratulations on the occasion of the 20th anniversary of Astana city. This stage has passed rapidly right before our eyes, bewildering all our friends. All Kazakhstanis are proud of it," the President said. "Such notions as Kazakhstan, independence and Astana became the common symbol of our statehood, our future".
Foreign investments to create over 2500 jobs in Kazakhstan's Kyzylorda region
29th June 2018 – To date, seven large-scale projects involving foreign investors for a total of $986 million have been implemented in Kazakhstan's Kyzylorda region, which is due to create an additional 2,500 jobs.  The projects were developed with the support of the Kazakh Invest National Company.  The region also implements a project aimed at providing anti-corruption support to the investors.
"For the convenience of investors in the region, there is a unified service centre for entrepreneurs. In order to attract anchor investors in the region, 11 road shows were organised in January-May, according to which there are three memorandums with foreign investors signed today", said Krymbek Kusherbayev, Akim of the Kyzylorda region.
Central Asian states ranked on IEP Global Peace Index
26th June 2018 – All five Central Asian states have entered the Global Peace Index. The rankings of the Institute for Economics and Peace (IEP) include the republics of the region where Kazakhstan is ranked 70th, Uzbekistan rated 104th, Kyrgyzstan took the 108th position, Tajikistan was placed at the 114th position and Turkmenistan was ranked 119th position.
The research results are used by governments, research institutions, analytical centers, as well as non-governmental and inter-governmental organizations, such as the Organization for Economic Co-operation and Development (OECD), the Commonwealth Secretariat, the World Bank and the United Nations. The IEP enters the list of 15 most effective analytical centres of the world.
Uzbekistan 'Fully Ready' To Host Afghan Peace Talks
20th June 2018 – Uzbekistan has emphasised its readiness to host direct peace talks between the government of neighbouring Afghanistan and the Taliban, after both sides announced cease-fires for the Eid al-Fitr holiday.
"The Foreign Ministry confirms its full readiness to create, at any stage of the peace process, all the necessary conditions for setting up direct talks between the government of Afghanistan and the Taliban movement on Uzbekistan's territory," it said in a statement on June 18.
The Taliban announced a three-day cease-fire that ended on June 17, except against foreign forces. That overlapped with an Afghan government truce set to run until June 20.  The Uzbek statement expressed hope that the truces, which coincided with the holiday ending the Muslim holy month of Ramadan, is "extended indefinitely."
EBRD 'excited' about Kazakhstan's modernisation
20th June 2018 – Gwilym Jones, head of the European Bank for Reconstruction and Development's Brussels office (EBRD), has said the bank is excited about investing in Kazakhstan under the announced third stage of the country's modernisation, always looking to combine investment with policy reform and technical advice.
Kazakh President Nursultan Nazarbayev announced last year the Third Modernisation of Kazakhstan.  The first one was the creation of an entirely new state following the collapse of the Soviet Union, based on the principles of market economy. The second one was the creation of the country's new capital, Astana. The third builds on accelerated technological renovation, digital technologies and investing in human capital.
Jones said that Kazakhstan is one of the top five countries in which the EBRD invests, and that in the last few years it has started to become what many economists call a middle income country.  In terms of numbers, he said that the EBRD has invested "a lot" in Kazakhstan – €600 million last year, over a billion the year before. More than €8 billion has been invested in the country's economy so far, "always looking to combine investment with policy reform and technical advice".
Kazakhstan to increase number of peacekeepers in UN missions
15th June 2018 – Kazakhstan will increase the number of peacekeepers in UN missions, with the first mission set to go to Lebanon.
Defense Minister Saken Jasuzakov read out President Nursultan Nazarbayev's address at the joint meeting of the Senate and Mazhilis of Kazakhstan on June 15, stating "Since January 1, 2017, Kazakhstan acts as non-permanent member of the UN Security Council. In the political address to the UN Security Council it was said that Kazakhstan intends to increase the number of its military observers and peacekeepers in UN peacekeeping missions. Deployment of peacekeepers will not only make a significant contribution into strengthening of international security, but will also enhance the weight of Kazakhstan as a responsible member of international community".
"Dispatch of peacekeeping group of the armed forces of Kazakhstan to the UN mission in Lebanon will allow to acquire skills necessary for peacekeeping and humanitarian operations, to check military combat ability of Kazakh officers in climate conditions of the Middle East," President Nazarbayev said.
EU welcomes interest of additional suppliers to join Southern Gas Corridor
15th June 2018 – The European Union welcomes the interest of additional suppliers to join the Southern Gas Corridor project, which envisages transportation of Azerbaijani gas to Europe, European Commission Vice-President for Energy Union Maros Sefcovic said this week.
"Our vision of the Southern Gas Corridor is not limited to the Shah Deniz II field. We therefore welcome the interest of potential additional suppliers of natural gas from the Caspian Basin, Central Asia, the Middle East, the Eastern Mediterranean Basin and the Black Sea to use the Southern Gas Corridor to further diversify natural gas supplies to Europe," said the European Commission's vice-president. "We have been engaging with both, Azerbaijan and Turkmenistan with respect to the Trans-Caspian pipeline over the past years."
He added that the EU stands ready to continue talks on the modalities for potential, commercially viable deliveries on the basis of the Ashgabat declaration, meant for development of energy cooperation between Turkmenistan, Azerbaijan, Turkey and the EU, from May 2015.
Central Asia has important role in 'peace, stability and prosperity' beyond region – UN Deputy Secretary-General
12th June 2018 – United Nations Deputy Secretary-General Amina Mohammed addressed the Heads of State summit of the Shanghai Cooperation Organisation (SCO) on Sunday, stressing that the organization's impact in the political, economic and security realm, extends well beyond the large Eurasian region that its members represent.
Noting that the SCO represents "more than half of humanity," Deputy Secretary-General Amina Mohammed said the eight-nation bloc is assuming even greater importance whose "expanded range of activities will have implications for peace, stability, and prosperity across the region and far beyond."   "You are playing a growing role in shaping the global agenda, based on cooperation and dialogue," Ms. Mohammed told the group in Qingdao, China.
The "Shanghai 5" was established in 1996 to cement peaceful cross-border relations between Kazakhstan, Kyrgyzstan, China, Russia and Tajikistan. It has since metamorphosed into the SCO, which now includes Uzbekistan, India and Pakistan.
EU–Central Asia environmental cooperation focuses on green investments
12th June 2018 – High level representatives of all five Central Asian countries, the European Union, International Financial Institutions (IFIs), international and regional organizations, and NGOs gathered for the 8th meeting of the EU-CA Working Group on Environment and Climate Change (WGECC) on 7 – 8th June in Tashkent, Uzbekistan to discuss the progress in cooperation on environment, climate change and water. The meeting was held under the chairmanship of Mr Massimo Cozzone from Italy, the coordinating EU country for the process.
The meeting gave an opportunity to share updates on the progress made since the last WGECC meeting, which took place in February 2018 in Brussels, Belgium. Points of discussion revolved around progress in the EU-CA regional cooperation in the areas of environment and climate change, and the perspectives of future policy developments at regional and bilateral levels. The meeting also discussed ways to improve CA countries' access to the Green Climate Fund, IFIs, the EU Investment Facility for Central Asia and bilateral programmes funding for projects in environment, with a focus on waste and water management, as well as energy and climate action.
Outcomes of the experts' on-site visits to CA countries to review the selected investment project proposals in waste, air quality management and climate change adaptation were presented. The need for a strategic approach and appropriate environmental assessments, notably Environmental Impact Assessment and Strategic Environmental Assessment were particularly emphasized as key elements for preparing successful environmental investment projects.
Mr Massimo Cozzone, Italian Ministry of Environment, Land and Sea said: "Central Asia is currently one of the most attractive regions in terms of sustainable development opportunities. The Italian Ministry, taking into consideration its long-standing engagement in the region, reaffirmed its commitment for the success of future activities of the Working Group, now focusing more and more on concrete actions, with the aim of supporting CA Countries in terms of development opportunities as well as in dealing with the main environmental challenges."
Major plans for Hong Kong-style hub in Central Asia revealed
7th June 2018 – Plans are in motion to set up a Hong Kong-type financial hub in Kazakhstan, following the unveiling of plans by the governor of the Astana International Financial Centre (AIFC) at an international conference marking the 20th anniversary of Astana, on 5th June. 
The AIFC was launched in an effort to capitalise on the impressive venue built for Expo 2017, as well as to boost the economy of Kazakhstan, too much dependent in the past on fossil fuels exports, into the 21st century.
AIFC governor Kairat Kelimbetov has served as minister and was deputy prime minister, responsible for macroeconomics, budget policy, governing of state companies and finance sector, tax and custom regulation. He has also served as Chairman of the National Bank of Kazakhstan.
Speaking to a big international audience in the futuristic Scientific Research Centre in Astana, Kelimbetov highlighted that it was the idea of President Nursultan Nazarbayev to create a regional financial hub based on common law jurisdiction. The idea was first mooted in 2015.
European Union expresses readiness to cooperate with Central Asia
7th June 2018 – The European Union is committed to constructive cooperation in Central Asia, Peter Burian, EU Special Representative for Central Asia said this week.
"The EU clearly states that we do not want to participate in various geopolitical games in the region. We want to cooperate constructively, contribute to the sustainable development, prosperity and security of this region," Burian said at the "Astana: The City of Peace" international conference.
He noted that the EU welcomes the initiatives of other major players and partners in the region, including China with "One Belt, One Road" initiative.  "We believe that Central Asia will play a key role as a link between Asia and Europe," he said.
Kazakhstan bids to host worldwide traditional sport games in 2021
4th June 2018 – Kazakhstan has launched its bid to host the first worldwide traditional sport games in 2021, signing a memorandum of understanding with the UNCESCO Committee on Traditional Sports and Games.
Kazakh Minister of Culture and Sport Arystanbek Muhamediuly thanked UNESCO for its attention to the development of national sports, noting: "343,000 people participated in national sports last year. 7 special sport clubs and 10 special sport schools function in the country. Such national sports as Kazakh wrestling, falconry and ordo were included into the UNESCO list of intangible cultural heritage in 2016 – 17."
UNESCO plans to hold the first worldwide traditional sport games in 2021. Kazakhstan is among four countries bidding to host the event.
IMF Concludes Visit to Tajikistan
30th May 2018 – An International Monetary Fund (IMF) mission, led by Ms. Padamja Khandelwal, visited Dushanbe between May 14 – 23rd to conduct discussions on recent macroeconomic developments and the economic outlook in Tajikistan.
The ensuing IMF Press Release stated that:
Measures to improve financial sector regulation and supervision are welcome. However, further measures are needed to restore the confidence of depositors in the banking system.
There are sizable downside risks to the fiscal outlook owing to large public infrastructure projects. Managing these risks will require significant fiscal consolidation.
The recent energy sector reforms can help improve operational efficiency in this sector, but more is needed to contain contingent liabilities from the large state-owned enterprises (SOEs).
Political turbulence, role of journalism reviewed at Eurasian Media Forum
25th May 2018 – Some 800 participants from 70 countries gathered at the 15th Eurasian Media Forum in Almaty on May 23 – 25th to discuss their work in the context of today's rapidly changing political climate.
Kazakh President Nursultan Nazarbayev emphasised the need for responsibility in reporting international affairs and the important role of the media in providing correct, reliable and objective information, as well as in identifying "fake news.": "Against the changes taking place in the world, the escalation of geopolitical tensions and new technological capabilities, the media can become both a trigger for the escalation of conflicts and a factor for global containment and prevention of international tensions. Hence the high responsibility of journalism."
The list of forum participants included well-known politicians and representatives of international organisations, research centres and mass media. The event focused on master classes for journalists and students, while local and foreign media experts discussed current topics in their industry.
Astana Economic Forum Focuses on Global Challenges 
22nd May 2018 – The 11th Astana Economic Forum kicked off in the Kazakh capital on 17th May, welcoming 5,000 participants from 111 countries and more than 500 speakers, including former United Nations Secretary-General Ban Ki-moon, former French President Francois Hollande and Apple co-founder Steve Wozniak.  Organised in Astana since 2008, this year's event focuses on global trends and challenges.
Opening the event, Kazakh President Nursultan Nazarbayev said the annual forum has evolved into a "good tradition" and a platform to "discuss acute issues in economy, investment and innovation." He indicated five global trends – digitisation of all aspects of human activity, energy revolution, rapid global population growth, change in the pace and nature of urbanisation, and transformation of the global labour market – and reiterated the need to establish G-Global platform under the aegis of the UN.
"Since last year's forum, we witnessed huge transformations worldwide. New confrontations have emerged, and it has become more difficult for states to find agreement. Distrust and unwillingness to understand the principles of an opponent are growing. This is a very difficult time for the world," said Nazarbayev, addressing the forum's opening plenary session.
Kazakh PM presents International Centre of Green Technologies in Astana
22nd May 2018 – Kazakhstan's new International Centre for Green Technologies and Investment Projects was presented during the Astana Economic Forum during a panel discussion by high officials and experts on the project.
Included on the "Green economy: New model of sustainable development" panel were Kazakh Prime Minister Bakhytzhan Sagintayev, Kazakh Energy Minister Kanat Bozumbayev, Environmental Organisation Association Presidium Chair Aliya Nazarbayeva, Global Green Growth Institute Chair Ban Ki-moon and other experts.
"Kazakhstan, as a country with huge natural resources, understands its responsibility for ensuring the sustainable development of world energy security. The [UN sustainable development] agenda until 2030 and the Paris Climate Agreement demonstrate that the world community as a whole is ready for the united effort to curb climate change. Today, we are honoured to present the International Centre for Green Technologies and Investment Projects as our contribution to the international community," Sagintayev said to begin the discussion.
The central function of the new endeavour is to build a culture of green societies and address environmental issues through the development of green technologies in Kazakhstan, with the idea that they will then be promoted and replicated in other Central Asian states. The centre is called upon to solve the tasks of transforming the energy sector, supporting the transition to green business, and applying green technology best practices.  President of Kazakhstan Nursultan Nazarbayev initiated the project, and it is hoped that it will serve as an ideological continuation of the legacy of EXPO 2017.
Kazakhstan Competitiveness Forum focuses on Kazakh-US economic cooperation
17th May 2018 – Kazakh and U.S. government officials and business executives discussed the implementation of commercial agreements reached during President Nursultan Nazarbayev's January 2018 official visit to the United States and increasing trade and investment cooperation during the Second Kazakhstan Competitiveness Forum yesterday.
Kazakh First Deputy Prime Minister Askar Mamin briefed the gathering on the implementation of agreements reached during President Nazarbayev's U.S. visit and Kazakh government measures to improve the country's business environment. He also spoke about Kazakhstan's modernisation, diversification and digitisation programmes.
"This year has been very productive for both Kazakhstan and the United States. The successful visit of President Nazarbayev to the U.S. earlier this year marked a new stage in the relationship between our countries. It resulted in trade and investment agreements worth $7 billion… This success would not be possible without continuous efforts by the Government of Kazakhstan to improve our business climate," he said.
Uzbekistan and US to resume bilateral strategic partnership
14th May 2018 – Uzbek President Shavkat Mirziyoyev will pay his first official visit to the US on May 15 – 17th at the invitation of President Donald Trump. After a bilateral meeting, the two presidents are expected to make a joint statement, titled "Uzbekistan and US: Start of a new era of strategic partnership."
An Uzbek spokesman stated: "Presidents Trump and Mirziyoyev will resume bilateral strategic partnership between the United States and Uzbekistan. They will discuss Uzbekistan's progress in implementation of important reforms, enhancement of trade and investments, as well as settlement of regional security issues, including stabilization of situation in Afghanistan." President Mirziyoyev is expected to hold bilateral meetings in Congress, the Department of Defense and the State Department.
Earlier, Mirziyoyev met with Trump at the May 2017 Riyadh Summit of Arab-Muslim countries. According to the Uzbek Foreign Ministry, Trump "hailed" the country's reforms.  In September of 2017, the new president of Uzbekistan paid his first visit to US, attending the UNGA in New York.  Documents worth $2.6 billion were signed during the visit, including agreements with General Electric, Honeywell, Caterpillar, Boeing and others.
Kazakhstan-EU Parliamentary Cooperation Committee adopts joint declaration
14th May 2018 – Kazakh and European parliamentary officials reconfirmed mutual commitment to strengthening ties as they adopted a joint declaration following the 15th annual session of the Kazakhstan-European Union (EU) Parliamentary Cooperation Committee (PCC) on May 10th.
The members of both parliaments, according to the Kazakh Mazhilis (lower house of Parliament) discussed Kazakh and EU foreign and security policies as well as commended Kazakhstan's non-permanent membership in the UN Security Council, its efforts to help restore peace in Afghanistan and Kazakhstan's assistance in efforts to achieve peace in Syria.
The document stated "both sides confirmed a strong commitment to further deepening close and mutually beneficial cooperation based on common values and mutual interests", while also covering security, economic and social issues, energy security, water resource management and regional cooperation, among other topics.
Kazakhstan, Tajikistan discuss cooperation and sign commercial agreements in Dushanbe
9th May 2018 – Kazakh First Deputy Prime Minister Askar Mamin discussed bilateral cooperation with Tajik President Emomali Rakhmon April 27 in Dushanbe.
Mamin said agreements reached between Kazakh President Nursultan Nazarbayev and Rahmon in Astana in March brought bilateral ties to a new level.
"The heads of state set the task to the governments of Kazakhstan and Tajikistan to increase trade turnover to $2 billion," Mamin said, expressing Kazakhstan's readiness to help achieve that goal.
Rahmon praised the results of the March 15 Consultative Meeting of the Heads of State of Central Asia in Astana and stressed the importance of the platform to regional cooperation.
Tajikistan is Kazakhstan's second major trading partner in the Central Asian region and accounts for more than 20 percent of the economy's total trade volume within the region.
Kazakhstan, UK consider IT partnership
4th May 2018 – Kazakh and United Kingdom officials recently discussed the possibility of signing a strategic partnership agreement to utilise the British model of developing IT projects in Kazakhstan's national digitisation programme.
The agreement would be between Kazakhstan's Ministry of Information and Communications and the UK's Government Digital Service and would involve governmental and IT business agencies from both countries. The discussions took place during Kazakh Deputy Prime Minister Askar Zhumagaliyev's April 24 – 27th visit to Great Britain and Ireland to discuss digital cooperation, cybersecurity and smart cities.
Zhumagaliyev met with heads of digitisation of British governmental agencies, including the National Cyber Security Centre and the Government Digital Service. Meetings were also held with the London Mayor's office, the top management of TechNation, IntelliSence.io and other British and Irish companies.
The meeting with National Technology Adviser and UK Government's Chief Coordinator For Digitisation and New Technologies Liam Maxwell discussed Kazakh-British cooperation in digitisation, introducing digital technologies into the economy and improving the e-government system.  In addition, Zhumagaliyev presented Maxwell with the main priorities and the progress of Kazakhstan's strategic digitisation programmes and discussed plans to develop the Astana Hub IT Park.
Senior figures to gather for new Astana Economic Forum
30th April 2018 – The former President of France and the former Secretary-General of the United Nations and other international thought leaders will gather in Astana May 17-19 for the 11th Astana Economic Forum (AEF). The name of the forum is being changed this year to the Global Challenges Summit (GCS) 2018, says a press release by AEF organisers.
Former Secretary General of the United Nations Ban Ki-moon, Chairman of the International Olympic Committee's Ethics Commission Hans Timmer, Chief Economist for the Europe and Central Asian region of the World Bank and former French President Francois Hollande are among those who will participate. Other participants will include leaders in the worlds of business, science and art who will look at current global risks and opportunities.
The technological revolution of recent years has created world-changing megatrends affecting countries, businesses and the world's population. Economic growth and resource resilience, digitisation and urbanisation, longevity and financial revolution, global security and cultural shift will be among the summit's topics.
The summit will include more than 200 speakers from more than 27 countries to debate the world's most important challenges and discuss solutions to create a safer and more sustainable planet.  The Astana Economic Forum will be held at the EXPO Congress Centre and Hilton Astana.
Kazakh FM meets with Chinese counterpart ahead of SCO summit
30th April 2018 – Shanghai Cooperation Organisation (SCO) member state foreign ministers met on April 24th to agree the agenda of the SCO summit to be held this June in Qingdao. It will be the first time the SCO heads of state will meet after admitting new members, India and Pakistan, at a summit in Astana in 2017.
Chinese President Xi Jinping met with the SCO member states' foreign ministers on the eve of the ministerial meeting. He said China considers the SCO's development a foreign policy priority and China is ready to provide political support with other member states, as well as to ensure security and stability in the region, deepen cooperation within the Belt and Road Initiative and expand humanitarian exchanges. Xi said in the 17 years of its existence the SCO has become an influential integrated regional organisation.
The foreign ministers of China, India, Kazakhstan, Kyrgyzstan, Pakistan, Russia, Tajikistan and Uzbekistan discussed political, economic and humanitarian cooperation within the SCO spheres and reviewed the draft Qindao Declaration that is expected to be signed by SCO heads of state in June. The sides also discussed the implementation of the agreements reached at the SCO Summit in June 2017 in Astana.
Kazakh Foreign Minister Kairat Abdrakhmanov discussed Kazakh-Chinese relations with State Councilor and Minister of Foreign Affairs of China Wang Yi. Particular attention was paid to preparations for Kazakh President Nursultan Nazarbayev's visit to China and participation in the SCO summit.
Turkmen President Concludes Official Visit To Uzbekistan
25th April 2018 – Turkmen President Gurbanguly Berdymukhammedov has concluded his official visit to Uzbekistan, which took place on April 23 – 24th.
Berdymukhammedov visited the House of Uzbek-Turkmen Friendship, which was recently constructed at the behest of Uzbek President Shavkat Mirziyoev.  The two presidents also laid flowers at a monument to the founder of Turkmen national poetry, Mahtumkuli, which was recently erected in the region.
Berdymukhammedov began the trip – part of a surge in diplomatic activity in Central Asia since the death of longtime Uzbek leader Islam Karimov in 2016 – with a visit to the Uzbek capital on April 23rd.  Mirziyoev told journalists following the two presidents' talks that Tashkent is ready to take part in the construction of the planned Turkmenistan-Afghanistan-Pakistan-India (TAPI) natural-gas pipeline.  Mirziyoev has said improving ties with Uzbekistan's neighbours is a major priority. He traveled to Turkmenistan in March 2017 in his first official visit abroad as president.
Asian Development Bank to invest $5bn in Central Asia
25th April 2018 – The Asian Development Bank will be investing US$5 billion into the Central Asian regional economic cooperation program until 2020.  Eleven countries participating in the program will receive funds for further development of the region's infrastructure and improvement of its transport and energy potential.
Giovanni Capannelli, ADB Country Director for Kazakhstan, stated: "Central Asia is going to play more and more important role, particularly for that connectivity aspect. Kazakhstan in particular will see a lot of these connectivity routes crossing by. And decisions that policy-makers will make today in terms of investing on this infrastructure, logistic centers, transport routes, energy and what we've discussed so far will be an important factor in determining future of the region.
Turkey and Kazakhstan look to boost ties 'in all areas'
20th April 2018 – Turkey is working with Kazakhstan to enhance bilateral ties in all areas, Foreign Minister Mevlut Cavusoglu said on Thursday.
Speaking at a news conference with his Kazakh counterpart Kairat Abdrakhmanov in the Turkish capital of Ankara, Cavusoglu said: "We are working together with the friendly and brotherly Kazakhstan to enhance our relations in all areas."
Cavusoglu said both countries want to increase bilateral trade volume to $5 billion.   "Turkish companies have played a very important role in the development of Kazakhstan," he added.  Abdrakhmanov said Kazakhstan and Turkey will even realize $10 billion of bilateral trade volume in future.
Cavusoglu thanked Kazakhstan for hosting the Astana talks aimed at ending the Syria conflict.
Turkmenistan, Kazakhstan mull co-op expansion in trade and economy
20th April 2018 – The issues of further expansion of trade-economic, scientific-technical and cultural-humanitarian cooperation between the Balkan region of Turkmenistan and Mangistau region of Kazakhstan were put on the agenda of the meeting held in the Avaza tourist zone.
The meeting gathered representatives of government agencies, industry and business, as well as cultural figures of friendly countries. Opening the forum, its participants noted the high level of interstate relations based on the centuries-old historical, cultural and spiritual affinity of the two neighbouring states.
During the meeting, Kazakh partners presented the prospects of Turkmenistan's developing market, particularly measures taken at the state level to stimulate domestic commodity production and foreign investment.
Kazakhstan plans to send 120 peacekeepers to Lebanon
18th April 2018 – Kazakhstan plans to send a group of peacekeepers to Lebanon, said Talgat Mukhtarov, deputy minister of defense of Kazakhstan.
"We have passed through all the procedures and only the standard procedures have left required by the UN. By autumn we will send a group of peacekeepers, about 120 officers on one mission. Preliminarily- it will be a mission to Lebanon," he said on the sidelines in the Majilis.
Prior to this, Kazakhstan sent only separate officers as observers or executive officers.  "Because we had no law on peacekeeping activity prescribing social issues, guarantees, security. The law has been adopted, preparation is underway, we are closely working with the UN. I visited Lebanon and the area where we will deploy. It is a peacekeeping mission," he concluded.
Kazakh President hails relations with Russia and Uzbekistan
13th April 2018 – Kazakhstan will continue to boost ties with Russia both at a bilateral level and on the international stage, Kazakh President Nursultan Nazarbayev said at a ceremony to receive credentials from foreign ambassadors.
"Kazakhstan's relations with Russia are a perfect example of interstate ties, strategic partnership and alliance," Nazarbayev noted, adding that "thanks to our close cooperation, the Eurasian Economic Union has been successfully operating.  Kazakhstan is determined to continue boosting ties with Russia both at bilateral level and on the international stage for the greater good of the two countries' people," the Kazakh president stated.
Nazarbayev also noted the close centuries-old ties between Kazakhstan and Uzbekistan, praising Uzbek President Mirziyoyev's contribution to further strengthening cooperation and stressing that with him in office a new chapter in the Astana-Tashkent partnership was opened.
"The launch of the Year of Uzbekistan in Kazakhstan this year, as well as the holding of the Year of Kazakhstan in fraternal Uzbekistan next year shall become a landmark of new discoveries and will give a powerful impetus to the whole spectrum of our cooperation," the President concluded.
UK and Kazakhstan set to bolster ties as bilateral trade nears $1.3 billion in 2017 
9th April 2018 – Kazakh Vice Minister for Investments and Development Arystan Kabikenov met today with UK Ambassador Michael Gifford to discuss prospects of cooperation in trade, investments, transport and transit, mining and metallurgy.
Kabikenov took a note of growing exports and suggested to further bolster business ties.  Ambassador Gifford underlined the importance of broadening relations through the organization of bilateral and multilateral events, including as part of China's One Belt One Road Initiative.
Both sides discussed the implementation of joint projects in mining, transport, industry.  Bilateral trade of Kazakhstan and the UK amounted to $1.286 billion in 2017, which is for 1.9% more than in 2016 ($1.262 billion). Exports from Kazakhstan to the UK in 2017 grew by 4.2% to $926.8 million.
Kazakhstan to launch projects worth $7 billion with foreign investors in 2018
9th April 2018 – Kazakhstan plans to start 67 projects worth USD 7.1 billion in 2018, resulting in the creation of more than 13.5 thousand jobs.  This work will be done with the support of Kazakh Invest National Company for Investment Support and Promotion jointly with foreign investors, Kazakh Invest Chairman Saparbek Tuyakbayev told a press conference on April 6th.
In the first quarter of 2018, construction and installation works have been started on 6 projects involving foreign investors for a total amount of USD 539 million. Implementation of these projects will create more than 600 jobs.  12 projects will be started in the second quarter.
Kazakh Invest is focused on attracting investments for 50 specific "niche" projects worked out with Deloitte, with prepared business plans, marketing research and defined project environment.  "The attraction of transnational companies is not only presentation and negotiations. Preparatory work shall be carried out first, because we need specific projects to invest the funds. Currently, we have prepared 50 new projects.  We have defined targeted companies for each project.  We have submitted this list to Ambassadors and to our representatives abroad," Tuyakbayev said.
Kazakhstan's anti-corruption initiatives supported by international experts
6th April 2018 – A delegation from Kazakhstan's Agency for Civil Service Affairs and Anti-Corruption recently visited Sweden and Switzerland to discuss anti-corruption measures.  The delegation met with representatives of the Varieties of Democracy (V-Dem Institute, Sweden), the World Economic Forum and the International Institute for Management Development (Switzerland) to present the results of Kazakhstan's three-year implementation of the Anti-Corruption Strategy for 2015 – 2025, as well as future plans.
According to the agency, international experts positively praised Kazakhstan's anticorruption efforts.  In particular, Staffan Lindberg, political science professor and director of the V-Dem Institute at University of Gothenburg, noted the positive results of the constitutional reforms implemented in 2017.  The results of this initiative will be highlighted in the V-Dem's study, which is scheduled for publication in April.
EU foreign policy chief meets with Central Asia foreign ministers in Tashkent
27th March 2018 – High Representative for Foreign Affairs and Security Policy/Vice-President of the European Commission Federica Mogherini met with the Foreign Ministers of Kazakhstan, Kyrgyzstan, Tajikistan and Uzbekistan, and the Deputy Foreign Minister of Turkmenistan, on March 26th ahead of the Tashkent Conference on Afghanistan "Peace process, security cooperation and regional connectivity", taking place today.
The meeting took place four months after the most recent formal EU-Central Asia Foreign Ministers' meeting, in Samarkand in November 2017, and two weeks after a landmark informal meeting of Central Asian Heads of State in Astana.
The meeting in Tashkent was an opportunity to discuss the positive trend of EU-Central Asia relations and also to demonstrate the high importance that the European Union attaches to the region's stability and prosperity, as well as closer ties, the EU said. The High Representative/Vice-President and the Ministers discussed the prospects for further cooperation, with the European Union already a valued partner in development, security, counter-terrorism and environmental matters, among others. The meeting also enabled the Ministers to give further feedback to the High Representative on the new EU Strategy for Central Asia, which is currently being developed.
The High Representative and the Ministers looked forward to continued high-level contacts over the next months, including the next round of the EU-Central Asia High-level Political and Security Dialogue in Turkmenistan, the Central Asian Environmental Forum in Uzbekistan, and the Regional Conference on Counter-terrorism and the Prevention of Violent Extremism as well as the International Conference on Water, both in Tajikistan, ahead of the next formal EU-Central Asia Foreign Ministers' meeting in Brussels later in 2018.
ADB grants millions of dollars to Tajikistan
27th March 2018 – The Asian Development Bank (ADB) plans to provide Tajikistan with about $160 million in 2018 for a number of projects, including the one on reducing risks from natural disasters.
Tajikistan joined ADB in 1998. Tajikistan received ADB assistance only on a non-reimbursable basis in 2008-2015. ADB operations in Tajikistan focus on improved infrastructure, investment climate reforms, and improved food security.  ADB's ongoing portfolio in Tajikistan in 2017 included 13 projects and one program amounting to $759 million, financed from 17 grants ($643 million) and four loans ($116 million).
Kazakhstan and Uzbekistan to boost economic cooperation, trade
21st March 2018 – The Joint Intergovernmental Commission on Bilateral Cooperation between Kazakhstan and Uzbekistan, co-chaired by Kazakh First Deputy Prime Minister Askar Mamin and Uzbek First Deputy Prime Minister Ochilboy Ramatov, met on 14th March to discuss relations between the states.
Trade turnover last year between Kazakhstan and Uzbekistan was $2 billion, 31.2% higher than in 2016.  Exports from Kazakhstan grew 35% in 2017 to $1.3 billion, while imports increased 25.1% to $735.2 million.
"We welcome the stable, positive dynamics in mutual trade. A further increase in volumes and extension of the list of commodity turnover will contribute to an increase in the volume of mutual trade. In addition, we need to timely implement trade contracts and agreements signed in 2017," said Ramatov.
The parties agreed on further coordinated measures to ensure the growth of trade turnover to $3 billion in 2018 and $5 billion by 2020, according to the Kazakh prime minister's press service.  2018 is the Year of Uzbekistan in Kazakhstan, with plans to hold more than 200 events highlighting the country's economy, tourism, culture and humanitarianism.
Four Central Asian Presidents meet for Astana Summit
15th March 2018 – Four Central Asian presidents met today in Kazakhstan for the first regional summit in almost a decade, a sign of improving ties following the death of divisive Uzbek leader Islam Karimov in 2016.
Host Kazakh President Nursultan Nazarbayev described what he called a new "mood" in the region ahead of the meeting with Uzbek President Shavkat Mirziyoev, Kyrgyz President Sooronbai Jeenbekov, and Tajik President Emomali Rahmon.
The leaders resolved to seek equitable agreements on sharing precious water resources, boost regional trade, and hold a summit every year before the Norouz holiday, Nazarbayev said after the meeting.
At a meeting with Jeenbekov hours before the summit started, Nazarbayev said that the five nations were capable of resolving all regional issues themselves.  "There is no need to call an outsider to resolve issues of the Central Asian nations, we are able to resolve everything ourselves — that is why we are meeting," Nazarbayev said.
Nazarbayev also held separate talks with Mirziyoev — who succeeded Karimov after his death was announced in September 2016 — ahead of the meeting.  "It's been just a year since you came to power and in that year we have done huge work, we have set up ties with our neighbors, resolved some issues that had remained unsolved for decades," Nazarbayev said.
IMF supports economic reforms in Turkmenistan
12th March 2018 – The economy of Turkmenistan continues to adjust to a challenging, although improving, external environment, with officially-reported growth of 6.5 percent last year, supported by rising natural gas exports, import substitution, and expansionary credit policies, an International Monetary Fund (IMF) mission led by Mr. Martin Sommer said in a statement issued at the end of the visit to Ashgabat earlier this month. The mission assessed Turkmenistan's macroeconomic and financial developments and discussed economic challenges and policy priorities with senior government officials, representatives of real and financial sectors, and the diplomatic community.
The IMF mission added that broader dissemination and improving quality of macroeconomic and financial data would help Turkmenistan enhance understanding of economic trends, attract foreign direct investment, and ease access to the global financial markets.  "The IMF stands ready to support the government's reforms through policy advice and capacity building, including on macroeconomic forecasting and fiscal and monetary policy frameworks," the statement concluded.
EU officials: Kazakhstan becoming model for wider Central Asian region
1st March 2018 – Speaking at a public event organised by EURACTIV in Brussels, EU officials shed light on the Union's relation with Kazakhstan, saying it was increasingly becoming a model for the wider region of Central Asia.
The EU Special Representative for Central Asia, Slovak diplomat Peter Burian, spoke in Brussels after returning from Astana, where he attended events marking the 25th anniversary of Kazakhstan-EU relations.
He said he was pleased that in his recent discussions in Astana the EU approach building on the resilience of states and societies was supported by speakers from Central Asia, including from civil society.
Burian said he believed that the landmark Enhanced Partnership and Cooperation Agreement (EPCA) signed by Kazakhstan and the EU in December 2015 sets "an important benchmark for other partners in Central Asia". He noted Kyrgyzstan has expressed an interest to upgrade its EU relationship through its own EPCA. "We are very pleased to see a growing maturity and growing influence of Kazakhstan as a regional player", Burian concluded.
China, Kyrgyzstan, Uzbekistan to launch new freight traffic routes
26th February 2018 – China, Kyrgyzstan and Uzbekistan will accelerate the international road freight transportation between countries.  It is planned that relevant routes will be launched this month, said official representative of China's Foreign Ministry, Geng Shuang, at a press conference on February 23rd.
Mr. Shuang noted that from October 30th to November 1st 2017, the countries conducted test cargo transportation on the Tashkent-Andijan-Osh-Irkeshtam-Kashgar international route, with favorable results.  Therefore, China, Kyrgyzstan and Uzbekistan are accelerating the relevant work and are planning to launch routes for freight transportation this month.
Kazakhstan concludes month-long UNSC Chairmanship          
21st February 2018 – Kazakhstan has handed over presidency of the United Nations Security Council to fellow non-permanent Member Kuwait, concluding its month-long chairmanship of the international organization.  Over the course of the month of January, the Kazakh presidency held about 30 consultations, briefings and debates, which resulted in several resolutions and statements by the Council President.
The first Central Asian state elected to the UNSC, Kazakhstan pays special attention to regional challenges and Afghanistan, which faces numerous challenges, including increased terrorism, drug production and trafficking.  At Kazakhstan's request, a UNSC delegation visited Kabul last month, for the first time since 2010, ahead of a full ministerial debate on Afghanistan and Central Asia. During the visit, meetings were held with the country's leadership, representatives of political parties and civil society.
UNSC ministerial debates held on January 19th focused on building a regional partnership in Afghanistan and Central Asia as a model to link security and development. The debates were chaired by Kazakhstan's Minister of Foreign Affairs, Kairat Abdrakhmanov.   On January 18th Astana organised a high-level UNSC event on "Non-proliferation of weapons of mass destruction: confidence-building measures", chaired by President Nursultan Nazarbayev.
Taking into account Astana's involvement in many global and regional processes, Kazakhstan stressed during its presidency the utmost importance of preserving peace and stability and to ensure the incremental and sustainable development of our fragile world.  Astana representatives called on world leaders to commit more effort and goodwill to head towards lasting peace and prosperity for all.
Kazakh Officials discusses areas of cooperation with UK Ambassador
15th February 2018 – Nurlan Nigmatulin, Speaker of the Majilis of the Kazakh Parliament, has met with H.E. Michael Gifford, the newly appointed Ambassador Extraordinary and Plenipotentiary of the United Kingdom of Great Britain and Northern Ireland to Kazakhstan, to discuss areas of cooperation between their two nations.
Among the promising areas of further cooperation, the parties identified economy, education, as well as the intensification of inter-parliamentary dialogue. Noting the main tasks set by President Nazarbayev in his January Address, Nurlan Nigmatulin underlined Kazakhstan's interest in strengthening partnership with Great Britain in the field of innovative technologies and digitalization.
Speaker Nigmatulin congratulated the British diplomat on the start of his service in Astana, stressing that the development of partnership with Great Britain is one of the priorities of Kazakhstan's foreign policy.
Turkmenistan aims at UNESCO World Heritage list with national carpet-weaving art
15th February 2018 – Turkmenistan is taking steps to include Turkmen carpet-weaving art on UNESCO's World Heritage list, joining other historic-cultural Turkmen monuments such as Ancient Merv, Kunya Urgench and Ancient Nisa.
Kusht Depdi, the Turkmen national art of signing and dancing, was included to the Representative List of the Intangible Cultural Heritage of Humanity in December 2017, and work is in underway to include Akhal-Teke horse breeding on the list as well.
Kazakhstan improves ranking on Open Budget Index
12th February 2018 – Kazakhstan received 53 points in 2017, compared to 51 the previous year, in the Open Budget Index (OBI) ranking. The rating uses a 100-point scale to measure central government budget transparency.
The assessment was conducted by the International Budget Partnership (IBP). Scores are assigned to 115 countries based on 109 indicators that assess public access to information in eight main budget documents.
Kazakhstan's score was the result of limited budget data provided for public inspection, according to the ranking. Extensive information was available in New Zealand (89 points), South Africa (89 points) and Sweden (87 points), while Equatorial Guinea, Lesotho, Niger, Qatar, Venezuela and Yemen, each with a score of zero, provided little or no information.
The index also offers a comparative budget assessment according the three main factors – transparency, public participation and oversight.   IBP assigned Kazakhstan's transparency score due to limited budget data provisions. The country has seen significant advances, however, as the score climbed from 35 in 2008. Kazakhstan also scored more than the global average of 42 and surpassed neighbouring Azerbaijan, Mongolia and Tajikistan.
"Extensive work is done by the Ministry of Finance to increase budget transparency. The in-year and annual budgets received higher scores in 2017. The rules for citizens budget formulation and presentation at the stages of budget planning and execution were approved on Jan. 8 by the minister's order," said budget legislation department head Zaifun Yernazarova.
UN Security Council debate focuses on regional partnerships in Central Asia
8th February 2018 –  In a first for both the UN Security Council and the Central Asian region, Kazakh Foreign Minister Kairat Abdrakhmanov presided over a meeting of the council devoted to "Building Regional Partnership in Afghanistan and Central Asia as a Model to Link Security and Development" on January 30th.
The day's programme featured a briefing by United Nations Secretary-General Antonio Guterres, statements by all five Central Asian states, and by various other regional powers.  Conducted at the ministerial level by invitation of the Kazakh presidency, the meeting was also attended by several foreign ministers, including Sergey Lavrov of the Russian Federation.
Secretary-General Guterres noted that the Central Asian states have an important development role, particularly regarding the 2030 Agenda for Sustainable Development.  Minister Abdrakhmanov told of Kazakh President Nursultan Nazarbayev's vision to create in Central Asia a zone of peace, security and cooperation.
He said that the peace process for Afghanistan must be an Afghan-led and Afghan-owned one and lauded U.S., Russian and Chinese efforts toward that goal.  He stated that the Afghan peace process should be based on three pillars: 1) The security/development nexus, 2) Regional cooperation and 3) Coordinated efforts, led by agencies of the United Nations.
Almaty hosts International Digital Kazakhstan summit
8th February 2018 – On February 2nd, Almaty hosted the International Digital Kazakhstan summit, attended by state officials, businesspeople and scientists and focusing specifically on the Digital Kazakhstan programme and biometrics. Participants noted the dual approach as an effective strategy in creating business IT departments.
Zerde National Infocommunication Chairperson Ruslan Yensebayev stated: "We studied the existing experience with Digital Kazakhstan and realised that there is a very good example of the joint work by KBTU (Kazakh-British Technical University) and KazZinc in the East Kazakhstan region. This experience will be implemented in other enterprises".
Kazakh President to Meet Trump, Discuss Afghanistan, Russia
16th January 2018 – US President Donald Trump will meet with Kazakh President Nursultan Nazarbayev today to discuss regional security, economic issues, and bilateral relations, the White House says.
The two leaders are expected to discuss "several international challenges," including Afghanistan, that are expected to affect Kazakhstan's term as president of the United Nations Security Council.
Kazakh state news agency Kazinform notes that Trump and Nazarbayev will also discuss relations with Russia and the war in Syria, along with trade issues, during their talks.
Central Asia's Economic Growth Made Up More Than 4% in 2017
16th January 2018 – According to the results of the study by the European Bank for Reconstruction and Development, Central Asia's economic growth made up more than 4% in 2017.
Over the past nine months the states of the region had positive improvements after a slowdown in 2016. In the exporting countries, the growth of commodities is explained by the increase in production in the extractive industry and the world oil prices rising above US$60 per barrel.
There have been high rates of industrial growth in Tajikistan and Kyrgyzstan, mainly due to coal and gold extraction, as well as the production of textile products. In addition, the national currencies have been stabilized in most Central Asian countries. In 2018, the EBRD predicts further growth in the region's economies by 4.4% on average.
As UNSC President, Kazakhstan to tackle biggest global threats – UN Assistant Secretary-General
12th January 2018 – Miroslav Jenča, UN Assistant Secretary-General, has stated that Kazakhstan will have to look for ways to solve problems which pose a threat to the future of humanity during its one-month Presidency of the UN Security Council.
During an online briefing for Kazakh media from New York, Jenča noted Kazakhstan's special role as the President of the UNSC for the month of January, and noted that next week the UNSC will host a number of important events, including a session on nuclear disarmament and confidence-building measures attended by President Nursultan Nazarbayev.
Mr. Jenča went on to praise Kazakhstan's efforts towards a peaceful settlement of the ongoing Syrian conflict through the Astana process initiative, as well as the situation in Afghanistan.
Kazakhstan ratifies strategic partnership deal with Turkmenistan
12th January 2018 – Kazakh President Nursultan Nazarbayev has ratified the strategic partnership agreement between Kazakhstan and Turkmenistan established during the visit of Turkmen President Gurbanguly Berdimuhamedov to Astana in April 2017.
Deputy Foreign Minister of Kazakhstan Galymzhan Koishybayev stated: "Turkmenistan is a close neighbor and partner of Kazakhstan in the region, and Central Asian is a priority region of Kazakhstan's foreign policy."
The new Turkmen-Kazakh strategic partnership agreement replaces the 1993 friendship and cooperation treaty, and aims to elevate the strategic partnership and bring ties between the two nations closer.  Turkmenistan ratified the deal in September 2017.
EU to consider easing visa regime with Kazakhstan – Foreign Minister
8th January 2018 – The European Union is expected to consider simplification of its visa regime with Kazakhstan, according to Kazakh Minister of Foreign Affairs Kairat Abdrakhmanov, who also noted that Kazakhstan is currently negotiating abolishing the visa regime with Thailand and Macau.
Earlier, the Foreign Minister said that it is possible that starting the first quarter of 2018, Kazakhstanis will be able to visit the United Arab Emirates without a visa.
Uzbek President approves Framework Agreement with EIB
8th January 2018 – Uzbek President Shavkat Mirziyoyev has signed a decree approving a Framework Agreement between Uzbekistan and the European Investment Bank (EIB) concerning the activities of the bank in Uzbekistan.
The agreement is aimed at "further strengthening cooperation with international financial institutions, attraction of foreign investments and technical assistance into Uzbek economy."
The head of Uzbekistan assigned the Investments Committee as the responsible body for cooperation with the EIB and implementing this international treaty.
European Parliament approves EU-Kazakhstan enhanced partnership agreement 
14th December 2017 – The overwhelming majority of European Parliament (EP) members approved Dec. 12 the Enhanced Partnership and Cooperation Agreement (EPCA) between Kazakhstan and the European Union (EU) and its member states, the first of this kind concluded with a Central Asian country.
The EPCA, signed in Astana on 21st December 2015 and temporarily applied since 1st May 2016, was passed with 511 out of 654 present members voting in favour.  The agreement will fully enter into force once ratified by all EU member states.  To date, 18 nations out of 28 EU states have approved the document.
"The EU opened a new chapter in its relations with Kazakhstan, the largest country in Central Asia," tweeted EP member and former Slovakian foreign minister Eduard Kukan.
"The agreement will boost political and economic cooperation with this important country in Central Asia. The European Union is Kazakhstan's biggest investor and one of its important trade partners," said rapporteur and EP member Liisa Jaakonsaari during the debates the previous day. "Kazakhstan is crucial for the implementation of the EU Central Asia Strategy."
New Kyrgyz President Jeenbekov Visits Uzbekistan
14th December 2017 – New Kyrgyz President Sooronbai Jeenbekov is on an official visit to neighboring Uzbekistan.   Jeenbekov, who took office on November 24th, arrived in Tashkent for a two-day visit yesterday.
Jeenbekov, who was met at the airport by the prime minister and foreign minister, was to meet with Uzbek President Shavkat Mirziyoev to discuss economic, political, and cultural ties.   Jeenbekov and Mirziyoev were expected to discuss issues related to the Kyrgyz-Uzbek border, a source of tension since the collapse of the Soviet Union in 1991.
Central Asian Foreign Ministers to meet in Turkmenistan
11th December 2017 – The Foreign Ministers of the five central Asian countries and Afghanistan will meet in Ashgabat, capital of Turkmenistan, later today.
The meeting is part of the events taking place in the capital of Turkmenistan in honor of the 10th anniversary of the UN Regional Center for Preventive Diplomacy for Central Asia located in Ashgabat.
Two international conferences titled "Neutrality Policy and Preventive Diplomacy in International Relations: Experience of Turkmenistan and Its Importance" and "The UN Regional Center for Preventive Diplomacy for Central Asia: 10 Years of Cooperation with Central Asia for Peace and Prosperity of the Region" are the main events of the anniversary.
Astana Hosts #Kazakhstan Global Investment Roundtable
11th December 2017 –  The Government of Kazakhstan, headed by the Prime Minister Bakytzhan Sagintayev, discussed topical issues of investing in Kazakhstan with representatives of more than 100 major international companies during a Global Investment Roundtable in Astana on December 6th.
As Prime Minister Sagintayev noted, the main goal of the event was the formation of a large-scale and sustainable strategy to stimulate the process of attracting the investments of "new generation" to Kazakhstan.
During the day, more than 100 representatives of international companies, financial organizations, embassies, non-governmental organizations, foreign media from 30 countries of the world considered investment proposals and business prospects with heads of the state and quasi-public sectors and leading businessmen of the country.
In his presentation, Prime Minister Sagintayev noted that "according to PriceWaterhouseCoopers and the World Bank, Kazakhstan comes 18th in terms of favorability of investment climate out of 189 countries".
Brussels to host fifth EU–Central Asia ministerial conference on rule of law
4th December 2017 – In the framework of the Rule of Law Initiative of the EU–Central Asia Strategy, the Estonian Presidency of the Council of the European Union, in close cooperation with France and Germany as coordinators of the Initiative, is organising the 5th Conference on Rule of Law of the Ministers of Justice of Central Asia and the European Union.
The Conference will take place on 7th December 2017 in Brussels with the support of the European Commission's Rule of Law Platform project.
The Ministerial Conference will take stock of recent development in Access to Justice in Central Asian countries and in France and Germany, specifically focusing on Alternative Dispute Resolution mechanisms (ADR).  It will also follow up on the implementation of the Joint Ministerial Declaration adopted in 2014 by the EU-Central Asian Ministers of Justice.
In June 2017, the EU Council announced a comprehensive review of the EU Strategy for Central Asia for 2019 and underlined in its conclusions the importance of prioritising even further the rule of law cooperation in the EU Strategy.   Bringing together participants from the Central Asian and EU Member States at ministerial and technical levels, the Ministerial Conference will confirm EU's engagement in Central Asia and will further enhance dialogue and exchange of experience.
Kazakhstan up to 72nd place in Prosperity Index
4th December 2017 – Kazakhstan has climbed by 11 positions from 83rd to 72nd in the overall Prosperity Index rankings compared to last year, according to the rating developed by the UK's Legatum Institute.
Since the Prosperity Index was launched in 2006, Kazakhstan has moved up the rankings table by 20 places.
Legatum Institute analysts say that Kazakhstan performs best on Education and Economic Quality and scores lowest on the Personal Freedom pillar in the Prosperity Pillar rankings.   The biggest positive change compared to last year came in Social Capital increasing by 24 places.
The Prosperity Index rankings of The Legatum Institute measures the achievements of countries in terms of their well-being and prosperity. The index is compiled on the basis of a set of indicators reflecting various aspects of society's life and social welfare parameters. The index aims to study public welfare and its development on a global scale.
Kyrgyzstan Inaugurates New President
27th November 2017 – Kyrgyzstan's new president has been inaugurated in the capital, Bishkek, in a first peaceful transfer of power between elected presidents in the region.  Sooronbai Jeenbekov replaces President Almazbek Atambaev, who was constitutionally barred from seeking a second term.
Delivering remarks in both Kyrgyz and Russian at his inauguration ceremony, Jeenbekov pledged to protect the "unity of the country."   Jeenbekov, who served as Atambaev's prime minister from April 2016 to August 2017, also vowed to tackle rampant corruption in the Central Asian state of 6 million.
Turkmenistan adopts law on counteracting terrorism
27th November 2017 – The law "On Counteracting Terrorism" has been adopted during a regular session of the Turkmen Parliament, the country's State News Agency reported.
The document defines legal basis for counteracting terrorism, powers and duties of state bodies, public associations, officials, establishes guarantees for the legal and social protection of citizens participating in counteracting terrorism.
"Our state advocates boosting partnership within authoritative international organizations in order to implement the Ashgabat Declaration adopted in June this year following the results of the High-Level UN-Central Asian Dialogue on Implementing the United Nations Global Counter-Terrorism Strategy in Central Asia," said the report.
The Eurasian Council on Foreign Affairs holds the Fourth Annual Meeting of its Advisory Council at Cliveden House
22nd November 2017 – The Fourth Annual Meeting of the ECFA Advisory Council was held on November 20th – 21st at Cliveden House, Berkshire, for a second successive year.
The Meeting brought together Members of the ECFA Advisory Council and distinguished guests from the spheres of British and European politics, business, media and academia.   On November 20th, the Advisory Council held a productive Board Meeting chaired by Dr. Benita Ferrero-Waldner, former Foreign Minister of Austria, followed by a reception and dinner in the presence of The Rt. Hon. Sir Alan Duncan, KCMG, MP, Minister of State for Europe and the Americas at the Foreign and Commonwealth Office, and The Rt. Hon. The Viscount Astor, who delivered the Loyal Toast.
H.E. Kairat Abdrakhmanov, Foreign Minister of the Republic of Kazakhstan and new Hon. President of the ECFA, spoke with Members of the ECFA Advisory Council during the Board Meeting and delivered an informative after-dinner speech to the Members and their guests.   H.E. Kjell Magne Bondevik, former Prime Minister of Norway, offered a Vote of Thanks at the conclusion of the dinner, addressing the high-level audience and expressing gratitude on behalf of the ECFA Advisory Council towards all attendees.   H.E. Erlan Idrissov, founding Hon. President of the ECFA and Ambassador of the Republic of Kazakhstan to the United Kingdom, was thanked for his initiative in setting up the ECFA and invited to join the Advisory Council for all future Meetings.
The following morning, the Members of the Advisory Council welcomed distinguished external guests to discuss the development of political, institutional, security and economic integration between the countries of Europe and Central Asia, over the course of two highly informative Discussion Groups.   At the conclusion of the Meeting, the Members of the Advisory Council issued a collective statement on the Iran nuclear agreement, supported by all present.
Five Central Asian Nations Sign Cooperation Program at Uzbekistan Meeting
13th November 2017 – The foreign ministers of the five Central Asian nations — Kazakhstan, Kyrgyzstan, Tajikistan, Turkmenistan, and Uzbekistan — have signed a Program on Mutual Cooperation for 2018-19.
The Kazakh Foreign Ministry said the document was signed in the Uzbek city of Samarkand during the 13th annual EU-Central Asia ministerial meeting on November 10.
The document outlines joint efforts to boost security, trade and economic cooperation, investment, transportation, energy, tourism, and culture across the region.
The ministers also agreed to cooperate in international activities and within international organizations, such as United Nations, the Commonwealth of Independent States (CIS), the Organization of Islamic Cooperation (OIC), the Organization for Security and Cooperation in Europe (OSCE), and others.
European Union foreign policy chief Federica Mogherini and European Commissioner for International Cooperation and Development Neven Mimica also attended the EU-Central Asia gathering in Samarkand.
Central Asia has huge unrealized potential – Uzbek President Shavkat Mirziyoyev
13th November 2017 – Central Asia is a region of unique opportunities and has huge unrealized potential, President of Uzbekistan Shavkat Mirziyoyev said at the international conference "Central Asia: One Past and a Common Future, Cooperation for Sustainable Development and Mutual Prosperity" held on November 10-11 in the historic city of Samarkand.
"The future of the region is formed by every state in Central Asia. A solid foundation and guarantor of its sustainable development is the willingness and desire for cooperation, as well as the responsibility of all the Central Asian countries for our future," Mirziyoyev noted in his address at the conference organized under the auspices of UN.
According the Uzbek President the main goal is to turn Central Asia into a stable and economically developed region by joint efforts. "We must eliminate the roots that feed the conflict potential. We are looking for reasonable compromises in resolving issues on borders, water use, transport and trade."
He outlined the range of tasks that must be solved to ensure a sustainable future for the region. "A practical step can be the creation of a regional economic forum for direct dialogue between the business community for trade, economic, investment and innovation cooperation," Mirziyoyev suggested.
EBRD plans 15 more Uzbekistan projects over next year
13th November 2017 – The European Bank for Reconstruction and Development, which has just resumed lending in Uzbekistan, plans 15 more projects in the Central Asian nation in the next 12 months, EBRD first vice president Phil Bennett said on Saturday.
Bennett reopened an EBRD office in the former Soviet republic this week and agreed four loans worth $125 million in total, the bank's first new financing in the country since 2010.
Re-engaging the EBRD was one of the first big moves by President Shavkat Mirziyoyev, who came to power last December and announced an ambitious programme of economic reforms.
Bennett told reporters in the Uzbek city of Samarkand that the bank's operations in the mostly Muslim nation bordering Afghanistan were "going fast".  "We have some further 15 projects in our pipeline for the next 12 months," he said. "This is a particularly exciting time to be here."
EBRD lifts 2017 growth forecasts for Central Asian states
9th November 2017 – In a new report, the European Bank for Reconstruction and Development is sharply upgrading its growth forecast this year for the CIS states and countries of Central Asia, as economic recovery gains strength on the back of higher commodity prices and investment.
The multilateral lender to "emerging" Europe expects average growth of 3.3% across its 37 countries of operation — up from 1.9% in 2016 and higher than the 2.4% it forecast in its last regional economic outlook in May.  Average growth is expected to moderate slightly to 3% next year.
The five former Soviet republics of Kazakhstan, Kyrgyzstan, Uzbekistan, Tajikistan and Turkmenistan are forecast to grow 4.5% this year, up 0.7 percentage points since the May forecast.  Despite problems in its banking sector, Tajikistan sees the biggest upgrade in its growth forecast this year, by 2.7 percentage points to 6.5%, reflecting a strong recovery in remittances from Russia.
"The broad-based recovery is a very welcome development," said Sergei Guriev, the EBRD's chief economist. "It also creates a window of opportunity to carry out reforms that will ensure the sustainability of the stronger growth rates over the longer term."
Uzbekistan becoming hub of ecotourism in Central Asia
31st October 2017 – According to the UNWTO, ecotourism is one of the fastest growing trends in the world of travel, and Uzbekistan is fast becoming a hub at the heart of Central Asia.
Uzbekistan's climate and environment provide great scope for ecotourism from deserts to mountains to glaciers.   Highlights include the Ugham Chatkal State Natural Park, riparian forests in the delta of the Amu Darya River, the Kyzyl Kum desert, Nuratin Aydarkul in the Farish district of Jizzakh and the desert steppe and mountain regions which preserve the cultural and historical features of traditional life in the Nurata district of Navoi.
The Uzbek government recently signed an act on the 'Ecological Movement of Uzbekistan' to promote ecotourism as an active form of recreation, based on the sustainable use of natural goods, conservation and the welfare of local people.
Kazakh government orders switch from Cyrillic to Latin alphabet
26th October 2017 – Kazakhstan is set to change its official alphabet to a Latin-based alphabet from a Cyrillic one, in what is seen in part as a symbolic move to underline its independence.   President Nursultan Nazarbayev today ordered to prepare for the switch.
Kazakh, a Turkic language, used to be written in Arabic script until the 1920s when the Soviet Union briefly introduced a Latin alphabet.   This was later replaced by a Cyrillic one in 1940, based on the Russian alphabet.
The latest switch is partly due to modern technology.  The Cyrillic alphabet has 42 symbols, making it cumbersome to use with digital devices – a standard Kazakh keyboard utilises almost all number keys in addition to letter and punctuation keys.
Almaty hosts OECD Eurasia Week
26th October 2017 – OECD Eurasia Week took place in Almaty on October 23 – 25th, under the theme "Openness for Shared Prosperity" – the first time the event has been held outside the organisation's Paris headquarters.
The forum gathered high-level officials from the OECD, its member states and partner countries in the Eurasian region, including OECD Secretary-General Angel Gurria and Kazakh Prime Minister Bakytzhan Sagintayev, to discuss ways to promote economic openness and foster policy dialogue in a multilateral framework.
Eurasia Week is a key OECD event within its Eurasia Competitiveness Programme, launched in 2008 and involving 13 countries of Central Asia, the South Caucasus and Eastern Europe: Afghanistan, Armenia, Azerbaijan, Belarus, Georgia, Kazakhstan, Kyrgyzstan, Mongolia, Moldova, Tajikistan, Turkmenistan, Ukraine and Uzbekistan. The event brings together representatives from 35 OECD member states and Eurasian partner countries to determine ways to strengthen ties.
Bringing Eurasia Week to the region is symbolic of the area's deepening engagement with the OECD, and of Eurasia's significance to OECD member states, Gurria noted in his opening remarks.   "We see the growing interest from the region in the OECD instruments and multilateral cooperation," he said.   The decision to host Eurasia Week in Almaty reveals Kazakhstan's increasingly dynamic involvement in the organisation and its "thorough and fruitful cooperation," he added.
Jeenbekov Wins Kyrgyzstan's Presidential Election
16th October 2017 – Former Prime Minister Sooronbay Jeenbekov has won Kyrgyzstan's presidential election, according to preliminary official data.
Jeenbekov, who is backed by outgoing President Almazbek Atambayev's Social Democratic party, received 54.3% of approximately 1.7 million votes cast, making a run-off unnecessary, the central election commission reported today.   Businessman Omurbek Babanov, who heads the opposition Respublika party, was second with 33.4%.   Turnout was 56% of 3 million eligible voters.
In Kyrgyzstan Presidents are restricted to a single six-year term under a constitution that has been in force since 2010.
EIB and Uzbekistan sign agreement of cooperation
16th October 2017 – The European Investment Bank (EIB) and Uzbekistan have signed a framework agreement, allowing the former to support public and private sector Uzbek projects in such areas as public infrastructure, energy and energy efficiency and small business development.
"I welcome the accession of Uzbekistan to the family of countries in which the bank operates. The signed Framework Agreement is a symbolic document which allows us to start financing projects that are mutually beneficial for Uzbekistan and the European Union. This will improve the living standards of citizens and strengthen the country's competitiveness. We are determined to move quickly from this important official step in our bilateral relations to concrete support for projects," vice-president of the European Investment Bank Vazil Hudak said in Washington D.C.
Uzbek Deputy Prime Minister Jamshid Kuchkarov noted: "We hope that the interaction with the EIB within the framework of the document will allow the implementation of investment projects with practical impact on the promotion of reform of various sectors of the economy, including the use of advanced European technologies. The development of cooperation with the bank corresponds to the priorities of Uzbek President Shavkat Mirziyoyev's reforms aimed at improving the business investment climate in the framework of Strategies for the development of Uzbekistan in 2017-2021".
The launch of the bank's operational activities in the country will be a new stage of the EU Strategy for Partnership with Central Asia, according to the experts. This strategy reflects the growing importance of the region for the European Union and aims to strengthen the ties between the EU and the Central Asian countries by promoting prosperity, stability and security.
ATOM Project Honorary Ambassador congratulates ICAN for Nobel Prize win 
10th October 2017 – The Geneva-based International Campaign to Abolish Nuclear Weapons (ICAN) was awarded the 2017 Nobel Peace Prize last week, having played a key role in the approval of the Treaty on the Prohibition of Nuclear Weapons by 122 countries.
As part of the coalition of organisations forming the ICAN, Karipbek Kuyukov, Honorary Ambassador of Kazakhstan's ATOM Project, congratulated ICAN and all the nuclear disarmament partners it represents on the recent announcement of the award.
"Having recently collaborated with ICAN, I want to congratulate ICAN on its Nobel Prize and thank the organisation for its work with The ATOM Project and other non-proliferation partners to achieve a nuclear-weapons-free world. This award truly brings to the fore the issue of nuclear non-proliferation and the hard work of ICAN members around the world and others who are striving to remove the threat of nuclear weapons," Kuyukov said.
The ATOM Project has received the support of many anti-nuclear activists around the world thanks to its cooperation with the anti-nuclear campaign group, following Kazakh President Nursultan Nazarbayev'launching of the project in August 2012.
Turkmenistan adopts law on free economic zones
10th October 2017 – Turkmenistan's President Gurbanguly Berdimuhamedov today signed the a Law "On Free Economic Zones", determining the legal, organizational and economic basis for the creation, functioning and liquidation of free economic zones in the country.
Turkmenistan is implementing measures to modernize, diversify and strengthen the export potential of the national economy, with major investments allocated for the development of oil & gas sector, agro-industrial complex, high-tech industries that produce competitive goods for world markets, and the formation of developed transport, information and communications infrastructure.
State economic policy focuses on international cooperation, large-scale financing of the most important national and international projects by domestic resources, as well as attraction of foreign investments to the country, and establishing long-term relations with international business circles.
"The new law will give a new momentum to the development of the national economy, and help to increase the investment attractiveness of Turkmenistan," reported the Turkmen state news agency.
Leading companies join "Made in Uzbekistan" expo
10th October 2017 – More than 50 major companies have confirmed their participation in an exhibition highlighting the achievements of the Uzbek economy, entitled 'Made in Uzbekistan'.  The event will be held at the Uzexpocentre in Tashkent between 7 – 9th November.
The goal of the exhibition is to promote national products in the domestic and foreign markets, increase and stimulate production of high-quality and competitive import-substituting products.
The exhibition will also contribute to the promotion and presentation of domestic industrial enterprises, innovative achievements, wide access opportunities and exhibitions with the scientific and production potential of the country, the development of the country's automobile, railway and air transport infrastructure, the disclosure of economic and investment potential, and presentations of broad opportunities for investment projects.
Kyrgyzstan Prepares to Elect a New President
4th October 2017 – On October 15th, Kyrgyzstan will go to the polls to elect a new President, one month after the race was officially declared open.   A dozen candidates are standing in the election, two of whom are considered clear favourites – Sooronbai Jeenbekov, former Kyrgyz Prime Minister and the candidate of the ruling Social Democratic Party, and Omurbek Babanov, businessman and leader of the Ata-Jurt/Respublika opposition coalition.
Jeenbekov has served as Agriculture Minister, briefly in 2007, and then governor of his native Osh region, from 2010 to 2015. He was appointed Prime Minister last April, but stepped down in August to devote himself full-time to campaigning.
Babanov is a native of the more urbanized north, as opposed to Jeenbekov, a son of the rural south.  Having set up highly profitable hotel, fuel and realty companies, he got into politics in 2005, getting elected to parliament.   In October 2011, he was named Prime Minister by outgoing President Almazbek Atambayev. In the year before the 2015 parliamentary elections, he engineered an improbable union between his ostensibly business-oriented Respublika party and the nationalist Ata-Jurt party.
Political analyst Marat Kazakpayev notes that more candidates may decide to endorse the frontrunners: "the candidates are neck and neck, and the fight is unfolding as one between the [two of] them. As far as booklets and campaign poster goes, Babanov is far ahead of everybody else, but Jeenbekov has a little more support. But both of them stand a good chance, and the winner will be decided in the second round," he predicted.
Unless any one candidate receives the required majority, there will be a second round of voting, to take place no earlier than two weeks after results are announced.
 
Uranium supply to power growing ties between Uzbekistan and India

4th October 2017 – Uzbekistan is seeking to deepen its strategic partnership with India by planning to export uranium to power a growing number of nuclear plants in South Asia's biggest country.
Uzbekistan's neighbour Kazakhstan has been a supplier of uranium to India since the end of the last decade.  By planning to export precious item like uranium to India now, Tashkent is signalling its desire to expand the list of its strategic partners, a local official told India's Economic Times this week, on condition of anonymity.
Uzbekistan, the seventh biggest uranium exporter in the world, will be a key player in India's plan to procure nuclear fuel to create a strategic uranium reserve. New Delhi is working to have a stockpile of nuclear fuel that can sustain the country's reactors for five years and ensure that they do not stop functioning in the absence of fuel.
Uzbekistan, the seventh biggest uranium exporter in the world, will be a key player in India's plan to procure nuclear fuel to create a strategic uranium reserve. New Delhi is working to have a stockpile of nuclear fuel that can sustain the country's reactors for five years and ensure that they do not stop functioning in the absence of fuel.
Green Climate Fund to provide up to US$110 million for Kazakhstan clean energy projects
4th October 2017 – The Green Climate Fund (GCF) has approved the allocation of up to US$110 million to the European Bank for Reconstruction and Development (EBRD) Kazakhstan Renewables Framework, at a meeting in Cairo.
The framework aims to finance the construction and operation of solar, wind, small hydropower and biogas projects in the Central Asian country. The framework was originally approved by EBRD in 2016 as a €200 million financing pot. It will also aid the modernisation and strengthening of the electricity grid to help integrate these renewables.
The GCF contribution comprises US$106 million in concessional finance and US$4 million in technical assistance grants. The GCF is a financial mechanism under the UNFCCC which helps fund climate-related finance investment.
Kazakhstan remains heavily dependent on fossil fuels for power generation, with coal-fired plants accounting for 72% of generation, according to EBRD. Under efforts to move towards clean energy, the EBRD has supported the Burnoye solar park and invested €1.7 billion in sustainable energy and resources. It is also set to finance the Baikonur Solar park.
Kazakhstan's Nationally Determined Contribution, under the Paris agreement, involves an emissions reduction target of 15% below 1990 levels by 2030.
Aida Sitdikova, EBRD director, Energy and Natural Resources Russia, Central Asia and Caucasus, said: "The framework builds on eight years of policy and investment work in Kazakhstan. lt makes a profound contribution to the scaling up of renewable energy in the country, combined with a strong focus on gender and inclusion and a drive to lay the regulatory foundations for a sustainable renewable energy market in the country."
Hosts Turkmenistan top medal table after 'best-ever' Asian Indoor and Martial Arts Games
29th September 2017 – The Olympic Council of Asia President Sheikh Ahmad Al-Fahad Al-Sabah described Ashgabat 2017 as the "best-ever" Asian Indoor and Martial Arts Games in history at a dazzling closing ceremony on Wednesday.
After 12 days of fierce competition across 21 sports in 15 stunning venues, the fifth edition of the AIMAG came to a close with hosts Turkmenistan topping the medal table ahead of the People's Republic of China and the Islamic Republic of Iran.
Turkmenistan's tally of 89 gold medals included 39 gained in its national sport of Belt Wrestling as well as 23 in Traditional Wrestling. The host nation's total haul of 245 medals also included 70 silvers and 86 bronzes.
By contrast, runners-up China – after a slow start – snared 97 medals (42 gold, 32 silver, 23 bronze) with particularly strong showings in Swimming, Dancesport, Weightlifting and Billiards.
Kazakhstan to increase gas exports to China
25th September 2016 – Energy-rich Kazakhstan intends to increase the export and transit of gas to China up to 100 billion cubic meters per year.
Erkanat Temirkhanov, Deputy General Director for Transformation and Development of KazTransGas JSC, made the announcement at the 16th ERRA conference on investments and energy regulation in Astana.
"In connection with the commissioning of Beiney-Bozoy-Shymkent at full capacity, we are building a powerful compressor station. We want to increase the export and transit of gas to China to 100 billion cubic meters per year, and maybe even more," he said.
Kazakhstan holds 0.8 percent of the world's natural gas proven reserves, and produces 0.6 percent of the world's total gas output, according to BP's 2015 statistics.   The country serves as a major transit country for gas exports from Turkmenistan and Uzbekistan that are destined to Russia and China.
Syria talks in Astana aim for lasting ceasefires
15th September 2017 – Representatives of the Syrian government and opposition groups are meeting once again in the capital of Kazakhstan.   Thursday's sixth round of talks in Astana – brokered by Russia, Turkey and Iran – is aimed at implementing lasting cease-fires in so-called de-escalation zones in Syria.
Sergey Lavrov, Russia's foreign minister, told Russian state media that delegations from Russia, Iran, and Turkey, with the attendance of experts from the US, Jordan and the UN would discuss "the establishment of a de-escalation zone in Idlib".
"Astana is exactly the additional tool which helped groups to reach some technical agreement on the ground which basically lay the ground to further negotiations,", noted Alexey Khlebnikov of the Russian International Affairs Council.
Kazakh President set to visit Uzbekistan, Turkmenistan
15th September 2017 – Kazakh President Nursultan Nazarbayev is set to pay a state visit to Uzbekistan on September 16th, Akorda's press service has reported. In Tashkent, Nazarbayev will meet with his Uzbek counterpart Shavkat Mirziyoyev to discuss ways of further development of bilateral relations. Participation in the Kazakh-Uzbek Business Forum is also on President Nazarbayev's agenda during the visit to Uzbekistan.
President Nazarbayev's working visit to Turkmenistan is scheduled for September 17th. As part of his visit, the Head of State will attend the 5th Asian Indoor and Martial Arts Games in Ashgabat.
China and Uzbekistan agree to strengthen cooperation
12th September 2017 – Meng Jianzhu, member of the Political Bureau of the Communist Party of China (CPC) Central Committee and head of the Commission for Political and Legal Affairs of the CPC Central Committee, met with Uzbek President Shavkat Mirziyoyev in Tashkent on Saturday.
President Mirziyoyev said that he highly appreciates China's efforts to implement the agreements reached by the countries' leaders earlier this year, and that Uzbekistan attaches great significance to the comprehensive strategic partnership between the two countries.
The same day, Meng met with Uzbek Prime Minister Abdulla Aripov to co-chair the fourth meeting of the committee for China-Uzbekistan intergovernmental cooperation.   Both sides agreed to strengthen cooperation in the fields of trade, energy, transportation, agriculture, science and technology, people-to-people exchange and security.
Uzbekistan's Leader to Make First Presidential Visit to Kyrgyzstan Since 2000
5th September 2017 – Uzbek President Shavkat Mirziyoev is set to travel to Kyrgyzstan this week for the first official visit to the neighboring country by a president of Uzbekistan in 17 years.
A spokesperson for Kyrgyz President Almazbek Atambaev told reporters in Bishkek that President Mirziyoev was expected to hold talks with Atambaev and other senior figures including the prime minister and parliament speaker.  Several agreements are expected to be signed including a pact on the demarcation of more than 80 percent of the countries' border.
The spokesperson noted that it will be the first official visit by an Uzbek president since Islam Karimov made the trip in 2000.
Next round of Syria talks in Astana set for September 14 – 15th
1st September 2017 – The next round of talks between Russia, Turkey and Iran on settling the Syrian civil conflict will take place in Kazakhstan on September 14 – 15th and focus on forces that the three nations plan to deploy there, the Kazakh Foreign Ministry said on Friday.   Kazakhstan hosts the talks which have in the past few months focused on establishing de-escalation zones in Syria.
"According to the information from the guarantor states, during the upcoming meeting they plan to review several documents covering the work of de-escalation control forces, and continue work on agreeing the make-up of control forces in Idlib," the Ministry said in a statement.   Moscow, Ankara and Tehran plan to map out de-escalation zones in Idlib, Homs and Eastern Ghouta, and discuss other matters such as prisoner exchange, it noted.
China, Tajikistan pledge to bolster relationship
1st September 2017 – Chinese Premier Li Keqiang has met with President Emomali Rahmon of Tajikistan in Beijing, stating that China is willing to enhance cooperation with Tajikistan in key areas such as energy, infrastructure construction and manufacturing to bring greater benefits to the people of both countries.
Li said China and Tajikistan are friendly neighbors, and relations between the two countries have taken great strides over the past 25 years since the two countries established diplomatic ties.  He added that China is willing to deepen mutual trust with Tajikistan and expand mutually beneficial cooperation under a framework such as the Shanghai Cooperation Organization, and expand people-to-people exchanges.
Rahmon noted that Tajikistan and China are cooperative partners, and have achieved long term development in areas such as business, trade and people-to-people exchanges.  He said Tajikistan is willing to strengthen ties with China in their development strategy, and enhance cooperation in electricity, finance, agriculture, transportation and tourism.
IAEA Low Enriched Uranium Bank Launches in Kazakhstan
29th August 2017 – The International Atomic Energy Agency (IAEA), with the Government of Kazakhstan and the Nuclear Threat Initiative (NTI), has launched a new low enriched uranium (LEU) bank in Kazakhstan, which will provide countries investing in nuclear power an assured supply of fuel to use for peaceful purposes without incurring the significant costs of building their own enrichment facilities and without adding to global proliferation risks.
"The launching of the IAEA LEU Bank is a major milestone for global nuclear security and nonproliferation efforts," said former U.S. Senator Sam Nunn, NTI Co Chairman.  "The Bank will play an important role in reducing nuclear dangers and serve as a vivid example of the benefits of international cooperation at a time when our world is in a race between cooperation and catastrophe."
Warren Buffett, an advisor to NTI and Chairman and CEO of Berkshire Hathaway, Inc., said, "Once operational, this facility will help advance an important nonproliferation mission that contributes to global security and stability. There is no better investment than helping reduce the risk of nuclear proliferation."
The Bank was launched on August 29th, the International Day against Nuclear Tests, which was established in 2009 by the United Nations further to a resolution initiated by Kazakhstan.
Coalition majority of Kyrgyzstan approves new Prime Minister
25th August 2017 – The coalition majority in the parliament of Kyrgyzstan has approved Chief of the President's Office Sapar Isakov to be the country's new Prime Minister.
Isakov's nomination came after Kyrgyz President Almazbek Atambayev signed Tuesday a decree, accepting Prime Minister Sooronbay Jeenbekov's resignation, following the latter's decision to run in October's presidential election.
Isakov, 40, has been working as chief of the President's Office of Kyrgyzstan since March this year. Before that, he was a chief of the foreign policy department of the President's Office.   Isakov's nomination now is waiting for the approval of the parliament and the president.
Uzbek Prime Minister Visits Kyrgyzstan
18th August 2017 – Kyrgyz President Almazbek Atambayev and visiting Uzbek Prime Minister Abdulla Aripov discussed vital issues of bilateral cooperation on Wednesday.  President Atambayev noted the great contribution of Uzbek President Shavkat Mirziyoyev to Kyrgyz-Uzbek cooperation, and expressed confidence that Aripov's visit will give a new impulse to the development of bilateral cooperation between the two Central Asian states.
Aripov said his country is ready to continue to pursue a course aimed at strengthening the relations of friendship and good-neighborliness between Kyrgyzstan and Uzbekistan.  The Uzbek Prime Minister arrived at Bishkek for a working visit to participate in meetings of the Intergovernmental Commission on bilateral cooperation and the Intergovernmental Commission on the delimitation and demarcation of the state border between the two countries.
White House announces Delegation to Kazakhstan
18th August 2017 – US President Donald Trump has announced the designation of a presidential delegation to Kazakhstan, which will attend Astana's EXPO International Fair on "Future Energy" on August 28th, the White House said in a statement on Wednesday.
The Honorable Rick Perry, Secretary of Energy, will lead the delegation, which also includes The Honorable George Krol, United States Ambassador to the Republic of Kazakhstan; The Honorable Kevin Cramer (R-ND, At-Large District), U.S. House of Representatives; Mr. Ray W. Washburne, President and CEO of the Overseas Private Investment Corporation; Ms. Lisa Curtis, Deputy Assistant to the President and Senior Director for South and Central Asia, National Security Council; and Mr. Ronald J. Pollett, Vice President of General Electric, President and CEO of General Electric Russia/CIS.
Uzbekistan to Host UN Conference on Cooperation in Central Asia
11th August 2017 – The International Conference on Security and Sustainable Development in Central Asia will be held in Samarkand, Uzbekistan, under the aegis of the United Nations in November 2017.
The announcement was made by Petko Draganov, head of UN Regional Centre for Preventive Diplomacy for Central Asia (UNRCCA), at an international conference entitled "Central Asia – the main priority of the foreign policy of Uzbekistan", which began today in Tashkent.
Addressing the conference's opening ceremony, Uzbek Foreign Minister Abdulaziz Kamilov stated: "It is important to remember that Central Asia is not only a geographical and geopolitical, but also a single cultural and civilized space. Nations living in the region are bound by common spiritual values, similarity of national traditions and customs, and common historical past".
The agenda for the upcoming forum, titled "Central Asia: One Past and a Common Future, Cooperation for Sustainable Development and Mutual Prosperity", will include topical issues of strengthening peace and stability in Central Asia, development of regional cooperation, as well as the contribution of international structures, primarily the UN, to the implementation of sustainable development projects.
EXPO 2017 Astana hosts its two millionth visitor
11th August 2017 – Astana's EXPO 2017 has registered its two millionth visitor: Gaisa Zhumaliev, a 34-year-old businessman from Uralsk.
Akhmetzhan Yessimov, chairman of the board at NC Astana EXPO 2017, personally congratulated the two-millionth visitor: "A landmark event has occurred today. We planned to have two million visitors and five million visits to the EXPO facilities and international pavilions. Today, Gaisa has made us happy becoming the two-millionth visitor.  37 days before the end of the exhibition, we have reached our targets.  The number of visits to the EXPO international pavilions and facilities has exceeded 15 million".
The two-million visitor mark was achieved less than a month after the one-millionth visitor to Astana EXPO 2017 was registered on 11th July.
Kazakhstan hosts International Military Games
2nd August 2017 – More than 400 soldiers from 18 countries have gathered this week in a military base in southern Kazakhstan for the opening ceremony of the 2017 International Military Games.
Kazakh drummers, dombra players, the air force and a military orchestra staged performances for the participants and guests at the 40th military base of Kazakhstan's Armed Forces, in the Zhambyl region.
The Games, expected to conclude on 9th August, will include events such as sniper rifle shooting, artillery fire and unmanned aerial vehicle exercises.   Kazakhstan is hosting the Games for the second time, and joins Russia, China, Azerbaijan and Belarus among the list of host nations.
Central Asian film festival kicks off in Kyrgyzstan
28th July 2017 – The Central Asian Film Festival "Living Heritage: Wisdom of Life" kicked off yesterday in Bishkek, the capital of Kyrgyzstan.
The festival is organized by the National Commission of the Kyrgyz Republic for UNESCO together with the International Information and Networking Center for Intangible Cultural Heritage in the Asia-Pacific region (ICHCAP) under the auspices of UNESCO.
The film festival presents documentaries about various elements of the intangible cultural heritage of the five Central Asian states.  The grand opening of the festival was attended by local officials, UNESCO representatives and filmmakers.
Low-Enriched Uranium Bank scheduled to open next month in Kazakhstan
28th July 2017 – The opening ceremony of the first Low Enriched Uranium Bank (LEU Bank), established in eastern Kazakhstan under the auspices of the International Atomic Energy Agency (IAEA), has been scheduled for August 29th – the International Day against Nuclear Tests as designated by the United Nations.
The idea to establish the LEU bank was initially put forward in 2006 by Nuclear Threat Initiative (NTI) co-founder Sam Nunn, authorized by the IAEA in 2010, and supported by Kazakhstan, which volunteered to host the bank, the following year.
Kazakhstan's President Nursultan Nazarbayev said "Instability and tension internationally affirm the urgency of Kazakhstan's efforts in building a nuclear weapon-free world as the main goal of the humankind in the 21st century.  Kazakhstan voluntarily destroyed the 1,400 nuclear weapons it inherited from the collapse of the Soviet Union in 1991."
The sides negotiated the terms of a host state agreement in 2011, and the official signing ceremony took place in August 2015 in Astana with the participation of Kazakh Minister of Foreign Affairs Erlan Idrissov and IAEA Director General Yukiya Amano.
The LEU bank will operate as a mechanism of last resort; in case of unforeseen disruption in a commercial market of uranium, countries that are unable to procure uranium for their nuclear power plants can request LEU from the bank under certain conditions. Thus, it will ensure a global nuclear fuel supply and facilitate nuclear non-proliferation efforts.
A White House statement read: "The government of Kazakhstan, by volunteering to host the LEU bank has further cemented its reputation as a world leader in promoting non-proliferation and nuclear security".   A senior source at the European Commission noted that Kazakhstan deserves "much credit for its ongoing efforts to rid the world of nuclear weapons. The EU appreciates President Nursultan Nazarbayev's important leadership on non-proliferation spanning more than two decades."
Astana Hosts 13th International Eurasia Film Festival
25th July 2017 – The International Eurasia Film Festival is currently underway in Astana, and will run until July 28th. The festival, which was founded in 1998 and usually takes place in Almaty, will feature a record high 296 films from all continents, including 101 in the main programme, 12 feature length and 30 short films in the competition section, evaluated by a jury composed of representatives of the International Federation of Film Critics and the Network for the Promotion of Asian Cinema.
Among those Hollywood stars expected to attend the festival are Nicolas Cage, John Malkovich, Adrien Brody, Bai Ling and a well-known producer Marko Mueller.  Bijukumar Damodaran's "Sound of Silence" opened the festival on July 22nd, and Luc Besson's new feature "Valerian and the City of a Thousand Planets" will close the festival.
Director of the Culture and Arts Department of Kazakhstan's Ministry of Culture and Sports Almaz Nurazkhan stated: "Eurasia is the largest film forum in Central Asia accredited by the International Federation of Film Producers Associations along with A-Class festivals such as in Cannes, Berlin and Venice.   The theme of the festival is 'Bridge of Cultures', and it matches the main concept of EXPO 2017".
Turkmenistan seeks investors for gas and chemical industries
25th July 2017 – Turkmenistan is seeking foreign investors to participate in the development of its gas and chemical industry.   The Central Asian country plans to build several large gas chemical complexes, a source in the fuel and energy complex of the country has said.
These large complexes will focus on the production of polyethylene, polypropylene, polyvinyl chloride, monoethylene glycol, dimethyl ether and other chemical products using modern technologies for extraction of ethane from natural gas, as well as using methanol to olefin technology for methane recovery and processing.  In addition, work on the construction of a plant for the production of liquid petroleum products from natural gas (using GTL technology) is currently underway.
Turkmenistan is one of the key players in the energy industry of the Caspian region. The Central Asian state, which has the world's fourth largest natural gas reserves, currently supplies gas to China and Iran.
CIS Cultural Cooperation Council to meet in Kyrgyzstan Next Month
25th July 2017 – The 32nd session of the CIS Council for Cultural Cooperation will take place in Cholpon-Ata, Kyrgyzstan between 3 – 4th August.   CIS ministers of culture, top officials of the CIS Executive Committee and the CIS local organizations for cooperation in music, education, culture, art, and museum management will gather to review the implementation of the plan of action in cultural cooperation in the CIS for 2016 – 2020.
The council is expected to exchange ideas on holding the international ART EXPO by the CIS member states and carrying out the CIS Capitals of Culture interstate program in Turkmenistan.  The participants will also consider a draft plan of action for the CIS Year of Culture.
UK keen to boost trade with Kazakhstan, says Minister of State
21st July 2017 – UK Minister of State for Trade and Investment Greg Hands has visited Astana to meet with government officials, attend EXPO 2017 and host the London Stock Exchange Group Capital Markets conference and technology partnership forum, organised by the department and Shell.
The Minister noted that the UK is Kazakhstan's sixth largest foreign investor, and that with the additional $1.4 billion available in support for British companies exporting to Kazakhstan and Kazakh buyers of UK goods and services, "the UK is looking forward to building on the past success in the future".
"As a longstanding trading partner of Kazakhstan, UK businesses can offer unrivalled expertise and innovation in a vast range of sectors which can support our Kazakh partners," he added. "I look forward to working with my colleagues in Kazakhstan to explore the wealth of opportunity available to both our nations ahead of the next UK–Kazakhstan intergovernmental commission."
British Museum helps return stolen artefact to Uzbekistan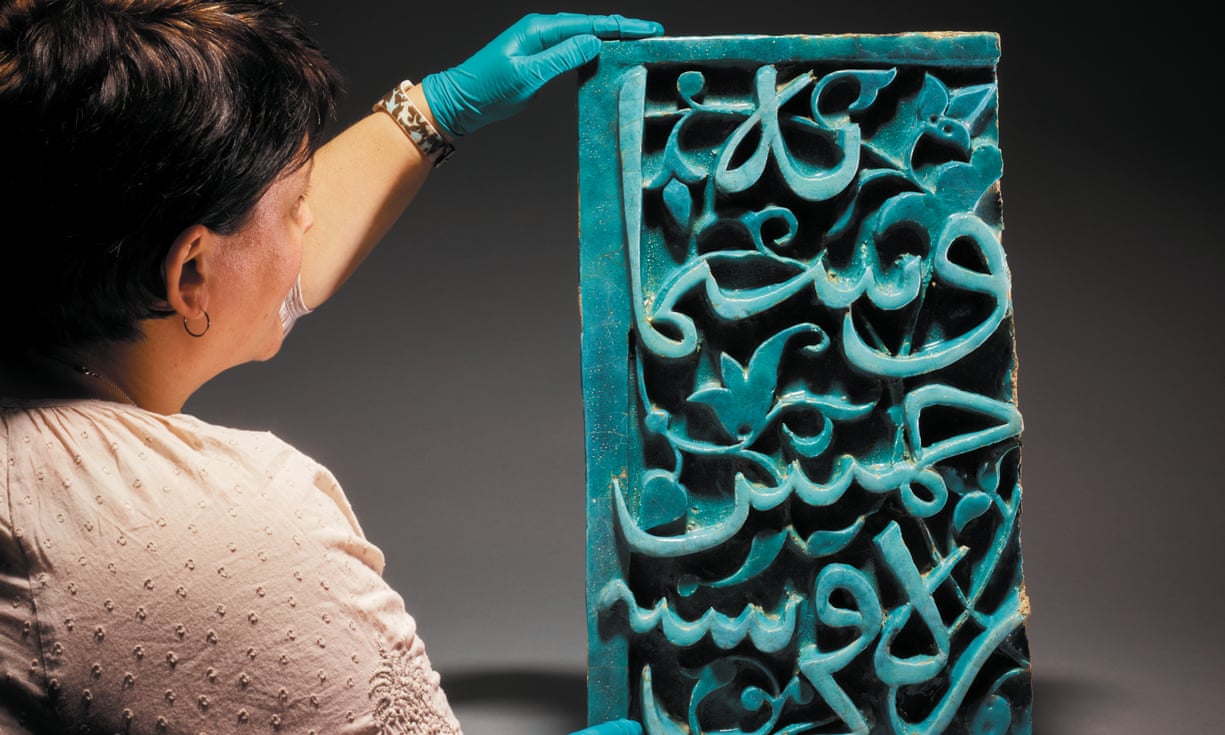 21st July 2017 – The British Museum has helped to recover an important medieval Islamic artefact that surfaced in a London gallery after it was stolen from a monument in Uzbekistan.
The enormous calligraphic glazed tile – half a metre in height – had disappeared in 2014.  Thieves left a gaping hole after they removed it from the magnificent entrance facade of a 12th-century monument, just over 12 miles from Bukhara, the UNESCO world heritage site on the ancient Silk Road.
Part of a high-relief turquoise glazed inscription, the tile was thought to have been lost forever until it surfaced in a Mayfair gallery, where it was being offered for sale. The theft was not officially reported, but an Oxford scholar who had recently returned from the historic site spotted it in a catalogue published by the Simon Ray gallery.
Ray, who had bought it in good faith, immediately contacted the British Museum, which describes the tile's recovery as "dramatic". The museum will this week stage an official handover to the Uzbek embassy in London.
China and Kyrgyzstan discuss setting up cooperation fund
21st July 2017 – A delegation of China's Silk Road Fund visited Bishkek this week to discuss the establishment of a cooperation fund between Kyrgyzstan and China within the framework of the "One Belt One Road" Initiative.
The initiative, proposed by China in 2013, aims to build infrastructure and trade networks connecting Asia, Africa and Europe along ancient Silk Road trade routes to seek common development and prosperity.
Kyrgyzstan's first Vice Prime Minister Muhametkaly Abulgaziev stressed at the meeting the need to create a financial instrument of cooperation for both sides: "Kyrgyzstan participates in the integration of the initiative to create the Silk Road Economic Belt with the development strategy of Kyrgyzstan and the Eurasian Economic Union".
"China is a leading investment partner, which has been making various investments for many years," he said, adding that his country and China have seen active cooperation in sectors including the service industry, mining and agriculture.
Kazakhstan Set to Become Regional FinTech Hub
14th July 2017 – Kazakhstan's Astana International Financial Center (AIFC) has announced the creation of a working group to develop an ecosystem to enable FinTech and blockchain solutions for the CIS region, in collaboration with Deloitte and Waves, Ukrainian law firm Juscutum and Kesarev Consulting.
"The AIFC aims to become a most favorable FinTech jurisdiction with an open ecosystem and the most progressive regulating framework.  We thank our partners for the support given to our blockchain regulatory development initiative.  In the next phase of the project, our working team will be looking at widening the participation to include other industry stakeholders", said Nurlan Kussainov, CEO of AIFC Authority.
"Kazakhstan became the second country in the world, after Japan, which recognized the need for the development of the cryptocurrency market system at the governmental level. The development of the digital currency market on the basis of the Astana International Financial Center is the first step towards a creation of a full-fledged ecosystem for the digital economy in Kazakhstan," said Natalia Sheiko, partner of Kesarev Consulting.
Donald Trump congratulates Kazakhstan on hosting EXPO 2017
6th July 2017 – US President Donald Trump has extended his congratulations to Kazakh President Nursultan Nazarbayev on behalf of the American people, as the country's capital of Astana hosts EXPO-2017, a first for a Central Asian country.
He noted that the United States is honoured to participate in Astana's EXPO-2017 and showcase the most cutting-edge innovations in the sphere of energy, science and technologies as well as its cultural diversity.
Kazakhstan Hosts 10th Astana Economic Forum
29th June 2017 – Kazakh President Nursultan Nazarbayev noted during a plenary session of the 10th Astana Economic Forum on June 18th that the forum is being held at a historically crucial moment for the Eurasian space.
"A new global player with a market capacity of 3 billion people was created with India and Pakistan's joining the Shanghai Cooperation Organisation (SCO). The SCO countries' participation in the development of the New Silk Road programme creates a new economic sub-region. United Nations Secretary General Antonio Guterres noted that 'the organisation is an important foundation of today's world order' and inclusive development is the most powerful tool for preserving peace. Inclusive and sustainable development is in the focus of today's forum," Nazarbayev said in his remarks.
The head of state said the unprecedented speed of changing the modern world and the advent of an era of new discoveries and scientific and technical solutions radically transform the nature of economic growth and life. But global economic policy does not fully meet modern challenges, including a critical level of environmental pollution and growing imbalances in global energy consumption.
"A gradual transition to a new economic model is needed. It should be based on clean energy, joint efforts and collective responsibility, taking into account the interests of the whole world," he said.
Tajikistan Celebrates 20th Anniversary Of Peace Accord Ending Civil War
29th June 2017 – Tajikistan is marking the 20th anniversary of the signing of the Tajik Peace Accord that ended a five-year civil war between the secular government and the coalition of opposition groups led by Islamic forces.
The town of Vahdat, some 25 kilometers east of the capital, Dushanbe, is hosting official celebratory events on June 27 that will include a speech by President Emomali Rahmon and a concert.
Security was stepped up in the town ahead of the event in the city's sports stadium, where some 30,000 people are expected to gather. Markets have been closed and public transport has been canceled.
UN Chief visits Kyrgyzstan to promote sustainable development
15th June 2017 – UN Secretary-General António Guterres completed a visit to the Kyrgyz capital of Bishkek last week, during which he underscored the importance of accountable and inclusive governance and institutions for the successful implementation of the 2030 Agenda for Sustainable Development.
"Public service is a critical component for achieving the Sustainable Development Goals (SDGs) […] we need to pioneer new approaches, work differently, take risks and innovate," Secretary-General Guterres said at the Taza Koom Conference on Public Service in Bishkek, Kyrgyzstan.
"We need governance that is capable of delivering results and earning public trust; governance that is coherent and accountable; governance that is inclusive and that listens to all the country's citizens; governance that upholds human rights and leaves no one behind."
Further in his remarks, the UN chief also spoke of the need to fight corruption to ensure effective and accountable public services, and highlighted the need for mechanisms that not only support people but also includes the poorest and the most vulnerable, so that they are able to not only define their needs but also to be a part of the efforts in ways to address those challenges.
Kazakhstan supports the United Nations Counter-Terrorism Centre
9th June 2017 – Kazakhstan has donated US$300,000 to the United Nations Counter-Terrorism Trust Fund to support Member States in the implementation of the United Nations Global Counter-Terrorism Strategy. In particular, the funds will be used to support the Implementation of the Joint Plan of Action for the United Nations Global Counter Terrorism Strategy in Central Asia.
Kazakhstan's Deputy Minister of Foreign Affairs, Yerzhan Ashikbayev, said "We are convinced that the fight against this scourge must be waged by the joint efforts of all United Nations Member States and under United Nations principles. Therefore, we consider our present contribution to the United Nations Counter-Terrorism Centre as one of the important elements to prevent and address these challenges in Central Asia."
Indian Prime Minister visits Central Asia for SCO Summit
9th June 2017 – Indian Prime Minister Narendra Modi, currently conducting his second visit to Central Asia since 2015, is expected to usher in his country as a member of the Shanghai Cooperation Organisation (SCO) by expanding outreach to the resource rich region and Afghanistan, and strengthening regional anti-terror ties.
Modi arrived in Astana on Thursday afternoon ahead of the main Summit on Friday when India's SCO membership was announced. On Thursday evening, Modi and Kazakh President Nursultan Nazarbayev held talks on expanding strategic partnership across a number of sectors, including defence, nuclear and hydrocarbon.
Uzbekistan ratifies strategic partnership deal with Turkmenistan
2nd June 2017 – Uzbekistan has passed a law ratifying the strategic partnership agreement between the country and its Central Asian neighbour, Turkmenistan.
The law was adopted in March this year by the Legislative (lower) Chamber of the Uzbek Parliament, approved by the parliament's Senate (upper chamber) on May 27th and signed by Uzbek President Shavkat Mirziyoyev on June 2nd.
The agreement on strategic partnership between Uzbekistan and Turkmenistan was signed by the presidents of the two countries during a state visit of the Uzbek president to Ashgabat. An agreement on economic cooperation for 2018-2020, a memorandum on further development of cooperation in the field of railway transport, a program of cooperation in the cultural and humanitarian spheres for 2017-2019 were also signed that time.
The Turkmen and Uzbek foreign ministries adopted a program of cooperation for 2017-2018, and the relevant agencies concluded contracts for the supply of agricultural machinery and chemical products from Uzbekistan to Turkmenistan.
Central Asian leaders attend Arab Islamic American Summit, meet with President Trump and Arab Leaders
26th May 2017 – Kazakh President Nursultan Nazarbayev was among the Central Asian leaders attending the Arab Islamic American Summit in Riyadh on May 21st, with more than with 50 leaders from the Muslim world participating.
At the summit, King of Saudi Arabia Salman bin Abdulaziz Al Saud and US President Donald Trump spoke about cooperation between the Muslim world and the US to halt terrorism and extremism.
On the sidelines of the forum, President Nazarbayev and President Trump discussed the main directions of bilateral cooperation and revised prospects for deepening relations in trade, economic, political, cultural and humanitarian spheres.   In addition, Nazarbayev met with U.S. Secretary of State Rex Tillerson, to discuss the state and prospects for development of bilateral cooperation, as well as exchanged views on the most pressing international issues. Nazarbayev said he hopes Kazakh – U.S. relations reach a new level.
Central Asian Leaders Visit Beijing for Belt and Road Forum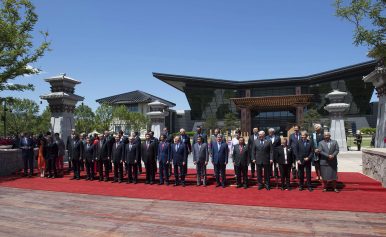 20th May 2017 – The presidents of Kazakhstan, Kyrgyzstan, and Uzbekistan attended the Belt and Road Forum in Beijing last weekend, to discuss areas of cooperation within China's long-term project.
Making his first state visit to China, Uzbek President Shavkat Mirziyoyev reportedly signed agreements worth $23 bn in a variety of sectors, stating: "I am convinced that the implementation of this large-scale project, now covering more than 60 percent of the world population, will contribute to the formation of a common belt of peace, prosperity, progress, cooperation, and friendship between our countries and peoples."
Kyrgyz President Almazbek Atambayev commended the Belt and Road for opening new opportunities in the region and Kyrgyz press highlighted agreements signed, such as one on small and medium business development.  Atambayev also noted "the importance of expanding fiber-optic communication lines from China to Europe via Kyrgyzstan, e-commerce, and the creation of logistics centers. The project of construction of the China-Kyrgyzstan-Uzbekistan railway was noted as promising."
Speaking at the forum, Kazakh President Nursultan Nazarbayev stressed that Central Asia has regained its strategic importance and has become the main bridge between the world's largest markets.   "Paternalism and application of politically motivated sanctions have worsened economic activity and the lives of millions of people. As a result, the world economy and trade have declined. In these conditions, the world needs a new driver to stimulate international cooperation," Nazarbayev said, with the Belt and Road as the "new driver."
All three Central Asian leaders highlighted the potential for projects beyond infrastructure, though they also praised existing and past infrastructure projects.
Kazakhstan's transport, logistics opportunities presented at Turkmenistan conference
20th May 2017 – Kazakhstan's Temir Zholy (KTZ) national railway company presented the country's transit-transport development, multimodal logistics, freight traffic and infrastructure opportunities at the Turkmenistan International Transport and Logistics Conference on May 4- 5th.
KTZ Vice President for Logistics Sanzhar Elyubayev briefed the conference on Kazakhstan's transit-transport potential as well as the Kazakhstan 2050 Strategy, the Nurly Zhol programme and the 100 Concrete Steps to implement Plan of the Nation.
He also participated in a meeting of representatives of Turkmen and Iranian railways administrations and the Chinese Transport and Communication Association. The negotiations resulted in the signing of a protocol to create conditions to increase rail transportation volume along the China-Kazakhstan-Turkmenistan-Iran international corridor.
UN Human Rights Commissioner Visits Uzbekistan
12th May 2017 – UN High Commissioner for Human Rights Prince Zeid Ra'ad Al Hussein praised as constructive the measures taken by Uzbekistan in the spher eof human rights protection, during a press conference this afternoon in Tashkent.
The High Commissioner noted that during his meetings over the past two days with President Shavkat Mirziyoyev, the leadership of justice, internal affairs ministries and the prosecutor general's office of Uzbekistan, he was informed that another 125 regulatory documents and laws on human rights protection will be adopted in the country by the end of the year.
Prince Al Hussein also praised the country's development strategy for 2017 – 2021, which addresses issues including combating corruption, strengthening civil society and media freedom and reforming Uzbek law enforcement.
Kazakh FM discusses cooperation with US, British and UN officials in New York
8th May 2017 – Kazakhstan participated in UN Security Council debates last week on the theme of nuclear non-proliferation in New York City.  The Kazakh delegation was headed by Foreign Minister Kairat Abdrakhmanov, who also held a number of bilateral talks with his foreign counterparts.
The debate participants expressed a serious concern over the risk of military escalation in Northeast Asia, calling on the international community to "not succumb to the provocations of North Korea" and to "not let miscalculations and misunderstandings" lead to global consequences.   Kazakhstan, as a non-permanent member of the UNSC, voiced its concern over the continuation of North Korea's nuclear tests in spite of Council opposition.
Addressing the participants, Abdrakhmanov noted that disarmament, non-proliferation and nuclear security are among the main priorities of Kazakhstan's foreign policy: "Kazakhstan supports the members of the Security Council in the intention to resume six-party talks or apply other political and diplomatic measures for the early peaceful resolution of the current critical situation," he said.
Foreign Minister Abdrakhmanov then met with his counterparts Rex Tillerson from the US, Boris Johnson from the UK, as well as UN Secretary-General António Guterres. The Minister later stated that "Kazakhstan attaches a special importance to the development of a comprehensive strategic partnership with the U.S. and intends to work closely with the new administration".
Eurasian FMs reaffirm cooperation at Central Asia+Japan Dialogue in Ashgabat
8th May 2017 – The foreign ministers of Kazakhstan, Kyrgyzstan, Tajikistan, Turkmenistan, Uzbekistan and Japan reaffirmed their cooperation across a number of sectors at the Central Asia+Japan dialogue last week in Ashgabat.
The group discussed cooperation in trade, investment, security, culture, humanitarian assistance and infrastructure. They signed a joint statement and adopted a roadmap for regional cooperation in transport and logistics.
While in Ashgabat, Kazakh Foreign Minister Kairat Abdrakhmanov met with Japanese Minister of Foreign Affairs Fumio Kishida to discuss agreements reached during Kazakh President Nursultan Nazarbayev's visit to Japan last year. Abdrakhmanov also briefed Kishida about Kazakhstan's priorities in trade, economic, investment, transit and transport policy, stressing the importance of the Nurly Zhol programme and the attractiveness of Kazakhstan's transport and transit potential.
Japan expresses interest in rail transit to Europe through Kazakhstan and China
2nd May 2017 – Last week, Tokyo played host to a seminar entitled "Development of transit container trains from Japan to Europe through China and Kazakhstan", organized by Kazakhstan's National Railways Company Kazakhstan Temir Zholy (KTZ) with the support of the Kazakh Embassy in Japan.
More than a hundred representatives of Japanese business community, trade and industrial companies, as well as scientific circles of Japan attended the seminar, whose objective was to present the advantages and prospects of the New Silk Road route that passes through the port of Lianyungang (China), the logistics infrastructure of Kazakhstan and on to Europe and in the opposite direction, using regular container service.
A positive assessment of the prospect of transport development between Japan and Eurasia was provided by the administrations of Hakata Port (Japan), SITC International Holdings shipping company, specialized Japanese research centers, Japan Maritime Newspaper, and logistics companies of the Far-East Asia.
The participants also noted the great potential of the Trans-Caspian international transport route, offering transportation of cargo to Turkey, Eastern and Southern Europe from the region of the Far East, as well as in the opposite direction.
Kazakh and Uzbek Presidents Meet to Discuss Bilateral Ties
2nd May 2017 – Kazakh President Nursultan Nazarbayev and his Uzbek counterpart, Shavkat Mirziyoyev, met on April 29th in the Kazakh town of Saryagash to strengthen bilateral ties between the two Central Asian states.
The meeting took place just over a month since the latter's state visit to Astana during the Nauryz celebrations in March, which resulted in the signing of 80 commercial contracts with a cumulative worth of one billion dollars. The two Heads of State earlier met in Samarkand in September 2016, when Nazarbayev visited Uzbekistan to pay his respects to the nation's deceased former President, Islam Karimov.
Speaking to President Mirziyoyev, Nazarbayev stated that "the first quarter of this year saw an increase in business activity in various sectors of the economy. It primarily concerns transport and logistics, the auto industry and regional cooperation. Trade turnover over the first three months of 2017 increased by 37 percent."
Mirziyoyev thanked Nazarbayev for assisting with oil transportation from Russia and both Presidents said they look forward to further cooperation in all areas. "Since my visit in March this year, we adopted the roadmap for all areas of joint activities. Meetings at the level of ministers and regional leaders have become more frequent," Mirziyoyev said.
Kazakh President lays out principles for modernisation of nation's identity
2nd May 2017 – Kazakh President Nursultan Nazarbayev has published a wide-ranging policy article in national newspapers, entitled "Course towards the future: modernisation of Kazakhstan's identity".   The document outlines steps for modernisation of social norms and priorities alongside the political and economic modernisations announced earlier this year.
"I am sure that the large-scale reforms that we launched should be continued with advanced modernisation of nation's conscience. It won't just complement the political and economic modernisation, but will be its core," the article reads.
The three components of national modernisation have one common goal – to enter the world's 30 most-developed countries. Nazarbayev states that it is impossible to become an advanced country whilst preserving old models of consciousness and thinking, and that it is important to adapt to new conditions and take the best of what the new era offers.
"That is why I decided to share my vision of how we can take a step towards the future together and change the nation's conscience to become a united nation of strong and responsible people," he wrote.
Kazakh and Turkmen Presidents Meet in Astana
20th April 2017 – Kazakh President Nursultan Nazarbayev met with his Turkmen counterpart President Gurbanguly Berdymuhamedov this week in Astana, to congratulate the latter on his victory in Turkmenistan's February 2017 Presidential Elections and discuss issues of bilateral cooperation between the two neighbouring states.
President Nazarbayev stated: "We highly appreciate your decision to make one of your first visits after the elections to our country.  Kazakhstan is connected with the Turkmen people by partner, neighbourly and fraternal ties and evidence of that are the relations that have developed over the 25 years of our states' independence, characterised by mutual understanding, cooperation on issues of both regional and international agenda,"
In turn, President Berdymuhamedov expressed gratitude for the invitation to visit Kazakhstan, and support for its neighbours initiatives on the United Nations Security Council, noting that Turkmenistan has always adhered to the principles of friendliness and respect.  The leaders of the two countries expressed hope that the visit will give a new impetus to the Kazakh-Turkmen cooperation in a wide range of areas.
Tajikistan and Uzbekistan resume regular flights after 25 years 
19th April 2017 – After a 25-year break, Central Asian neighbours Tajikistan and Uzbekistan have reestablished regular connecting flights, paving the way for improved relations.
Uzbekistan first banned flights from Tajikistan in 1992 after the outbreak of civil war in its smaller neighbour to the east. The ban remained in place after the war's end, but new Uzbek President Shavkat Mirziyoyev has moved to smooth ties with neighbours in the majority-Muslim ex-Soviet region.
Central Asian Progress Highlighted in UN Human Development Report
31st March 2017 – Last week's release of the UN's Human Development Report, ranking jurisdictions by Human Development Index (HDI), heralded good news for the countries of Central Asia. Combining a score from a handful of metrics — average life expectancy, mean years of schooling, etc. — the latest report, which looks at data from 2015, highlights considerable developments in Central Asia.
For the second year in a row, the UN has labelled Kazakhstan as High Human Development country at 56th in the ranking.   The Report notes that, between 2010 and 2015, all five Central Asian states improved their rankings, from Kazakhstan leaping seven slots to Turkmenistan and Tajikistan moving up two spots apiece over the period.
Kazakh President Appoints New Foreign Minister
30th December 2016 – President Nursultan Nazarbayev has appointed Kairat Abdrakhmanov as the new Minister of Foreign Affairs of the Republic of Kazakhstan.
Mr. Abdrakhmanov, who had been serving as Kazakhstan's Permanent Representative to the United Nations since 2013, replaces H.E. Erlan Idrissov who is to be transferred to an as-yet unnamed position.
In addition to his role at the UN – which culminated in Kazakhstan's landmark election this year as a non-permanent member of the UN Security Council starting in January 2017 – Mr. Abdrakhmanov has served as Kazakh Ambassador to the Republic of Austria and the State of Israel, and as Permanent Representative of the Republic of Kazakhstan to the OSCE.   He acted as Deputy Minister of Foreign Affairs between 1999 – 2001, and 2006 – 07.
Wedenesday's Presidential Press Release also announced that Timur Suleimenov would be replacing Kuandyk Bishimbayev as the new Minister of National Economy for Kazakhstan.
Kazakh President backs intra-Syrian peace talks in Astana

19th December 2016 – Kazakh President Nursultan Nazarbayev has supported the idea of holding intra-Syrian peace talks in Kazakhstan's capital of Astana, during a telephone conversation with Russian President Vladimir Putin.
"In the telephone conversation, Vladimir Putin voiced his interest in getting peace talks between the Syrian warring sides to be held in Astana," Nazarbayev's press service said. "Kazakhstan's president supported the initiative.   Kazakhstan supports international efforts aimed at finding a peace solution to the Syria conflict."
In April 2015 Kazakhstan received a request from representatives of the Syrian opposition to hold talks seeking to resolve the Syrian crisis. At the end of May, the first round of talks, held behind closed doors in Astana, brought together 30 opposition activists from different political parties.
In October 2015, the second round of talks resulted in the adoption of a declaration on parliamentary elections in Syria, under conditions of monitoring by international observers, and security guarantees for all candidates.
Kazakhstan Airlines excluded from EU "black list"
9th December 2016 – On Thursday the European Commission excluded all Kazakhstan airlines from the list of banned airlines.
European Commissioner for Transport Violetta Bulz stated: "Today the European Commission has updated the EU safety list – the list of the airlines which don't conform to the international air safety standards. All Kazakhstan air carriers have been removed from the list.   I am especially glad that after several years of work and technical assistance from the EU, we can remove restrictions for all air carriers of Kazakhstan."
The Commissioner emphasized that removing restrictions for Kazakhstan air carriers "is a positive signal for all countries which remain in the list. It also shows that work and cooperation pays off".
Uzbekistan elects Shavkat Mirziyoyev as President
7th December 2016 – Uzbek interim leader Shavkat Mirziyoyev has been elected President, succeeding Islam Karimov who passed away in September this year at the age of 78.
Uzbekistan's central election commission said Mr. Mirziyoyev secured 88.6% of Sunday's vote, according to a preliminary count.   Turnout was estimated at 87.83%.
In a speech in September, Mirziyoyev said that strengthening ties with neighbouring Central Asian states was "the main priority" for Uzbekistan's foreign policy.
Presidential Election campaign begins in Turkmenistan
25th October 2016 – The Turkmen presidential election campaign began on October 24th, according to a statement by the country's Central Election Commission.
"Participants of the meeting were unanimous that their main goal is to do everything for the next Turkmen presidential election to be held at the highest organizational level, in strict compliance with the current electoral laws of the country and international law," the Commission noted.
Candidates will be nominated 60 days before election day, on 12th February 2017.   Incumbent Turkmen President Gurbanguly Berdimuhamedov was elected to this post twice, and won 97.4% of the vote at the last election in February 2012. The next President of Turkmenistan will be elected for a term of seven years, as per recently adopted constitutional amendments.
Turkmenistan Unveils New International Airport in Ashgabat
19th September 2016 – Turkmenistan has unveiled a gleaming new international airport with a roof in the shape of a flying falcon, a reference to the mascot of its national carrier.
The $2.3 bn (£1.8bn) airport is located in the nation's capital of Ashgabat, and has the capacity to process more than 1,600 passengers an hour.  Turkmen President Gurbanguly Berdymukhamedov hailed his country's "solid transit potential" during the opening ceremony.
Kazakhstan launches assistance project for Afghanistan in collaboration with UNDP and Japan
22nd August 2016 — The Ministry of Foreign Affairs of Kazakhstan has launched a pilot project entitled "Promoting Kazakhstan's ODA Cooperation with Afghanistan", aimed at expanding the economic independence and rights of Afghan women.
The project, in collaboration with the United Nations Development Programme (UNDP), the Government of Japan and Japan International Cooperation Agency, will mark Kazakhstan's first international cooperation in the framework of the Official Development Assistance (ODA) programme.
In October 2014 the Kazakh MFA worked with the UNDP to develop a national institute of ODA in Kazakhstan, in order to systematize Kazakh assistance to other countries and to align it with the country's foreign policy priorities. To date Kazakhstan has provided humanitarian and development assistance to countries in Central Asia, Latin America and the Pacific Islands.
Kazakh Foreign Minister Erlan Idrissov stated: "Kazakhstan over the last years has been putting in a lot of effort to develop and institutionalise its ODA capacity on the national level. Many reform efforts in Kazakhstan are done in the context of our ambition to join the OECD. Official Development Assistance is a very important part of this."
UN Resident Coordinator and UNDP Resident Representative Mr. Norimasa Shimomura added: "As a strong supporter of multilateralism and as a development partner, Kazakhstan can play a big role in delivering the Sustainable Development Agenda, and in putting the world on track to achieve sustainable and inclusive development. By sharing its experiences and technical expertise and by fostering trade and investment through South-South Co-operation and Official Development Assistance, Kazakhstan will support others to develop."
Asian Development Bank Pledges $25m to Investment Program in Kyrgyzstan
10th August 2016 – The Asian Development Bank (ADB) has approved a $25m program to develop private sector investment in the Kyrgyz Republic.
The country has received some $1.4 billion in loans since joining the ADB in 1994.
"The assistance will help expand access to financial services, diversify trade and investment, improve public infrastructure and services, and lower the costs of doing business," Priyanka Sood, a senior financial sector specialist with ADB's Central and West Asia Regional Department, said as quoted in the ADB's statement.
The ADB, located in the Philippines capital of Manila, was established in 1966 to reduce poverty in Asia and the Pacific. The bank comprises 67 members in Asia, Europe and North America.
Kazakhstan Becomes First Central Asian Country on OECD Competition Committee
1st August 2016 – The antimonopoly body of Kazakhstan has acceded to the Competition Committee of the Organisation for Economic Cooperation and Development (OECD), an organisation made up of 35 member states from Europe, the US, Japan and Australia.  Kazakhstan becomes the first Central Asian country to be represented on the OECD in this capacity.
Kazakhstan's current objective is to comply with the OECD's main principles and standards on competition issues, creating better conditions for competition in domestic commodity markets and strengthening the country's competitiveness as part of the Eurasian Economic Union (EAEU) and the World Trade Organisation (WTO).
An official statement by the Kazakh Ministry of Economy noted that as a new member of Competition Committee with unlimited access to OECD research and analytical materials, Kazakhstan will be able to learn from the best world practices, thus strengthening the integration process with the world's most developed countries and speeding up antimonopoly regulation reforms.
Shanghai Cooperation Organization Summit held in Tashkent
June 28th 2016 – Tashkent, the capital of Uzbekistan, has hosted the 16th Summit of the Shanghai Cooperation Organization (SCO) – a political and economic group made up of China, Russia, Kazakhstan, Kyrgyzstan, Tajikistan and Uzbekistan, with India and Pakistan slated to join in 2017.
The Meeting was attended by the Heads of Members States – President Xi Jinping of China, President Nursultan Nazarbayev of Kazakhstan, President Almazbek Atambayev of Kyrgyzstan, President Vladimir Putin of Russia, President Emomali Rahmon of Tajikistan, and President Islam Karimov of Uzbekistan – as well as representatives from SCO observer states including President Ashraf Ghani of Afghanistan, President Alexander Lukashenko of Belarus, Prime Minister Narendra Modi of India, President Tsakhiagiin Elbegdorj of Mongolia, President Mamnoon Hussain of Pakistan, Foreign Minister Mohammad Zarif of Iran and President Kurbanguly Berdymukhamedov of Turkmenistan.
President Jinping delivered a speech stressing the fundamental purposes and principles of the SCO, and highlighting its achievements since its foundation in 2001.  During the Summit, representatives from India and Pakistan signed a memorandum of obligations, starting the formal process of joining the SCO as a full member.   The next Meeting is scheduled to take place next year in Astana, with Kazakhstan due to assume the chairmanship of the SCO for a second time.
UK and Turkmenistan eye cooperation in oil and gas industry
13th June 2016 – British oil and gas companies are considering further cooperation in Turkmenistan's oil and gas industry, following talks in Ashgabat with a delegation comprised of leading energy companies. The discussions, focused on opportunities and forms of mutually beneficial cooperation, were attended by representatives from Perkins, Petrofac, Seetru, Mabey Bridge, Aggreko, Willis Towers Watson, Industrial Power Group and Tensar.
Representatives of the companies emphasized their interest in establishing partnerships in the promising Turkmen oil and gas market, presented their capabilities in the supply of new equipment and innovative technologies for the oil and gas industry, and the provision of services in this sphere.
Turkmenistan has substantial reserves of oil and gas and is seeking partners in the fields of exploration, mining and hydrocarbon processing, as well as the construction of gas processing facilities and implementation of major infrastructure projects to transport oil and gas.
The government's National Socio-Economic Development Program for 2011–2030 and the National Rural Development Program are focused on sustainable economic growth, while preserving economic independence, modernizing the country's infrastructure and promoting foreign direct investment.
Tajikistan and EU hold 8th Annual Human Rights Dialogue
9th June 2016 – The European Union and Tajikistan held the eighth round of their annual Human Rights Dialogue in Dushanbe today.  The EU delegation was led by Toivo Klaar, Head of the Central Asia Division of the European External Action Service, while the Tajikistan delegation was headed by Sharaf Karimzoda, Deputy Head of Department for Human Rights in the executive apparatus of the President of Tajikistan.
The EU welcomed recent steps to enhance legal safeguards against torture, and encouraged greater efforts to implement those safeguards and to prosecute those responsible for torture.
EU representatives underlined the important role played by civil society organisations and human rights defenders in Tajikistan, and urged the Tajik authorities to facilitate their work, and to engage in further consultations with NGOs on the development of new financial reporting procedures.  The next round of the human rights dialogue will be held in Brussels in 2017.
IAEA's Central Asian fuel bank on track for September 2017 launch
27th May 2016 – The IAEA's Low-Enriched Uranium Storage Facility is on track to launch in Oskemen, Kazakhstan, in September 2017 following a partnership agreement between the International Atomic Energy Agency and the Ulba Metallurgical Plant (UMP) in Kazakhstan this week. The agreement was signed in Vienna by IAEA LEU Bank project executive Mark Bassett and UMP sales director Alexander Khodanov.
The facility is designed to help international efforts to prevent nuclear proliferation, by dissuading countries from building enrichment facilities that might be misused to purify uranium to weapons-grade levels. The bank will hold a physical stock of up to 90 tonnes of LEU, which can be used to make enough nuclear fuel to provide power for a large city for three years.
In an IAEA statement issued yesterday, Mr. Khodanov said: "We expect to receive the necessary approvals from the relevant Kazakhstan authorities, and have the facility built and ready for operation by September 2017."
Turkmenistan and Saudi Arabia Strengthen Bilateral Cooperation During Presidential Visit
3rd May 2016 – Representatives from Turkmenistan and Saudi Arabia have signed a series of documents aimed at boosting bilateral cooperation in various spheres, during a three-day visit to Saudi Arabia by Turkmen President Gurbanguly Berdimuhamedov.
Senior officials from both countries signed an agreement on cooperation in the field of security, a memorandum of cooperation in the field of trade and industry, and a memorandum of understanding on political consultations between their respective Foreign Ministries.
The visit by President Berdimuhamedov comes following a meeting between Kazakh President Nursultan Nazarbayev and Saudi Foreign Minister Adel Al-Jubeir in Astana late last month – the first official visit by a Saudi Foreign Minister to a Central Asian country since the fall of the Soviet Union.
Spanish Foreign Minister Leads Trade Delegation to Central Asia
25th April 2016 – Spain's acting Foreign Minister Jose Manuel Garcia-Margallo has led a business delegation to Central Asia, and acknowledged that Spanish companies have been slow to take full advantage of the opportunities that the region has to offer, before vowing to "make up for lost time at maximum speed."
Mr. Garcia-Margallo began a two-day visit yesterday with a tour of the Talgo industrial facilities in Astana, and is due to meet with Kazakhstan's President Nursultan Nazarbayev, Prime Minister Karim Massimov, and his Kazakh counterpart, Erlan Idrissov.
He described the Spanish-Kazakh Tulpar-Talgo as "a major business success," noting that since its opening in 2011 it has delivered 436 wagons with an income volume of 300 million euros ($337 million) and expects to deliver another 603 cars by 2020 with a maintenance contract worth of $1 billion.
"Thanks to successful investing here, they have been able to enter the Russian market and in Uzbekistan with high-speed trains and are more than ready to make the leap to Iran, a country with enormous potential," Garcia-Margallo said.  He also congratulated Kazakhstan for the 25th anniversary of its Independence from the former Soviet Union, noting that Spain and Kazakhstan have maintained warm relations and close cooperation since then.
Ukraine Crisis Discussed at Eurasia Media Forum in Astana
22nd April 2016 – The 12th Annual Eurasian Media Forum (EAMF) concluded today in Astana, sponsored by Samruk-Kazyna and attended by senior political, media and public figures from around the world.
The two-day conference kicked off with a welcome message from Kazakh President Nursultan Nazarbayev, and focused heavily on the ongoing Ukraine crisis.   Speakers included Dariga Nazarbayeva, chair of the EAMF's Organizing Committee, former Speaker of the US House of Representatives Newt Gingrich, Institute of CIS Director Konstantin Zatulin, and former UK Secretary of State and Member of the ECFA Advisory Council, Mr. Jack Straw.
During today's debate, Kazakh Foreign Minister Erlan Idrissov said the formation of the Eurasian Economic Union was "largely inspired by the model of EU integration", noting that the special importance of EU relations for Kazakhstan.
Iran's nuclear program and the crisis in Syria were other topics of the conference. The EAMF has seen the attendance of more than 5,000 experts, politicians and journalists from 60 countries over the past 12 years.
Astana to Host Kazakhstan Privatization Forum in May
12th April 2016 – The Kazakhstan Privatisation Forum, organized by the Financial Times in partnership with Samruk-Kazyna, will be held in Astana on May 25th 2016, on the first day of the Astana Economic Forum.
The agenda features keynote speeches by Kazakh Prime Minister Karim Massimov and senior figures involved in the privatization of more than 60 state-owned firms, and many more smaller ones, in Kazakhstan.  According to organizer Stefan de Muynck, FT Group Director for Central Asia, the Forum "will provide comprehensive information on how the process will work in practice, the drivers behind it and the developments to date".
The Kazakh government's plans for privatization, announced late last year, are ambitious and far reaching, as Kazakhstan looks to build on its accession to the World Trade Organization, and aims to join the G30 and OECD in the coming years.
EU and Turkmenistan Move Closer to Key Trade Agreement 
12th April 2016 – The EU and Turkmenistan have moved closer to signing a Partnership and Cooperation Agreement (PCA), after the European Parliament's Foreign Affairs Committee met yesterday in Brussels to consider the deal.  Further consideration of the issue has been postponed until next week.
Turkmenistan is the only Central Asian state yet to sign a PCA with the EU, although an interim agreement is in place.   During an official visit to Kazakhstan in December 2015, EU High Representative Federica Mogherini signed an Enhanced Partnership and Cooperation Agreement (ECPA) with the Kazakh government – the highest possible framework of bilateral cooperation with a non-neighbouring state.
EXPO 2017 Second International Participants Meeting to be held this month in Astana
11th February 2016 – Astana's Palace of Independence is set to host the EXPO 2017 Second International Participants Meeting on February 24 – 25th.
The Meeting will provide potential and confirmed participants in Astana's EXPO 2017 with a platform for exchanging information and learning about key developments in the run-up to the event.
More than 250 delegates from over 100 countries and international organizations are expected to participate in the event, which will feature a keynote address from Kazakh Prime Minister Karim Massimov.  For full information and schedule visit the International Participants Meeting website at http://www.ipm2016.kz/en/
EBRD to host Central Asia Investment Forum in Istanbul
9th February 2016 – The European Bank for Reconstruction and Development (EBRD) is set to host the Central Asia Investment Forum in Istanbul, Turkey on February 18th 2016.
The event, which has as its theme "Forging Relationships for Growth", will bring together leading investors, policymakers, economists and experts in Central Asia to discuss the future of the region and the prospects for investment, and provide a platform to discuss the practicalities of doing business in the region, the opportunities for international investors in Central Asia and how to navigate the complexities of operating in the region.
EU and Kazakhstan sign Enhanced Partnership and Cooperation Agreement
21st December 2015 – In a meeting in Astana this afternoon, representatives from the EU and Kazakhstan signed an Enhanced Partnership and Cooperation Agreement between the two parties.
The new Agreement – signed by High Representative for Foreign Affairs and Security Policy and Vice-President of the European Commission Federica Mogherini, and Kazakh Foreign Minister Erlan Idrissov – will create an enhanced legal basis for political and economic relations between the EU Kazakhstan, providing a broad framework for reinforced political dialogue, cooperation in home and justice affairs and in many other areas.
The Agreement puts a strong emphasis on democracy and the rule of law, human rights and fundamental freedoms and sustainable development as well as civil society cooperation, including involvement of civil society in the public-policy making, notably in the implementation of this Agreement.
Ms. Mogherini stated: "Kazakhstan has become the first of our Central Asian partners to conclude a new generation agreement with the EU.   The new agreement will give a significant boost to economic and political ties between the EU and Kazakhstan".
Central Asian Foreign Ministers hold Meeting with EU Representatives
21st December 2015 – The Foreign Ministers of Kazakhstan, Uzbekistan, Kyrgyzstan, Tajikistan and Turkmenistan today held a Ministerial Meeting with the European Union's High Representative and Vice President of the European Commission in Astana.
Participants discussed a wide range of issues of shared interest, including the development of relations between the EU and Central Asia, the recent review of the EU-Central Asia Strategy, regional and international issues of mutual interest and common challenges.   The discussion on security issues will continue bilaterally and within the framework of the High Level Security Dialogue.
The Foreign Ministers welcomed the EU's commitment to a relationship with Central Asia based on the principles of responsibility and cooperation, aimed at fostering the stable, secure and sustainable development of this region.
Kazakh President Calls for Reconciliation Between Turkey and Russia
30th November 2015 – Kazakh President Nursultan Nazarbayev has addressed tensions between Russia and Turkey following Turkey's downing of a Russian plane near the Syrian-Turkish border, during his state of the nation speech today.
Nazarbayev called for restraint on both sides, stating: "We are greatly saddened by the events that occurred between Russia and Turkey.   As of now, all the details are not known.   But the fact is that the Russian bomber was not attacking Turkey.   It did not go to Turkey.   It was at war with terrorists."
Central Asian Future Energy Forum to be held in Paris
30th October 2015 – The Future Energy Forum will take place in Paris on December 19th, hosted by the Nazarbayev University of Astana as part of the build-up to the EXPO-2017 "Future Energy" fair in Kazakhstan.
The Forum, to be held at the same time as the 21st Session of the Conference of the Parties to the UN Framework Convention on Climate Change (COP21) in Paris, will bring together international heads of business, eminent scientists and economists – including Nobel Prize laureates – to discuss issues relating to energy and sustainable development.
The theme of the Forum – the second of its kind – is Climate Change and the Energy of the Future.
Japanese Prime Minister begins tour of Central Asia
22nd October 2015 – Japanese Prime Minister Shinzo Abe today commenced a week-long tour to Mongolia and Central Asia, leading a delegation of over 50 business representatives eyeing billions of dollars in business deals.
After a stop in Ulan Bator – his first visit to Mongolia since 2013 – Abe will travel to Kazakhstan and Uzbekistan, and make the first-ever official visit by a Japanese PM to Turkmenistan, Tajikistan and Kyrgyzstan.
Abe stated that "Mongolia and Central Asia are at the centre of Asia and very important geopolitically.   [These countries] have relied on exports of natural resources, but now are seeking high-quality infrastructure as they aim for an economy based on high value-added industries.   I'd like to take a huge step in boosting ties with each country."
Uzbekistan HEU-free Following Shipment of Fuel to Russia
28th September 2015 – Uzbekistan is officially free of High-Enriched Uranium (HEU) following a shipment this week of irradiated liquid HEU fuel from Tashkent to a reprocessing facility in Russia, as part of a non-proliferation initiative by the International Atomic Energy Agency (IAEA) to replace HEU with low-enriched uranium worldwide.
Peter Hanlon, Assistant Deputy Administrator for the Office of Material Management and Minimization within the U.S. Department of Energy's National Nuclear Security Administration, stated: "The liquid HEU removal operation represented the latest accomplishment in a global programme involving the IAEA, the Russian Federation and the United States to assist several countries, including Uzbekistan, in eliminating the risks associated with HEU."
The world's first low-enriched uranium (LEU) bank opened in Kazakhstan earlier this year, with the support of the IAEA.
Vienna Event Promotes Kazakhstan's United Nations Security Council Bid
25th September 2015 – The Permanent Mission of the Republic of Kazakhstan to the International Organizations in Vienna held a reception last week, attended by prominent representatives of European institutions, to promote Kazakhstan's bid for non-permanent seat on the UN Security Council between 2017 – 2018.
In his speech, the Kazakh Ambassador to Austria Kairat Sarybay elaborated on his country's bid and its priorities: energy, food, water and nuclear security.   Kazakh Minister of Energy Vladimir Shkolnik that while Kazakhstan has significant conventional energy resources, the country is committed to the development of a green economy and the development of alternative energy sources.
The event was held on the sidelines of the 59th session of the General Conference of the International Atomic Energy Agency (IAEA), which was attended by delegations from more than 160 member countries of the Agency, international organizations and NGOs.
Turkmenistan to start work on TAPI pipeline in December
16th September 2015 –Turkmenistan will begin work on a $10 billion gas pipeline to Pakistan and India via Afghanistan in early December, according to a statement by government officials. Turkmenistan holds the world's fourth-largest natural gas reserves but remains dependent on gas exports to China after Russia cut back gas imports in the past few years.
The Trans-Afghanistan Pipeline (TAPI) project, supported by the United States and the Asian Development Bank, has been touted by Turkmenistan since the 1990s. But starting work on the pipeline has been delayed because of the problem of crossing Afghanistan. The pipeline will allow Turkmenistan to find new consumers in Asia and cut its dependence China, which buys 30 billion cubic metres (bcm) of gas annually.
The 1,735 kilometre (1,084 mile) pipeline, with a proposed annual capacity of 33 bcm of gas, will run more than 700 km across Afghanistan on its way to Pakistan and India.  Turkmenistan plans to fill the pipeline with gas from its mammoth Galkynysh field, the world's second-largest reservoir of natural gas.
Kyrgyzstan officially joins the Eurasian Economic Union
12th August 2015 – Kyrgyzstan has become the fifth official member of the Eurasian Economic Union (EEU) alongside Kazakhstan, Russia, Belarus and Armenia.
The announcement removes a number of practical obstacles to trade and freedom of movement between Kyrgyzstan and other EEU members.  At the signing ceremony in May 2015, Kyrgyz President Almazbek Atambayev stated that "[joining] one of the world's largest economic unions fully corresponds to Kyrgyzstan's national interests."
Central Asian officials launch Trans-Caspian Rail Route
3rd August 2015 – The Trans-Caspian Rail Route, which links Asia and Europe and was created under the auspices of both Kazakhstan's Nurly Zhol policy and China's New Silk way program, was launched today in the city of Alyat, an Azerbaijani seaport 65km from the capital of Baku.
Askar Mamin, President of the Kazakh railway company Temir Zholy, emphasised that the new route will transform both Kazakhstan and Azerbaijan into a "bridge between Asia and Europe":
"The high level of cooperation between Kazakhstan and Azerbaijan became possible thanks to agreements made by the Kazakhstan and Azerbaijan presidents.   We plan to organize a container train from China to Istanbul through Azerbaijan and Georgia before the end of this year.   As of today, major corporations with plants in China and Southeast Asia monitor our cooperation and are very interested in transportation of their goods using the route."
Kazakh President Announces "100 Concrete Steps" Reform Program
24th July 2015 – President Nursultan Nazarbayev of Kazakhstan has announced a "100 Concrete Steps" program setting out detailed measures for wide-ranging institutional changes.   The program is designed to continue the country's sustained progress despite difficult global conditions, and comes shortly after President Nazarbayev received a fresh mandate upon re-election in May 2015.
The "100 Concrete Steps" program aims to build an effective professional civil service, strengthen the rule of law and create an impartial judiciary sector, as well as improve the cohesiveness of Kazakh society, and facilitate the switch wherever possible to e-government.
Launching the programme, President Nazarbayev stated it was not just a detailed action plan for the country in the months and years ahead, but also a checklist to monitor progress, and the clearest signal he could give to the citizens and foreign partners of Kazakhstan that the country has embarked on another vital stage in its development.
Astana Hosts Anti-Extremism Conference
2nd July 2015 – The need for cooperation between governments, law enforcement bodies and communities was the main theme of the Central and South Asian Regional Conference on Countering Violent Extremism, held between 29 – 30th June in the Kazakh capital of Astana and attended by representatives from a large number of nations and IGOs.
Opening the event, Kazakh Prime Minster Karim Massimov focused on cooperative efforts and the significant role to be played by civil society in countering extremist violence, stating: "We have to join our forces with all constructive forces in this world who are ready to counter violent extremism.   That is why we have to boost our contacts and cooperation with law enforcement agencies all over the world.
Kazakhstan Announces Extension of Visa-Free Regime for 20 Countries
2nd July 2015 – Kazakhstan has announced plans to extend a trial visa-free regime, announced last year and due to expire this month, which will allow citizens from 20 countries to make short trips to the country without the need for a visa.
The announcement was made by President Nursultan Nazarbayev during a visit to Milan this week, during which he commemorated the National Day of Kazakhstan at EXPO Milano 2015 (June 27th) and held bilateral talks with Italian Prime Minister Matteo Renzi.
Delivering a speech at the business forum, Nazarbayev said, "Investors are given the opportunity to attract foreign labour without any quotas and permits. Besides, we have established a visa-free regime for investors from 10 countries, including Italy.   From July 15, we will prolong the visa-free regime for investors, and extended it for another 10 countries: Switzerland, Spain, Belgium, Hungary, Monaco, Singapore, Australia, Norway, Sweden and Finland.   I think not many countries in the world can offer such beneficial conditions for investors."
Experts Attend Central Asian Geopolitical Conference
24th June 2015 – On June 18th, experts from around the world attended the Central Asia in Global Geopolitical Trends conference in Astana, organised by the Kazakhstan Institute of Strategic Studies (KazISS) and the Friedrich Ebert Foundation Office in Central Asia.
In his opening address, Secretary of the Security Council Nurlan Yermekbayev stated: "We [in Central Asia] sharply, physically feel how our region is being pulled into geopolitical processes.   I don't want to exaggerate the challenges, but yes, there are in Central Asia and in many other parts of the world today unprecedented, accelerated information and other processes which force us not only to respond quickly but also to foresee possible scenarios."
The conference gathered experts from political and research institutions in Central Asia, China, Iran, Russia, Turkey, the UK and the US.   Among the issues discussed were foreign policy failures, the political and economic impact of the Eurasian Economic Union (EAEU), the lack of trust between states of the region and the urgent need for reform.
Astana set to host Syrian Opposition Talks
21st May 2015 – Kazakh Foreign Minister Erlan Idrissov has announced today that Astana will host the next round of talks with Syrian opposition representatives next week.
On the Twitter feed of Kazakhstan's Ministry of Foreign Affairs, Idrissov was quoted as saying: "It is expected that Syrian opposition negotiations will be held in Astana next week."
The session will follow previous rounds of reconciliation talks in Moscow this January and April – during which opposition negotiators agreed on a 10-point agenda, defining a negotiating framework for future talks – and in Geneva from May 4th.   The talks are expected to last for up to six weeks.
ECFA Director's Blog: How Kazakhstan Actively Supports a Continued Dialogue on Syria
Astana Economic Forum to be held this week
18th May 2015 – The eighth Astana Economic Forum (AEF) is due to take place on May 21-22nd, bringing world leaders, and high-ranking business representatives together in the city's Palace of Independence to address economic and social challenges facing the world today.
The AEF, which regularly leads to a great number of investments and projects in the Central Asian region, is held at the initiative and with personal involvement of President Nursultan Nazarbayev, and this year's theme is "Infrastructure – a Driver of Economic Development."
The Kazakh Ministry of Foreign Affairs is due to hold two side-events, to be attended by Foreign Minister Erlan Idrissov: "Kazakhstan's Official Development Assistance System" – devoted to the KazAID project – and "Africa – the World's Next Economic Driver", in connection with next month's African Union assembly in Johannesburg.
Kyrgyzstan joins the Eurasian Economic Union
14th May 2015 – Kyrgyzstan has officially become the fifth member the Eurasian Economic Union (EAEU), joining founding members Kazakhstan, Russia, Belarus and Armenia following a meeting between the five leaders – Nursultan Nazarbayev, Vladimir Putin, Alexander Lukashenko, Serzh Sargsyan and newest member Almazbek Atambayev – in Moscow on May 8th.
President Atambayev expressed his gratitude to all parties for assisting Kyrgyzstan in its accession to the Union, adding: "I am convinced that the EAEU will bring a common good for our nations.   The union will strengthen stability in the Eurasian space and give further movement to the whole of Eurasia".
During the summit, the parties discussed current EAEU issues, prospects for deepening partnership within the organisation and the expansion of international cooperation.    The goals of the EAEU are the free movement of goods, services and capital, coordinated policies in agriculture and industry, cooperation in major infrastructure projects and formation of joint energy markets for natural gas and petroleum products.
UK-Kazakh Relations Expanding, Says New Ambassador
6th May 2015 – Kazakhstan's Ambassador to the United Kingdom, H.E. Erzhan Kazykhanov, has spoken about bilateral relations between the two nations following Kazakhstan's presidential election in late April, as well as relations with the European Union, in a recent interview with the Astana Times.
He stated: "Kazakhstan and the United Kingdom are strategic partners. This is no surprise, given the importance of the two countries: Kazakhstan as a leading country in Central Asia and Britain being one of the most powerful forces in the European Union.
Both countries have shown good economic growth in recent years and have carried out effective socio-economic policies. This has worked to strengthen the relationship between our two states and our shared understanding on important international issues.
The leaders of our countries have regular meetings, both during official visits and on the sidelines of international forums. For example, Prime Minister Cameron and President Nazarbayev met in October last year in Milan at the 10th Asia-Europe Summit. And at the end of April, Prime Minister Cameron was one of the first leaders to congratulate our head of state on his victory in the presidential election.
Cooperation between Kazakhstan and the United Kingdom contributes to the strengthening and expansion of our institutional ties. Last year, for example, the Intergovernmental commission on trade, economic and investment cooperation opened and the Kazakh-British Business Council was established. Existing structures such as the Kazakh-British Trade and Industry Council, the British-Kazakh Society and the British-Kazakh Bar Association also play a significant role in strengthening bilateral relations.
Business and financial links between Kazakhstan and the United Kingdom are flourishing. I am pleased to note that Britain is one of the three largest investors in Kazakhstan. In the last 10 years, the U.K. has invested more than $10 billion in Kazakhstan."
Kazakh President Nursultan Nazarbayev wins fifth successive term in snap election
27th April 2015 – Following an early Presidential Election, widely supported by the Kazakh people according to a survey by the ECFA and Ipsos MORI, Kazakh President Nursultan Nazarbayev has secured a fifth consecutive term in office, winning 97.7% of the vote at an early estimate.
Initially planned for 2016, the election was brought forward to Sunday April 26th 2015 in order to provide a fresh mandate to the President in the context of difficult conditions in the regional and global economy, including falling oil and gas prices.   The country's Central Election Commission reported that there had been a record turnout of 95.11% for the poll.
Prior to the election President Nazarbayev promised economic and social stability, telling journalists: "I am sure Kazakhstan's people will vote primarily for the stable development of our state and the improvement of people's lives, as well as the stability of the state and in support of the policies the country has implemented under my leadership."
Hungarian Prime Minister – "Kazakhstan has a friend in the EU"
3rd April 2015 – Kazakh President Nursultan Nazarbayev has had a meeting with Prime Minister of Hungary Viktor Orban, to discuss bilateral cooperation between the two nations as well as the current issues on the international agenda.
Mr. Nazarbayev stated: "We consider Hungary a true friend.   We have common historical roots and similar ways of development.   Hungary is an important support point in Europe for us".
"It is not our first meeting. These contacts indicate our desire to strengthen trade and economic relations.   We appreciate that Hungary was the first country in the European Union (EU) to sign a strategic partnership agreement with Kazakhstan.   We will make every effort to make your visit fruitful," he continued.
Mr. Orban, in turn, thanked Nursultan Nazarbayev for the invitation and conveyed greetings from the people of Hungary, stating: "Amid the complicated situation in the world, we are interested to learn about your vision of the prospects and future of our cooperation.   I would like to assure you that Kazakhstan has a reliable friend in the European Union.   We believe we have high level of political and cultural cooperation and we feel your support behind it".
On April 1st, the day of the meeting, Astana also played host to the Kazakh-Hungarian Business Forum attended by over 300 senior entrepreneurs, during which Hungarian Minister of Foreign Affairs and Foreign Trade Péter Szijjártó announced that Kazakhstan and Hungary will create a joint financial fund with $40 million in capital, and later met with Kazakh Foreign Minister H.E. Erlan Idrissov to discuss a bilateral cooperation and international affairs.
Commerce and Industry Chambers of Hungary and Kazakhstan Sign Cooperation Agreement
4th February 2015 – The Hungarian Commerce and Industry Chamber and the Kazakh Foreign Commerce Chamber have signed a cooperation agreement at the fourth session of the Kazakh-Hungarian business council in Budapest.   Over 50 Hungarian and Kazakh companies took part in the meeting.   The parties noted that high technologies and promotion of petroleum and agricultural projects were promising sectors of cooperation.   They also plan to collaborate in development of healthcare and pharmaceutics, telecommunications, tourism, construction, car manufacturing and processing industries, and transport.
Kazakhstan Joins World in Calling for Ceasefire in Ukraine
28th January 2015 – Kazakh Foreign Ministry expressed in a statement its "deep concern" about the escalation of violence that took place in Ukraine, and "particularly about the bombardment that caused the death of civilians."
"We are convinced that peace negotiations are the only alternative for resolving the crisis in southeastern Ukraine," the ministry said.
The Donetsk regional government, loyal to the Kiev authorities, said at least 30 people died and another 93 were wounded Saturday during an artillery attack against the city of Mariupol in eastern Ukraine.
Kazakhstan is "prepared to provide a platform for resolving the Ukraine crisis, at the right time and in the most suitable way for both sides," the ministry said, calling on the parties involved to help find a way out of the conflict.
"We urge all parties to move toward a peaceful solution of the conflict, based on all parties doing their part, including signatories of the Minsk Protocol," the Ministry said.
The Minsk Protocol was signed on Sept. 5, 2014, by representatives of Ukraine, the Russian Federation, the Donetsk People's Republic and the Luhansk People's Republic.
The accord seeks to put an end to the war in eastern Ukraine and was signed in Minsk under the auspices of the Organization for Security and Cooperation in Europe, or OSCE.
UN Security Council Stresses the Importance of Cooperation between Central Asian Countries
26th January 2015 – In a press-statement issued on 23rd January, the UN Security Council stressed the need for coordination between governments of the Central Asian countries and regional organizations, in order to strengthen peace, stability and sustainable development in the region.   The UN body also underlined the importance of cooperation between Kazakhstan, Kyrgyzstan, Tajikistan,  Turkmenistan and Uzbekistan, within the framework of the UN Regional Centre for Preventive Diplomacy for Central Asia (UNRCCA)
"The members of the Security Council reaffirmed the importance of conflict prevention tools in contributing effectively to the maintenance of international peace and security, including through early-warning mechanisms and engaging in preventive diplomacy, in accordance with the Charter of the United Nations," the statement said.
Recognizing the threat posed by illicit drug production, trade and trafficking to international peace and stability in the region, the Council also emphasized the importance of close coordination between Afghanistan and its neighbours, in particular the Central Asian states, in combating drug trafficking.   The Security Council commended the UNRCCA's role in facilitating the multilateral engagement of the Central Asian states with Afghanistan.
Kazakhstan and Italy Sign Agreements on Extradition and Legal Cooperation
26th January 2015 – Kazakhstan and Italy have established a legal framework for mutual legal assistance and the protection of the legitimate rights and interests of their citizens.    On 22nd January, Prosecutor General of Kazakhstan, Askhat Daulbayev, and Ambassador of Italy to Kazakhstan, Stefano Ravagnan, signed agreements on the mutual extradition of criminals and mutual legal assistance in criminal cases.
At a press briefing following the signing ceremony, Daulbayev emphasised that the agreements have become possible due to the steady development of legal relations with the European Union and its growing trust in the legal system of Kazakhstan.    The signing of the agreements is another important step toward strengthening partnership in combating crime and improving the supervisory and law enforcement agencies' work in general.
Daulbayev noted that after the agreements come into force, the two countries will have serious legal grounds for rendering mutual legal assistance and protecting the rights and interests of citizens of both Kazakhstan and Italy.
"We have already concluded similar agreements with Spain, Hungary, Romania, Bulgaria and the Czech Republic and are completing negotiations on concluding correspondent agreements with Monaco, Slovakia and other European countries," the Kazakh Prosecutor General said.
Italy was one of the first European countries with which Kazakhstan signed a full package of intergovernmental agreements in the criminal and legal spheres. The agreement between the two states on the transfer of sentenced persons was signed in November 2013 and ratified by Kazakhstan last autumn.
The European Bank for Reconstruction and Development Increased GDP Growth Forecast for Uzbekistan
21st January 2015 – The European Bank for Reconstruction and Development (EBRD) has increased its forecast for Uzbekistan's GDP growth for 2015 to 7.8 per cent, from the 7.6 per cent projected in September 2014, became evident from the recently published EBRD report on regional economic prospects.
The forecasts also show that inflation in the Central Asian country will amount to 11 per cent in 2015, equal to the rate for 2014.
EBRD report added that the difficult economic situation in Russia may affect negatively the number of money transfers from Russia to Uzbekistan, as well as the volume of trade turnover between the two countries, but will not overturn the general positive trend for significant economic growth, observed in the last few years.
Over 4 GW of Solar Power Plants to Be Built in Central Asia Before 2020
19th January 2015  – In the next 5 years Uzbekistan, Kazakhstan, Turkmenistan and Kyrgyzstan, together with Azerbaijan and Iran, will be in the spotlight of the largest international players of solar energy industry.
According to the plans for the development of the energy sector of these countries, more than 600 photovoltaic plants with the total capacity of more than 4,000 MW will be built in the region up to 2020.
On 16th – 17th April 2015, Baku, Azerbaijan, will be hosting one of the key events in the field of solar energy – CISOLAR-2015 4th International Conference and Exhibition "The development of the solar energy industry in the region of South Caucasus, Eastern Europe and Central Asia".    The forum gathers top managers of companies in the energy sector, heads of regional departments of global industrial companies, heads of industry associations and organizations, senior representatives of the authorities regulating renewable energy production, international financial institutions and key regional and international media.
Excellent natural conditions in Central Asia, the state support of the industry, along with favourable legislation, have become an impulse to the development of renewable energy capacities in the region.    Solar energy projects already thrive in Uzbekistan, while Kazakhstan, Turkmenistan, and Kyrgyzstan constitute a very promising market.
Asian Development Bank to Finance Improvement of National Road Infrastructure of Kyrgyzstan
16th January 2015 – The Asian Development Bank (ADB) and the Kyrgyz Republic late in December signed around $15 million additional ADB loan and grant financing for a project to improve national roads that are a key part of a strategic regional road corridor, the press service of Kyrgyzstan's Transport and Communications Ministry said.
The project will improve the last 60-kilometer section of the Bishkek–Torugart road, the only road of the country that runs from the northwest to the southeast, connecting Bishkek city, the Chui oblast, the Issyk-Kul oblast, and the Naryn oblast.    The road is of high strategic i