Bulletins
Kazakhstan Set to Become Regional FinTech Hub
14th July 2017 – Kazakhstan's Astana International Financial Center (AIFC) has announced the creation of a working group to develop an ecosystem to enable FinTech and blockchain solutions for the CIS region, in collaboration with Deloitte and Waves, Ukrainian law firm Juscutum and Kesarev Consulting.
"The AIFC aims to become a most favorable FinTech jurisdiction with an open ecosystem and the most progressive regulating framework.  We thank our partners for the support given to our blockchain regulatory development initiative.  In the next phase of the project, our working team will be looking at widening the participation to include other industry stakeholders", said Nurlan Kussainov, CEO of AIFC Authority.
"Kazakhstan became the second country in the world, after Japan, which recognized the need for the development of the cryptocurrency market system at the governmental level. The development of the digital currency market on the basis of the Astana International Financial Center is the first step towards a creation of a full-fledged ecosystem for the digital economy in Kazakhstan," said Natalia Sheiko, partner of Kesarev Consulting.
Donald Trump congratulates Kazakhstan on hosting EXPO 2017
6th July 2017 – US President Donald Trump has extended his congratulations to Kazakh President Nursultan Nazarbayev on behalf of the American people, as the country's capital of Astana hosts EXPO-2017, a first for a Central Asian country.
He noted that the United States is honoured to participate in Astana's EXPO-2017 and showcase the most cutting-edge innovations in the sphere of energy, science and technologies as well as its cultural diversity.
Kazakhstan Hosts 10th Astana Economic Forum
29th June 2017 – Kazakh President Nursultan Nazarbayev noted during a plenary session of the 10th Astana Economic Forum on June 18th that the forum is being held at a historically crucial moment for the Eurasian space.
"A new global player with a market capacity of 3 billion people was created with India and Pakistan's joining the Shanghai Cooperation Organisation (SCO). The SCO countries' participation in the development of the New Silk Road programme creates a new economic sub-region. United Nations Secretary General Antonio Guterres noted that 'the organisation is an important foundation of today's world order' and inclusive development is the most powerful tool for preserving peace. Inclusive and sustainable development is in the focus of today's forum," Nazarbayev said in his remarks.
The head of state said the unprecedented speed of changing the modern world and the advent of an era of new discoveries and scientific and technical solutions radically transform the nature of economic growth and life. But global economic policy does not fully meet modern challenges, including a critical level of environmental pollution and growing imbalances in global energy consumption.
"A gradual transition to a new economic model is needed. It should be based on clean energy, joint efforts and collective responsibility, taking into account the interests of the whole world," he said.
Tajikistan Celebrates 20th Anniversary Of Peace Accord Ending Civil War
29th June 2017 – Tajikistan is marking the 20th anniversary of the signing of the Tajik Peace Accord that ended a five-year civil war between the secular government and the coalition of opposition groups led by Islamic forces.
The town of Vahdat, some 25 kilometers east of the capital, Dushanbe, is hosting official celebratory events on June 27 that will include a speech by President Emomali Rahmon and a concert.
Security was stepped up in the town ahead of the event in the city's sports stadium, where some 30,000 people are expected to gather. Markets have been closed and public transport has been canceled.
UN Chief visits Kyrgyzstan to promote sustainable development
15th June 2017 – UN Secretary-General António Guterres completed a visit to the Kyrgyz capital of Bishkek last week, during which he underscored the importance of accountable and inclusive governance and institutions for the successful implementation of the 2030 Agenda for Sustainable Development.
"Public service is a critical component for achieving the Sustainable Development Goals (SDGs) […] we need to pioneer new approaches, work differently, take risks and innovate," Secretary-General Guterres said at the Taza Koom Conference on Public Service in Bishkek, Kyrgyzstan.
"We need governance that is capable of delivering results and earning public trust; governance that is coherent and accountable; governance that is inclusive and that listens to all the country's citizens; governance that upholds human rights and leaves no one behind."
Further in his remarks, the UN chief also spoke of the need to fight corruption to ensure effective and accountable public services, and highlighted the need for mechanisms that not only support people but also includes the poorest and the most vulnerable, so that they are able to not only define their needs but also to be a part of the efforts in ways to address those challenges.
Kazakhstan supports the United Nations Counter-Terrorism Centre
9th June 2017 – Kazakhstan has donated US$300,000 to the United Nations Counter-Terrorism Trust Fund to support Member States in the implementation of the United Nations Global Counter-Terrorism Strategy. In particular, the funds will be used to support the Implementation of the Joint Plan of Action for the United Nations Global Counter Terrorism Strategy in Central Asia.
Kazakhstan's Deputy Minister of Foreign Affairs, Yerzhan Ashikbayev, said "We are convinced that the fight against this scourge must be waged by the joint efforts of all United Nations Member States and under United Nations principles. Therefore, we consider our present contribution to the United Nations Counter-Terrorism Centre as one of the important elements to prevent and address these challenges in Central Asia."
Indian Prime Minister visits Central Asia for SCO Summit
9th June 2017 – Indian Prime Minister Narendra Modi, currently conducting his second visit to Central Asia since 2015, is expected to usher in his country as a member of the Shanghai Cooperation Organisation (SCO) by expanding outreach to the resource rich region and Afghanistan, and strengthening regional anti-terror ties.
Modi arrived in Astana on Thursday afternoon ahead of the main Summit on Friday when India's SCO membership was announced. On Thursday evening, Modi and Kazakh President Nursultan Nazarbayev held talks on expanding strategic partnership across a number of sectors, including defence, nuclear and hydrocarbon.
Uzbekistan ratifies strategic partnership deal with Turkmenistan
2nd June 2017 – Uzbekistan has passed a law ratifying the strategic partnership agreement between the country and its Central Asian neighbour, Turkmenistan.
The law was adopted in March this year by the Legislative (lower) Chamber of the Uzbek Parliament, approved by the parliament's Senate (upper chamber) on May 27th and signed by Uzbek President Shavkat Mirziyoyev on June 2nd.
The agreement on strategic partnership between Uzbekistan and Turkmenistan was signed by the presidents of the two countries during a state visit of the Uzbek president to Ashgabat. An agreement on economic cooperation for 2018-2020, a memorandum on further development of cooperation in the field of railway transport, a program of cooperation in the cultural and humanitarian spheres for 2017-2019 were also signed that time.
The Turkmen and Uzbek foreign ministries adopted a program of cooperation for 2017-2018, and the relevant agencies concluded contracts for the supply of agricultural machinery and chemical products from Uzbekistan to Turkmenistan.
Central Asian leaders attend Arab Islamic American Summit, meet with President Trump and Arab Leaders
26th May 2017 – Kazakh President Nursultan Nazarbayev was among the Central Asian leaders attending the Arab Islamic American Summit in Riyadh on May 21st, with more than with 50 leaders from the Muslim world participating.
At the summit, King of Saudi Arabia Salman bin Abdulaziz Al Saud and US President Donald Trump spoke about cooperation between the Muslim world and the US to halt terrorism and extremism.
On the sidelines of the forum, President Nazarbayev and President Trump discussed the main directions of bilateral cooperation and revised prospects for deepening relations in trade, economic, political, cultural and humanitarian spheres.   In addition, Nazarbayev met with U.S. Secretary of State Rex Tillerson, to discuss the state and prospects for development of bilateral cooperation, as well as exchanged views on the most pressing international issues. Nazarbayev said he hopes Kazakh – U.S. relations reach a new level.
Central Asian Leaders Visit Beijing for Belt and Road Forum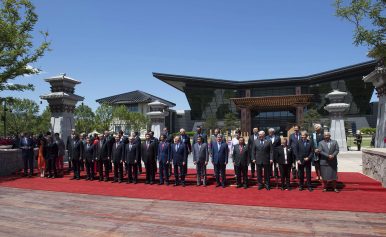 20th May 2017 – The presidents of Kazakhstan, Kyrgyzstan, and Uzbekistan attended the Belt and Road Forum in Beijing last weekend, to discuss areas of cooperation within China's long-term project.
Making his first state visit to China, Uzbek President Shavkat Mirziyoyev reportedly signed agreements worth $23 bn in a variety of sectors, stating: "I am convinced that the implementation of this large-scale project, now covering more than 60 percent of the world population, will contribute to the formation of a common belt of peace, prosperity, progress, cooperation, and friendship between our countries and peoples."
Kyrgyz President Almazbek Atambayev commended the Belt and Road for opening new opportunities in the region and Kyrgyz press highlighted agreements signed, such as one on small and medium business development.  Atambayev also noted "the importance of expanding fiber-optic communication lines from China to Europe via Kyrgyzstan, e-commerce, and the creation of logistics centers. The project of construction of the China-Kyrgyzstan-Uzbekistan railway was noted as promising."
Speaking at the forum, Kazakh President Nursultan Nazarbayev stressed that Central Asia has regained its strategic importance and has become the main bridge between the world's largest markets.   "Paternalism and application of politically motivated sanctions have worsened economic activity and the lives of millions of people. As a result, the world economy and trade have declined. In these conditions, the world needs a new driver to stimulate international cooperation," Nazarbayev said, with the Belt and Road as the "new driver."
All three Central Asian leaders highlighted the potential for projects beyond infrastructure, though they also praised existing and past infrastructure projects.
Kazakhstan's transport, logistics opportunities presented at Turkmenistan conference
20th May 2017 – Kazakhstan's Temir Zholy (KTZ) national railway company presented the country's transit-transport development, multimodal logistics, freight traffic and infrastructure opportunities at the Turkmenistan International Transport and Logistics Conference on May 4- 5th.
KTZ Vice President for Logistics Sanzhar Elyubayev briefed the conference on Kazakhstan's transit-transport potential as well as the Kazakhstan 2050 Strategy, the Nurly Zhol programme and the 100 Concrete Steps to implement Plan of the Nation.
He also participated in a meeting of representatives of Turkmen and Iranian railways administrations and the Chinese Transport and Communication Association. The negotiations resulted in the signing of a protocol to create conditions to increase rail transportation volume along the China-Kazakhstan-Turkmenistan-Iran international corridor.
UN Human Rights Commissioner Visits Uzbekistan
12th May 2017 – UN High Commissioner for Human Rights Prince Zeid Ra'ad Al Hussein praised as constructive the measures taken by Uzbekistan in the spher eof human rights protection, during a press conference this afternoon in Tashkent.
The High Commissioner noted that during his meetings over the past two days with President Shavkat Mirziyoyev, the leadership of justice, internal affairs ministries and the prosecutor general's office of Uzbekistan, he was informed that another 125 regulatory documents and laws on human rights protection will be adopted in the country by the end of the year.
Prince Al Hussein also praised the country's development strategy for 2017 – 2021, which addresses issues including combating corruption, strengthening civil society and media freedom and reforming Uzbek law enforcement.
Kazakh FM discusses cooperation with US, British and UN officials in New York
8th May 2017 – Kazakhstan participated in UN Security Council debates last week on the theme of nuclear non-proliferation in New York City.  The Kazakh delegation was headed by Foreign Minister Kairat Abdrakhmanov, who also held a number of bilateral talks with his foreign counterparts.
The debate participants expressed a serious concern over the risk of military escalation in Northeast Asia, calling on the international community to "not succumb to the provocations of North Korea" and to "not let miscalculations and misunderstandings" lead to global consequences.   Kazakhstan, as a non-permanent member of the UNSC, voiced its concern over the continuation of North Korea's nuclear tests in spite of Council opposition.
Addressing the participants, Abdrakhmanov noted that disarmament, non-proliferation and nuclear security are among the main priorities of Kazakhstan's foreign policy: "Kazakhstan supports the members of the Security Council in the intention to resume six-party talks or apply other political and diplomatic measures for the early peaceful resolution of the current critical situation," he said.
Foreign Minister Abdrakhmanov then met with his counterparts Rex Tillerson from the US, Boris Johnson from the UK, as well as UN Secretary-General António Guterres. The Minister later stated that "Kazakhstan attaches a special importance to the development of a comprehensive strategic partnership with the U.S. and intends to work closely with the new administration".
Eurasian FMs reaffirm cooperation at Central Asia+Japan Dialogue in Ashgabat
8th May 2017 – The foreign ministers of Kazakhstan, Kyrgyzstan, Tajikistan, Turkmenistan, Uzbekistan and Japan reaffirmed their cooperation across a number of sectors at the Central Asia+Japan dialogue last week in Ashgabat.
The group discussed cooperation in trade, investment, security, culture, humanitarian assistance and infrastructure. They signed a joint statement and adopted a roadmap for regional cooperation in transport and logistics.
While in Ashgabat, Kazakh Foreign Minister Kairat Abdrakhmanov met with Japanese Minister of Foreign Affairs Fumio Kishida to discuss agreements reached during Kazakh President Nursultan Nazarbayev's visit to Japan last year. Abdrakhmanov also briefed Kishida about Kazakhstan's priorities in trade, economic, investment, transit and transport policy, stressing the importance of the Nurly Zhol programme and the attractiveness of Kazakhstan's transport and transit potential.
Japan expresses interest in rail transit to Europe through Kazakhstan and China
2nd May 2017 – Last week, Tokyo played host to a seminar entitled "Development of transit container trains from Japan to Europe through China and Kazakhstan", organized by Kazakhstan's National Railways Company Kazakhstan Temir Zholy (KTZ) with the support of the Kazakh Embassy in Japan.
More than a hundred representatives of Japanese business community, trade and industrial companies, as well as scientific circles of Japan attended the seminar, whose objective was to present the advantages and prospects of the New Silk Road route that passes through the port of Lianyungang (China), the logistics infrastructure of Kazakhstan and on to Europe and in the opposite direction, using regular container service.
A positive assessment of the prospect of transport development between Japan and Eurasia was provided by the administrations of Hakata Port (Japan), SITC International Holdings shipping company, specialized Japanese research centers, Japan Maritime Newspaper, and logistics companies of the Far-East Asia.
The participants also noted the great potential of the Trans-Caspian international transport route, offering transportation of cargo to Turkey, Eastern and Southern Europe from the region of the Far East, as well as in the opposite direction.
Kazakh and Uzbek Presidents Meet to Discuss Bilateral Ties
2nd May 2017 – Kazakh President Nursultan Nazarbayev and his Uzbek counterpart, Shavkat Mirziyoyev, met on April 29th in the Kazakh town of Saryagash to strengthen bilateral ties between the two Central Asian states.
The meeting took place just over a month since the latter's state visit to Astana during the Nauryz celebrations in March, which resulted in the signing of 80 commercial contracts with a cumulative worth of one billion dollars. The two Heads of State earlier met in Samarkand in September 2016, when Nazarbayev visited Uzbekistan to pay his respects to the nation's deceased former President, Islam Karimov.
Speaking to President Mirziyoyev, Nazarbayev stated that "the first quarter of this year saw an increase in business activity in various sectors of the economy. It primarily concerns transport and logistics, the auto industry and regional cooperation. Trade turnover over the first three months of 2017 increased by 37 percent."
Mirziyoyev thanked Nazarbayev for assisting with oil transportation from Russia and both Presidents said they look forward to further cooperation in all areas. "Since my visit in March this year, we adopted the roadmap for all areas of joint activities. Meetings at the level of ministers and regional leaders have become more frequent," Mirziyoyev said.
Kazakh President lays out principles for modernisation of nation's identity
2nd May 2017 – Kazakh President Nursultan Nazarbayev has published a wide-ranging policy article in national newspapers, entitled "Course towards the future: modernisation of Kazakhstan's identity".   The document outlines steps for modernisation of social norms and priorities alongside the political and economic modernisations announced earlier this year.
"I am sure that the large-scale reforms that we launched should be continued with advanced modernisation of nation's conscience. It won't just complement the political and economic modernisation, but will be its core," the article reads.
The three components of national modernisation have one common goal – to enter the world's 30 most-developed countries. Nazarbayev states that it is impossible to become an advanced country whilst preserving old models of consciousness and thinking, and that it is important to adapt to new conditions and take the best of what the new era offers.
"That is why I decided to share my vision of how we can take a step towards the future together and change the nation's conscience to become a united nation of strong and responsible people," he wrote.
Kazakh and Turkmen Presidents Meet in Astana
20th April 2017 – Kazakh President Nursultan Nazarbayev met with his Turkmen counterpart President Gurbanguly Berdymuhamedov this week in Astana, to congratulate the latter on his victory in Turkmenistan's February 2017 Presidential Elections and discuss issues of bilateral cooperation between the two neighbouring states.
President Nazarbayev stated: "We highly appreciate your decision to make one of your first visits after the elections to our country.  Kazakhstan is connected with the Turkmen people by partner, neighbourly and fraternal ties and evidence of that are the relations that have developed over the 25 years of our states' independence, characterised by mutual understanding, cooperation on issues of both regional and international agenda,"
In turn, President Berdymuhamedov expressed gratitude for the invitation to visit Kazakhstan, and support for its neighbours initiatives on the United Nations Security Council, noting that Turkmenistan has always adhered to the principles of friendliness and respect.  The leaders of the two countries expressed hope that the visit will give a new impetus to the Kazakh-Turkmen cooperation in a wide range of areas.
Tajikistan and Uzbekistan resume regular flights after 25 years 
19th April 2017 – After a 25-year break, Central Asian neighbours Tajikistan and Uzbekistan have reestablished regular connecting flights, paving the way for improved relations.
Uzbekistan first banned flights from Tajikistan in 1992 after the outbreak of civil war in its smaller neighbour to the east. The ban remained in place after the war's end, but new Uzbek President Shavkat Mirziyoyev has moved to smooth ties with neighbours in the majority-Muslim ex-Soviet region.
Central Asian Progress Highlighted in UN Human Development Report
31st March 2017 – Last week's release of the UN's Human Development Report, ranking jurisdictions by Human Development Index (HDI), heralded good news for the countries of Central Asia. Combining a score from a handful of metrics — average life expectancy, mean years of schooling, etc. — the latest report, which looks at data from 2015, highlights considerable developments in Central Asia.
For the second year in a row, the UN has labelled Kazakhstan as High Human Development country at 56th in the ranking.   The Report notes that, between 2010 and 2015, all five Central Asian states improved their rankings, from Kazakhstan leaping seven slots to Turkmenistan and Tajikistan moving up two spots apiece over the period.
Kazakh President Appoints New Foreign Minister
30th December 2016 – President Nursultan Nazarbayev has appointed Kairat Abdrakhmanov as the new Minister of Foreign Affairs of the Republic of Kazakhstan.
Mr. Abdrakhmanov, who had been serving as Kazakhstan's Permanent Representative to the United Nations since 2013, replaces H.E. Erlan Idrissov who is to be transferred to an as-yet unnamed position.
In addition to his role at the UN – which culminated in Kazakhstan's landmark election this year as a non-permanent member of the UN Security Council starting in January 2017 – Mr. Abdrakhmanov has served as Kazakh Ambassador to the Republic of Austria and the State of Israel, and as Permanent Representative of the Republic of Kazakhstan to the OSCE.   He acted as Deputy Minister of Foreign Affairs between 1999 – 2001, and 2006 – 07.
Wedenesday's Presidential Press Release also announced that Timur Suleimenov would be replacing Kuandyk Bishimbayev as the new Minister of National Economy for Kazakhstan.
Kazakh President backs intra-Syrian peace talks in Astana

19th December 2016 – Kazakh President Nursultan Nazarbayev has supported the idea of holding intra-Syrian peace talks in Kazakhstan's capital of Astana, during a telephone conversation with Russian President Vladimir Putin.
"In the telephone conversation, Vladimir Putin voiced his interest in getting peace talks between the Syrian warring sides to be held in Astana," Nazarbayev's press service said. "Kazakhstan's president supported the initiative.   Kazakhstan supports international efforts aimed at finding a peace solution to the Syria conflict."
In April 2015 Kazakhstan received a request from representatives of the Syrian opposition to hold talks seeking to resolve the Syrian crisis. At the end of May, the first round of talks, held behind closed doors in Astana, brought together 30 opposition activists from different political parties.
In October 2015, the second round of talks resulted in the adoption of a declaration on parliamentary elections in Syria, under conditions of monitoring by international observers, and security guarantees for all candidates.
Kazakhstan Airlines excluded from EU "black list"
9th December 2016 – On Thursday the European Commission excluded all Kazakhstan airlines from the list of banned airlines.
European Commissioner for Transport Violetta Bulz stated: "Today the European Commission has updated the EU safety list – the list of the airlines which don't conform to the international air safety standards. All Kazakhstan air carriers have been removed from the list.   I am especially glad that after several years of work and technical assistance from the EU, we can remove restrictions for all air carriers of Kazakhstan."
The Commissioner emphasized that removing restrictions for Kazakhstan air carriers "is a positive signal for all countries which remain in the list. It also shows that work and cooperation pays off".
Uzbekistan elects Shavkat Mirziyoyev as President
7th December 2016 – Uzbek interim leader Shavkat Mirziyoyev has been elected President, succeeding Islam Karimov who passed away in September this year at the age of 78.
Uzbekistan's central election commission said Mr. Mirziyoyev secured 88.6% of Sunday's vote, according to a preliminary count.   Turnout was estimated at 87.83%.
In a speech in September, Mirziyoyev said that strengthening ties with neighbouring Central Asian states was "the main priority" for Uzbekistan's foreign policy.
Presidential Election campaign begins in Turkmenistan
25th October 2016 – The Turkmen presidential election campaign began on October 24th, according to a statement by the country's Central Election Commission.
"Participants of the meeting were unanimous that their main goal is to do everything for the next Turkmen presidential election to be held at the highest organizational level, in strict compliance with the current electoral laws of the country and international law," the Commission noted.
Candidates will be nominated 60 days before election day, on 12th February 2017.   Incumbent Turkmen President Gurbanguly Berdimuhamedov was elected to this post twice, and won 97.4% of the vote at the last election in February 2012. The next President of Turkmenistan will be elected for a term of seven years, as per recently adopted constitutional amendments.
Turkmenistan Unveils New International Airport in Ashgabat
19th September 2016 – Turkmenistan has unveiled a gleaming new international airport with a roof in the shape of a flying falcon, a reference to the mascot of its national carrier.
The $2.3 bn (£1.8bn) airport is located in the nation's capital of Ashgabat, and has the capacity to process more than 1,600 passengers an hour.  Turkmen President Gurbanguly Berdymukhamedov hailed his country's "solid transit potential" during the opening ceremony.
Kazakhstan launches assistance project for Afghanistan in collaboration with UNDP and Japan
22nd August 2016 — The Ministry of Foreign Affairs of Kazakhstan has launched a pilot project entitled "Promoting Kazakhstan's ODA Cooperation with Afghanistan", aimed at expanding the economic independence and rights of Afghan women.
The project, in collaboration with the United Nations Development Programme (UNDP), the Government of Japan and Japan International Cooperation Agency, will mark Kazakhstan's first international cooperation in the framework of the Official Development Assistance (ODA) programme.
In October 2014 the Kazakh MFA worked with the UNDP to develop a national institute of ODA in Kazakhstan, in order to systematize Kazakh assistance to other countries and to align it with the country's foreign policy priorities. To date Kazakhstan has provided humanitarian and development assistance to countries in Central Asia, Latin America and the Pacific Islands.
Kazakh Foreign Minister Erlan Idrissov stated: "Kazakhstan over the last years has been putting in a lot of effort to develop and institutionalise its ODA capacity on the national level. Many reform efforts in Kazakhstan are done in the context of our ambition to join the OECD. Official Development Assistance is a very important part of this."
UN Resident Coordinator and UNDP Resident Representative Mr. Norimasa Shimomura added: "As a strong supporter of multilateralism and as a development partner, Kazakhstan can play a big role in delivering the Sustainable Development Agenda, and in putting the world on track to achieve sustainable and inclusive development. By sharing its experiences and technical expertise and by fostering trade and investment through South-South Co-operation and Official Development Assistance, Kazakhstan will support others to develop."
Asian Development Bank Pledges $25m to Investment Program in Kyrgyzstan
10th August 2016 – The Asian Development Bank (ADB) has approved a $25m program to develop private sector investment in the Kyrgyz Republic.
The country has received some $1.4 billion in loans since joining the ADB in 1994.
"The assistance will help expand access to financial services, diversify trade and investment, improve public infrastructure and services, and lower the costs of doing business," Priyanka Sood, a senior financial sector specialist with ADB's Central and West Asia Regional Department, said as quoted in the ADB's statement.
The ADB, located in the Philippines capital of Manila, was established in 1966 to reduce poverty in Asia and the Pacific. The bank comprises 67 members in Asia, Europe and North America.
Kazakhstan Becomes First Central Asian Country on OECD Competition Committee
1st August 2016 – The antimonopoly body of Kazakhstan has acceded to the Competition Committee of the Organisation for Economic Cooperation and Development (OECD), an organisation made up of 35 member states from Europe, the US, Japan and Australia.  Kazakhstan becomes the first Central Asian country to be represented on the OECD in this capacity.
Kazakhstan's current objective is to comply with the OECD's main principles and standards on competition issues, creating better conditions for competition in domestic commodity markets and strengthening the country's competitiveness as part of the Eurasian Economic Union (EAEU) and the World Trade Organisation (WTO).
An official statement by the Kazakh Ministry of Economy noted that as a new member of Competition Committee with unlimited access to OECD research and analytical materials, Kazakhstan will be able to learn from the best world practices, thus strengthening the integration process with the world's most developed countries and speeding up antimonopoly regulation reforms.
Shanghai Cooperation Organization Summit held in Tashkent
June 28th 2016 – Tashkent, the capital of Uzbekistan, has hosted the 16th Summit of the Shanghai Cooperation Organization (SCO) – a political and economic group made up of China, Russia, Kazakhstan, Kyrgyzstan, Tajikistan and Uzbekistan, with India and Pakistan slated to join in 2017.
The Meeting was attended by the Heads of Members States – President Xi Jinping of China, President Nursultan Nazarbayev of Kazakhstan, President Almazbek Atambayev of Kyrgyzstan, President Vladimir Putin of Russia, President Emomali Rahmon of Tajikistan, and President Islam Karimov of Uzbekistan – as well as representatives from SCO observer states including President Ashraf Ghani of Afghanistan, President Alexander Lukashenko of Belarus, Prime Minister Narendra Modi of India, President Tsakhiagiin Elbegdorj of Mongolia, President Mamnoon Hussain of Pakistan, Foreign Minister Mohammad Zarif of Iran and President Kurbanguly Berdymukhamedov of Turkmenistan.
President Jinping delivered a speech stressing the fundamental purposes and principles of the SCO, and highlighting its achievements since its foundation in 2001.  During the Summit, representatives from India and Pakistan signed a memorandum of obligations, starting the formal process of joining the SCO as a full member.   The next Meeting is scheduled to take place next year in Astana, with Kazakhstan due to assume the chairmanship of the SCO for a second time.
UK and Turkmenistan eye cooperation in oil and gas industry
13th June 2016 – British oil and gas companies are considering further cooperation in Turkmenistan's oil and gas industry, following talks in Ashgabat with a delegation comprised of leading energy companies. The discussions, focused on opportunities and forms of mutually beneficial cooperation, were attended by representatives from Perkins, Petrofac, Seetru, Mabey Bridge, Aggreko, Willis Towers Watson, Industrial Power Group and Tensar.
Representatives of the companies emphasized their interest in establishing partnerships in the promising Turkmen oil and gas market, presented their capabilities in the supply of new equipment and innovative technologies for the oil and gas industry, and the provision of services in this sphere.
Turkmenistan has substantial reserves of oil and gas and is seeking partners in the fields of exploration, mining and hydrocarbon processing, as well as the construction of gas processing facilities and implementation of major infrastructure projects to transport oil and gas.
The government's National Socio-Economic Development Program for 2011–2030 and the National Rural Development Program are focused on sustainable economic growth, while preserving economic independence, modernizing the country's infrastructure and promoting foreign direct investment.
Tajikistan and EU hold 8th Annual Human Rights Dialogue
9th June 2016 – The European Union and Tajikistan held the eighth round of their annual Human Rights Dialogue in Dushanbe today.  The EU delegation was led by Toivo Klaar, Head of the Central Asia Division of the European External Action Service, while the Tajikistan delegation was headed by Sharaf Karimzoda, Deputy Head of Department for Human Rights in the executive apparatus of the President of Tajikistan.
The EU welcomed recent steps to enhance legal safeguards against torture, and encouraged greater efforts to implement those safeguards and to prosecute those responsible for torture.
EU representatives underlined the important role played by civil society organisations and human rights defenders in Tajikistan, and urged the Tajik authorities to facilitate their work, and to engage in further consultations with NGOs on the development of new financial reporting procedures.  The next round of the human rights dialogue will be held in Brussels in 2017.
IAEA's Central Asian fuel bank on track for September 2017 launch
27th May 2016 – The IAEA's Low-Enriched Uranium Storage Facility is on track to launch in Oskemen, Kazakhstan, in September 2017 following a partnership agreement between the International Atomic Energy Agency and the Ulba Metallurgical Plant (UMP) in Kazakhstan this week. The agreement was signed in Vienna by IAEA LEU Bank project executive Mark Bassett and UMP sales director Alexander Khodanov.
The facility is designed to help international efforts to prevent nuclear proliferation, by dissuading countries from building enrichment facilities that might be misused to purify uranium to weapons-grade levels. The bank will hold a physical stock of up to 90 tonnes of LEU, which can be used to make enough nuclear fuel to provide power for a large city for three years.
In an IAEA statement issued yesterday, Mr. Khodanov said: "We expect to receive the necessary approvals from the relevant Kazakhstan authorities, and have the facility built and ready for operation by September 2017."
Turkmenistan and Saudi Arabia Strengthen Bilateral Cooperation During Presidential Visit
3rd May 2016 – Representatives from Turkmenistan and Saudi Arabia have signed a series of documents aimed at boosting bilateral cooperation in various spheres, during a three-day visit to Saudi Arabia by Turkmen President Gurbanguly Berdimuhamedov.
Senior officials from both countries signed an agreement on cooperation in the field of security, a memorandum of cooperation in the field of trade and industry, and a memorandum of understanding on political consultations between their respective Foreign Ministries.
The visit by President Berdimuhamedov comes following a meeting between Kazakh President Nursultan Nazarbayev and Saudi Foreign Minister Adel Al-Jubeir in Astana late last month – the first official visit by a Saudi Foreign Minister to a Central Asian country since the fall of the Soviet Union.
Spanish Foreign Minister Leads Trade Delegation to Central Asia
25th April 2016 – Spain's acting Foreign Minister Jose Manuel Garcia-Margallo has led a business delegation to Central Asia, and acknowledged that Spanish companies have been slow to take full advantage of the opportunities that the region has to offer, before vowing to "make up for lost time at maximum speed."
Mr. Garcia-Margallo began a two-day visit yesterday with a tour of the Talgo industrial facilities in Astana, and is due to meet with Kazakhstan's President Nursultan Nazarbayev, Prime Minister Karim Massimov, and his Kazakh counterpart, Erlan Idrissov.
He described the Spanish-Kazakh Tulpar-Talgo as "a major business success," noting that since its opening in 2011 it has delivered 436 wagons with an income volume of 300 million euros ($337 million) and expects to deliver another 603 cars by 2020 with a maintenance contract worth of $1 billion.
"Thanks to successful investing here, they have been able to enter the Russian market and in Uzbekistan with high-speed trains and are more than ready to make the leap to Iran, a country with enormous potential," Garcia-Margallo said.  He also congratulated Kazakhstan for the 25th anniversary of its Independence from the former Soviet Union, noting that Spain and Kazakhstan have maintained warm relations and close cooperation since then.
Ukraine Crisis Discussed at Eurasia Media Forum in Astana
22nd April 2016 – The 12th Annual Eurasian Media Forum (EAMF) concluded today in Astana, sponsored by Samruk-Kazyna and attended by senior political, media and public figures from around the world.
The two-day conference kicked off with a welcome message from Kazakh President Nursultan Nazarbayev, and focused heavily on the ongoing Ukraine crisis.   Speakers included Dariga Nazarbayeva, chair of the EAMF's Organizing Committee, former Speaker of the US House of Representatives Newt Gingrich, Institute of CIS Director Konstantin Zatulin, and former UK Secretary of State and Member of the ECFA Advisory Council, Mr. Jack Straw.
During today's debate, Kazakh Foreign Minister Erlan Idrissov said the formation of the Eurasian Economic Union was "largely inspired by the model of EU integration", noting that the special importance of EU relations for Kazakhstan.
Iran's nuclear program and the crisis in Syria were other topics of the conference. The EAMF has seen the attendance of more than 5,000 experts, politicians and journalists from 60 countries over the past 12 years.
Astana to Host Kazakhstan Privatization Forum in May
12th April 2016 – The Kazakhstan Privatisation Forum, organized by the Financial Times in partnership with Samruk-Kazyna, will be held in Astana on May 25th 2016, on the first day of the Astana Economic Forum.
The agenda features keynote speeches by Kazakh Prime Minister Karim Massimov and senior figures involved in the privatization of more than 60 state-owned firms, and many more smaller ones, in Kazakhstan.  According to organizer Stefan de Muynck, FT Group Director for Central Asia, the Forum "will provide comprehensive information on how the process will work in practice, the drivers behind it and the developments to date".
The Kazakh government's plans for privatization, announced late last year, are ambitious and far reaching, as Kazakhstan looks to build on its accession to the World Trade Organization, and aims to join the G30 and OECD in the coming years.
EU and Turkmenistan Move Closer to Key Trade Agreement 
12th April 2016 – The EU and Turkmenistan have moved closer to signing a Partnership and Cooperation Agreement (PCA), after the European Parliament's Foreign Affairs Committee met yesterday in Brussels to consider the deal.  Further consideration of the issue has been postponed until next week.
Turkmenistan is the only Central Asian state yet to sign a PCA with the EU, although an interim agreement is in place.   During an official visit to Kazakhstan in December 2015, EU High Representative Federica Mogherini signed an Enhanced Partnership and Cooperation Agreement (ECPA) with the Kazakh government – the highest possible framework of bilateral cooperation with a non-neighbouring state.
EXPO 2017 Second International Participants Meeting to be held this month in Astana
11th February 2016 – Astana's Palace of Independence is set to host the EXPO 2017 Second International Participants Meeting on February 24 – 25th.
The Meeting will provide potential and confirmed participants in Astana's EXPO 2017 with a platform for exchanging information and learning about key developments in the run-up to the event.
More than 250 delegates from over 100 countries and international organizations are expected to participate in the event, which will feature a keynote address from Kazakh Prime Minister Karim Massimov.  For full information and schedule visit the International Participants Meeting website at http://www.ipm2016.kz/en/
EBRD to host Central Asia Investment Forum in Istanbul
9th February 2016 – The European Bank for Reconstruction and Development (EBRD) is set to host the Central Asia Investment Forum in Istanbul, Turkey on February 18th 2016.
The event, which has as its theme "Forging Relationships for Growth", will bring together leading investors, policymakers, economists and experts in Central Asia to discuss the future of the region and the prospects for investment, and provide a platform to discuss the practicalities of doing business in the region, the opportunities for international investors in Central Asia and how to navigate the complexities of operating in the region.
EU and Kazakhstan sign Enhanced Partnership and Cooperation Agreement
21st December 2015 – In a meeting in Astana this afternoon, representatives from the EU and Kazakhstan signed an Enhanced Partnership and Cooperation Agreement between the two parties.
The new Agreement – signed by High Representative for Foreign Affairs and Security Policy and Vice-President of the European Commission Federica Mogherini, and Kazakh Foreign Minister Erlan Idrissov – will create an enhanced legal basis for political and economic relations between the EU Kazakhstan, providing a broad framework for reinforced political dialogue, cooperation in home and justice affairs and in many other areas.
The Agreement puts a strong emphasis on democracy and the rule of law, human rights and fundamental freedoms and sustainable development as well as civil society cooperation, including involvement of civil society in the public-policy making, notably in the implementation of this Agreement.
Ms. Mogherini stated: "Kazakhstan has become the first of our Central Asian partners to conclude a new generation agreement with the EU.   The new agreement will give a significant boost to economic and political ties between the EU and Kazakhstan".
Central Asian Foreign Ministers hold Meeting with EU Representatives
21st December 2015 – The Foreign Ministers of Kazakhstan, Uzbekistan, Kyrgyzstan, Tajikistan and Turkmenistan today held a Ministerial Meeting with the European Union's High Representative and Vice President of the European Commission in Astana.
Participants discussed a wide range of issues of shared interest, including the development of relations between the EU and Central Asia, the recent review of the EU-Central Asia Strategy, regional and international issues of mutual interest and common challenges.   The discussion on security issues will continue bilaterally and within the framework of the High Level Security Dialogue.
The Foreign Ministers welcomed the EU's commitment to a relationship with Central Asia based on the principles of responsibility and cooperation, aimed at fostering the stable, secure and sustainable development of this region.
Kazakh President Calls for Reconciliation Between Turkey and Russia
30th November 2015 – Kazakh President Nursultan Nazarbayev has addressed tensions between Russia and Turkey following Turkey's downing of a Russian plane near the Syrian-Turkish border, during his state of the nation speech today.
Nazarbayev called for restraint on both sides, stating: "We are greatly saddened by the events that occurred between Russia and Turkey.   As of now, all the details are not known.   But the fact is that the Russian bomber was not attacking Turkey.   It did not go to Turkey.   It was at war with terrorists."
Central Asian Future Energy Forum to be held in Paris
30th October 2015 – The Future Energy Forum will take place in Paris on December 19th, hosted by the Nazarbayev University of Astana as part of the build-up to the EXPO-2017 "Future Energy" fair in Kazakhstan.
The Forum, to be held at the same time as the 21st Session of the Conference of the Parties to the UN Framework Convention on Climate Change (COP21) in Paris, will bring together international heads of business, eminent scientists and economists – including Nobel Prize laureates – to discuss issues relating to energy and sustainable development.
The theme of the Forum – the second of its kind – is Climate Change and the Energy of the Future.
Japanese Prime Minister begins tour of Central Asia
22nd October 2015 – Japanese Prime Minister Shinzo Abe today commenced a week-long tour to Mongolia and Central Asia, leading a delegation of over 50 business representatives eyeing billions of dollars in business deals.
After a stop in Ulan Bator – his first visit to Mongolia since 2013 – Abe will travel to Kazakhstan and Uzbekistan, and make the first-ever official visit by a Japanese PM to Turkmenistan, Tajikistan and Kyrgyzstan.
Abe stated that "Mongolia and Central Asia are at the centre of Asia and very important geopolitically.   [These countries] have relied on exports of natural resources, but now are seeking high-quality infrastructure as they aim for an economy based on high value-added industries.   I'd like to take a huge step in boosting ties with each country."
Uzbekistan HEU-free Following Shipment of Fuel to Russia
28th September 2015 – Uzbekistan is officially free of High-Enriched Uranium (HEU) following a shipment this week of irradiated liquid HEU fuel from Tashkent to a reprocessing facility in Russia, as part of a non-proliferation initiative by the International Atomic Energy Agency (IAEA) to replace HEU with low-enriched uranium worldwide.
Peter Hanlon, Assistant Deputy Administrator for the Office of Material Management and Minimization within the U.S. Department of Energy's National Nuclear Security Administration, stated: "The liquid HEU removal operation represented the latest accomplishment in a global programme involving the IAEA, the Russian Federation and the United States to assist several countries, including Uzbekistan, in eliminating the risks associated with HEU."
The world's first low-enriched uranium (LEU) bank opened in Kazakhstan earlier this year, with the support of the IAEA.
Vienna Event Promotes Kazakhstan's United Nations Security Council Bid
25th September 2015 – The Permanent Mission of the Republic of Kazakhstan to the International Organizations in Vienna held a reception last week, attended by prominent representatives of European institutions, to promote Kazakhstan's bid for non-permanent seat on the UN Security Council between 2017 – 2018.
In his speech, the Kazakh Ambassador to Austria Kairat Sarybay elaborated on his country's bid and its priorities: energy, food, water and nuclear security.   Kazakh Minister of Energy Vladimir Shkolnik that while Kazakhstan has significant conventional energy resources, the country is committed to the development of a green economy and the development of alternative energy sources.
The event was held on the sidelines of the 59th session of the General Conference of the International Atomic Energy Agency (IAEA), which was attended by delegations from more than 160 member countries of the Agency, international organizations and NGOs.
Turkmenistan to start work on TAPI pipeline in December
16th September 2015 –Turkmenistan will begin work on a $10 billion gas pipeline to Pakistan and India via Afghanistan in early December, according to a statement by government officials. Turkmenistan holds the world's fourth-largest natural gas reserves but remains dependent on gas exports to China after Russia cut back gas imports in the past few years.
The Trans-Afghanistan Pipeline (TAPI) project, supported by the United States and the Asian Development Bank, has been touted by Turkmenistan since the 1990s. But starting work on the pipeline has been delayed because of the problem of crossing Afghanistan. The pipeline will allow Turkmenistan to find new consumers in Asia and cut its dependence China, which buys 30 billion cubic metres (bcm) of gas annually.
The 1,735 kilometre (1,084 mile) pipeline, with a proposed annual capacity of 33 bcm of gas, will run more than 700 km across Afghanistan on its way to Pakistan and India.  Turkmenistan plans to fill the pipeline with gas from its mammoth Galkynysh field, the world's second-largest reservoir of natural gas.
Kyrgyzstan officially joins the Eurasian Economic Union
12th August 2015 – Kyrgyzstan has become the fifth official member of the Eurasian Economic Union (EEU) alongside Kazakhstan, Russia, Belarus and Armenia.
The announcement removes a number of practical obstacles to trade and freedom of movement between Kyrgyzstan and other EEU members.  At the signing ceremony in May 2015, Kyrgyz President Almazbek Atambayev stated that "[joining] one of the world's largest economic unions fully corresponds to Kyrgyzstan's national interests."
Central Asian officials launch Trans-Caspian Rail Route
3rd August 2015 – The Trans-Caspian Rail Route, which links Asia and Europe and was created under the auspices of both Kazakhstan's Nurly Zhol policy and China's New Silk way program, was launched today in the city of Alyat, an Azerbaijani seaport 65km from the capital of Baku.
Askar Mamin, President of the Kazakh railway company Temir Zholy, emphasised that the new route will transform both Kazakhstan and Azerbaijan into a "bridge between Asia and Europe":
"The high level of cooperation between Kazakhstan and Azerbaijan became possible thanks to agreements made by the Kazakhstan and Azerbaijan presidents.   We plan to organize a container train from China to Istanbul through Azerbaijan and Georgia before the end of this year.   As of today, major corporations with plants in China and Southeast Asia monitor our cooperation and are very interested in transportation of their goods using the route."
Kazakh President Announces "100 Concrete Steps" Reform Program
24th July 2015 – President Nursultan Nazarbayev of Kazakhstan has announced a "100 Concrete Steps" program setting out detailed measures for wide-ranging institutional changes.   The program is designed to continue the country's sustained progress despite difficult global conditions, and comes shortly after President Nazarbayev received a fresh mandate upon re-election in May 2015.
The "100 Concrete Steps" program aims to build an effective professional civil service, strengthen the rule of law and create an impartial judiciary sector, as well as improve the cohesiveness of Kazakh society, and facilitate the switch wherever possible to e-government.
Launching the programme, President Nazarbayev stated it was not just a detailed action plan for the country in the months and years ahead, but also a checklist to monitor progress, and the clearest signal he could give to the citizens and foreign partners of Kazakhstan that the country has embarked on another vital stage in its development.
Astana Hosts Anti-Extremism Conference
2nd July 2015 – The need for cooperation between governments, law enforcement bodies and communities was the main theme of the Central and South Asian Regional Conference on Countering Violent Extremism, held between 29 – 30th June in the Kazakh capital of Astana and attended by representatives from a large number of nations and IGOs.
Opening the event, Kazakh Prime Minster Karim Massimov focused on cooperative efforts and the significant role to be played by civil society in countering extremist violence, stating: "We have to join our forces with all constructive forces in this world who are ready to counter violent extremism.   That is why we have to boost our contacts and cooperation with law enforcement agencies all over the world.
Kazakhstan Announces Extension of Visa-Free Regime for 20 Countries
2nd July 2015 – Kazakhstan has announced plans to extend a trial visa-free regime, announced last year and due to expire this month, which will allow citizens from 20 countries to make short trips to the country without the need for a visa.
The announcement was made by President Nursultan Nazarbayev during a visit to Milan this week, during which he commemorated the National Day of Kazakhstan at EXPO Milano 2015 (June 27th) and held bilateral talks with Italian Prime Minister Matteo Renzi.
Delivering a speech at the business forum, Nazarbayev said, "Investors are given the opportunity to attract foreign labour without any quotas and permits. Besides, we have established a visa-free regime for investors from 10 countries, including Italy.   From July 15, we will prolong the visa-free regime for investors, and extended it for another 10 countries: Switzerland, Spain, Belgium, Hungary, Monaco, Singapore, Australia, Norway, Sweden and Finland.   I think not many countries in the world can offer such beneficial conditions for investors."
Experts Attend Central Asian Geopolitical Conference
24th June 2015 – On June 18th, experts from around the world attended the Central Asia in Global Geopolitical Trends conference in Astana, organised by the Kazakhstan Institute of Strategic Studies (KazISS) and the Friedrich Ebert Foundation Office in Central Asia.
In his opening address, Secretary of the Security Council Nurlan Yermekbayev stated: "We [in Central Asia] sharply, physically feel how our region is being pulled into geopolitical processes.   I don't want to exaggerate the challenges, but yes, there are in Central Asia and in many other parts of the world today unprecedented, accelerated information and other processes which force us not only to respond quickly but also to foresee possible scenarios."
The conference gathered experts from political and research institutions in Central Asia, China, Iran, Russia, Turkey, the UK and the US.   Among the issues discussed were foreign policy failures, the political and economic impact of the Eurasian Economic Union (EAEU), the lack of trust between states of the region and the urgent need for reform.
Astana set to host Syrian Opposition Talks
21st May 2015 – Kazakh Foreign Minister Erlan Idrissov has announced today that Astana will host the next round of talks with Syrian opposition representatives next week.
On the Twitter feed of Kazakhstan's Ministry of Foreign Affairs, Idrissov was quoted as saying: "It is expected that Syrian opposition negotiations will be held in Astana next week."
The session will follow previous rounds of reconciliation talks in Moscow this January and April – during which opposition negotiators agreed on a 10-point agenda, defining a negotiating framework for future talks – and in Geneva from May 4th.   The talks are expected to last for up to six weeks.
ECFA Director's Blog: How Kazakhstan Actively Supports a Continued Dialogue on Syria
Astana Economic Forum to be held this week
18th May 2015 – The eighth Astana Economic Forum (AEF) is due to take place on May 21-22nd, bringing world leaders, and high-ranking business representatives together in the city's Palace of Independence to address economic and social challenges facing the world today.
The AEF, which regularly leads to a great number of investments and projects in the Central Asian region, is held at the initiative and with personal involvement of President Nursultan Nazarbayev, and this year's theme is "Infrastructure – a Driver of Economic Development."
The Kazakh Ministry of Foreign Affairs is due to hold two side-events, to be attended by Foreign Minister Erlan Idrissov: "Kazakhstan's Official Development Assistance System" – devoted to the KazAID project – and "Africa – the World's Next Economic Driver", in connection with next month's African Union assembly in Johannesburg.
Kyrgyzstan joins the Eurasian Economic Union
14th May 2015 – Kyrgyzstan has officially become the fifth member the Eurasian Economic Union (EAEU), joining founding members Kazakhstan, Russia, Belarus and Armenia following a meeting between the five leaders – Nursultan Nazarbayev, Vladimir Putin, Alexander Lukashenko, Serzh Sargsyan and newest member Almazbek Atambayev – in Moscow on May 8th.
President Atambayev expressed his gratitude to all parties for assisting Kyrgyzstan in its accession to the Union, adding: "I am convinced that the EAEU will bring a common good for our nations.   The union will strengthen stability in the Eurasian space and give further movement to the whole of Eurasia".
During the summit, the parties discussed current EAEU issues, prospects for deepening partnership within the organisation and the expansion of international cooperation.    The goals of the EAEU are the free movement of goods, services and capital, coordinated policies in agriculture and industry, cooperation in major infrastructure projects and formation of joint energy markets for natural gas and petroleum products.
UK-Kazakh Relations Expanding, Says New Ambassador
6th May 2015 – Kazakhstan's Ambassador to the United Kingdom, H.E. Erzhan Kazykhanov, has spoken about bilateral relations between the two nations following Kazakhstan's presidential election in late April, as well as relations with the European Union, in a recent interview with the Astana Times.
He stated: "Kazakhstan and the United Kingdom are strategic partners. This is no surprise, given the importance of the two countries: Kazakhstan as a leading country in Central Asia and Britain being one of the most powerful forces in the European Union.
Both countries have shown good economic growth in recent years and have carried out effective socio-economic policies. This has worked to strengthen the relationship between our two states and our shared understanding on important international issues.
The leaders of our countries have regular meetings, both during official visits and on the sidelines of international forums. For example, Prime Minister Cameron and President Nazarbayev met in October last year in Milan at the 10th Asia-Europe Summit. And at the end of April, Prime Minister Cameron was one of the first leaders to congratulate our head of state on his victory in the presidential election.
Cooperation between Kazakhstan and the United Kingdom contributes to the strengthening and expansion of our institutional ties. Last year, for example, the Intergovernmental commission on trade, economic and investment cooperation opened and the Kazakh-British Business Council was established. Existing structures such as the Kazakh-British Trade and Industry Council, the British-Kazakh Society and the British-Kazakh Bar Association also play a significant role in strengthening bilateral relations.
Business and financial links between Kazakhstan and the United Kingdom are flourishing. I am pleased to note that Britain is one of the three largest investors in Kazakhstan. In the last 10 years, the U.K. has invested more than $10 billion in Kazakhstan."
Kazakh President Nursultan Nazarbayev wins fifth successive term in snap election
27th April 2015 – Following an early Presidential Election, widely supported by the Kazakh people according to a survey by the ECFA and Ipsos MORI, Kazakh President Nursultan Nazarbayev has secured a fifth consecutive term in office, winning 97.7% of the vote at an early estimate.
Initially planned for 2016, the election was brought forward to Sunday April 26th 2015 in order to provide a fresh mandate to the President in the context of difficult conditions in the regional and global economy, including falling oil and gas prices.   The country's Central Election Commission reported that there had been a record turnout of 95.11% for the poll.
Prior to the election President Nazarbayev promised economic and social stability, telling journalists: "I am sure Kazakhstan's people will vote primarily for the stable development of our state and the improvement of people's lives, as well as the stability of the state and in support of the policies the country has implemented under my leadership."
Hungarian Prime Minister – "Kazakhstan has a friend in the EU"
3rd April 2015 – Kazakh President Nursultan Nazarbayev has had a meeting with Prime Minister of Hungary Viktor Orban, to discuss bilateral cooperation between the two nations as well as the current issues on the international agenda.
Mr. Nazarbayev stated: "We consider Hungary a true friend.   We have common historical roots and similar ways of development.   Hungary is an important support point in Europe for us".
"It is not our first meeting. These contacts indicate our desire to strengthen trade and economic relations.   We appreciate that Hungary was the first country in the European Union (EU) to sign a strategic partnership agreement with Kazakhstan.   We will make every effort to make your visit fruitful," he continued.
Mr. Orban, in turn, thanked Nursultan Nazarbayev for the invitation and conveyed greetings from the people of Hungary, stating: "Amid the complicated situation in the world, we are interested to learn about your vision of the prospects and future of our cooperation.   I would like to assure you that Kazakhstan has a reliable friend in the European Union.   We believe we have high level of political and cultural cooperation and we feel your support behind it".
On April 1st, the day of the meeting, Astana also played host to the Kazakh-Hungarian Business Forum attended by over 300 senior entrepreneurs, during which Hungarian Minister of Foreign Affairs and Foreign Trade Péter Szijjártó announced that Kazakhstan and Hungary will create a joint financial fund with $40 million in capital, and later met with Kazakh Foreign Minister H.E. Erlan Idrissov to discuss a bilateral cooperation and international affairs.
Commerce and Industry Chambers of Hungary and Kazakhstan Sign Cooperation Agreement
4th February 2015 – The Hungarian Commerce and Industry Chamber and the Kazakh Foreign Commerce Chamber have signed a cooperation agreement at the fourth session of the Kazakh-Hungarian business council in Budapest.   Over 50 Hungarian and Kazakh companies took part in the meeting.   The parties noted that high technologies and promotion of petroleum and agricultural projects were promising sectors of cooperation.   They also plan to collaborate in development of healthcare and pharmaceutics, telecommunications, tourism, construction, car manufacturing and processing industries, and transport.
Kazakhstan Joins World in Calling for Ceasefire in Ukraine
28th January 2015 – Kazakh Foreign Ministry expressed in a statement its "deep concern" about the escalation of violence that took place in Ukraine, and "particularly about the bombardment that caused the death of civilians."
"We are convinced that peace negotiations are the only alternative for resolving the crisis in southeastern Ukraine," the ministry said.
The Donetsk regional government, loyal to the Kiev authorities, said at least 30 people died and another 93 were wounded Saturday during an artillery attack against the city of Mariupol in eastern Ukraine.
Kazakhstan is "prepared to provide a platform for resolving the Ukraine crisis, at the right time and in the most suitable way for both sides," the ministry said, calling on the parties involved to help find a way out of the conflict.
"We urge all parties to move toward a peaceful solution of the conflict, based on all parties doing their part, including signatories of the Minsk Protocol," the Ministry said.
The Minsk Protocol was signed on Sept. 5, 2014, by representatives of Ukraine, the Russian Federation, the Donetsk People's Republic and the Luhansk People's Republic.
The accord seeks to put an end to the war in eastern Ukraine and was signed in Minsk under the auspices of the Organization for Security and Cooperation in Europe, or OSCE.
UN Security Council Stresses the Importance of Cooperation between Central Asian Countries
26th January 2015 – In a press-statement issued on 23rd January, the UN Security Council stressed the need for coordination between governments of the Central Asian countries and regional organizations, in order to strengthen peace, stability and sustainable development in the region.   The UN body also underlined the importance of cooperation between Kazakhstan, Kyrgyzstan, Tajikistan,  Turkmenistan and Uzbekistan, within the framework of the UN Regional Centre for Preventive Diplomacy for Central Asia (UNRCCA)
"The members of the Security Council reaffirmed the importance of conflict prevention tools in contributing effectively to the maintenance of international peace and security, including through early-warning mechanisms and engaging in preventive diplomacy, in accordance with the Charter of the United Nations," the statement said.
Recognizing the threat posed by illicit drug production, trade and trafficking to international peace and stability in the region, the Council also emphasized the importance of close coordination between Afghanistan and its neighbours, in particular the Central Asian states, in combating drug trafficking.   The Security Council commended the UNRCCA's role in facilitating the multilateral engagement of the Central Asian states with Afghanistan.
Kazakhstan and Italy Sign Agreements on Extradition and Legal Cooperation
26th January 2015 – Kazakhstan and Italy have established a legal framework for mutual legal assistance and the protection of the legitimate rights and interests of their citizens.    On 22nd January, Prosecutor General of Kazakhstan, Askhat Daulbayev, and Ambassador of Italy to Kazakhstan, Stefano Ravagnan, signed agreements on the mutual extradition of criminals and mutual legal assistance in criminal cases.
At a press briefing following the signing ceremony, Daulbayev emphasised that the agreements have become possible due to the steady development of legal relations with the European Union and its growing trust in the legal system of Kazakhstan.    The signing of the agreements is another important step toward strengthening partnership in combating crime and improving the supervisory and law enforcement agencies' work in general.
Daulbayev noted that after the agreements come into force, the two countries will have serious legal grounds for rendering mutual legal assistance and protecting the rights and interests of citizens of both Kazakhstan and Italy.
"We have already concluded similar agreements with Spain, Hungary, Romania, Bulgaria and the Czech Republic and are completing negotiations on concluding correspondent agreements with Monaco, Slovakia and other European countries," the Kazakh Prosecutor General said.
Italy was one of the first European countries with which Kazakhstan signed a full package of intergovernmental agreements in the criminal and legal spheres. The agreement between the two states on the transfer of sentenced persons was signed in November 2013 and ratified by Kazakhstan last autumn.
The European Bank for Reconstruction and Development Increased GDP Growth Forecast for Uzbekistan
21st January 2015 – The European Bank for Reconstruction and Development (EBRD) has increased its forecast for Uzbekistan's GDP growth for 2015 to 7.8 per cent, from the 7.6 per cent projected in September 2014, became evident from the recently published EBRD report on regional economic prospects.
The forecasts also show that inflation in the Central Asian country will amount to 11 per cent in 2015, equal to the rate for 2014.
EBRD report added that the difficult economic situation in Russia may affect negatively the number of money transfers from Russia to Uzbekistan, as well as the volume of trade turnover between the two countries, but will not overturn the general positive trend for significant economic growth, observed in the last few years.
Over 4 GW of Solar Power Plants to Be Built in Central Asia Before 2020
19th January 2015  – In the next 5 years Uzbekistan, Kazakhstan, Turkmenistan and Kyrgyzstan, together with Azerbaijan and Iran, will be in the spotlight of the largest international players of solar energy industry.
According to the plans for the development of the energy sector of these countries, more than 600 photovoltaic plants with the total capacity of more than 4,000 MW will be built in the region up to 2020.
On 16th – 17th April 2015, Baku, Azerbaijan, will be hosting one of the key events in the field of solar energy – CISOLAR-2015 4th International Conference and Exhibition "The development of the solar energy industry in the region of South Caucasus, Eastern Europe and Central Asia".    The forum gathers top managers of companies in the energy sector, heads of regional departments of global industrial companies, heads of industry associations and organizations, senior representatives of the authorities regulating renewable energy production, international financial institutions and key regional and international media.
Excellent natural conditions in Central Asia, the state support of the industry, along with favourable legislation, have become an impulse to the development of renewable energy capacities in the region.    Solar energy projects already thrive in Uzbekistan, while Kazakhstan, Turkmenistan, and Kyrgyzstan constitute a very promising market.
Asian Development Bank to Finance Improvement of National Road Infrastructure of Kyrgyzstan
16th January 2015 – The Asian Development Bank (ADB) and the Kyrgyz Republic late in December signed around $15 million additional ADB loan and grant financing for a project to improve national roads that are a key part of a strategic regional road corridor, the press service of Kyrgyzstan's Transport and Communications Ministry said.
The project will improve the last 60-kilometer section of the Bishkek–Torugart road, the only road of the country that runs from the northwest to the southeast, connecting Bishkek city, the Chui oblast, the Issyk-Kul oblast, and the Naryn oblast.    The road is of high strategic i